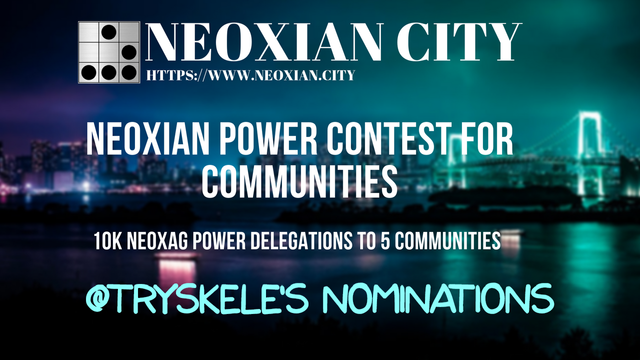 NEOXIAN SILVER (NEOXAG) POWER CONTEST FOR COMMUNITIES WEEK : #2 || 10K NEOXAG POWERr
I would like to nominate the following communities for this contest.
@pifc is a long running community/contest that is designed to help give exposure to undervalued Steemians. Help encourage engagement and one of the best ways to grow on this platform. As I like to say we dig through the murky depths to find those that need a little help or a little extra light to help them find their way up. To me anything that has a pay it forward mentality is worth supporting. They do their work to help others not to help themselves.

Great group and great people. Just like their tag line says
Helping you find the newest Steemians so you don't have to search!
The put out a publication daily along with holding Redfish contests. Anything that can get people to say on the platform and anything that can help grow the platform is aces in my book.

Such a wonderful and creative bunch of people. The bring joy, humor and creativity to the platform. 3 of the keys to life.

A curation initiative created by @jaynie the Queen of #powerhousecreatives. Very simple concept. Find good content and support it. The post she chooses gets a resteem, upvote comment and mention in their daily post (I'm pretty sure it's daily or pretty darn close.)

This is a side group started by #powerhouse creative members. They run an awesome monthly contest. You post your top 3 favorites from the subject they choose. Explain why you love it. Once you are entered then the next decision is to vote on which one are the 'group' favorites. This just narrows down the field to make it easier on the judges 😜 Then from that list they choose the Top 3. It is a contest open to the platform. It gives everyone actually a fun post to do if they are struggling, plus upvotes,resteems comments and such. It just fun to see the entries.


All of these groups are very supportive and give so much to the platform. The all truly just want to see people to succeed and most cases have fun doing it.
---

Pay It Forward Contests
---

---


Brought to you by @quochuy (steem witness)
---


Steemitcentral
---

---
Thank you for your continued support!
Love,