Another 75 days separate us from the official beginning of spring 2020. And as is undoubtedly the case for many people, it cannot go fast enough for me ...
No, it's not the date only ...
And not that a date tells me so much now, but if you wake up in the morning, and suddenly see the forsythia fully covered with cheerful yellow flowers, then you become very cheerful, right? At least I do, certainly when you consider that such a forsythia often two days earlier was nothing more than a bunch of dead branches. Then you realize again that spring really is a time when all life begins to grow again.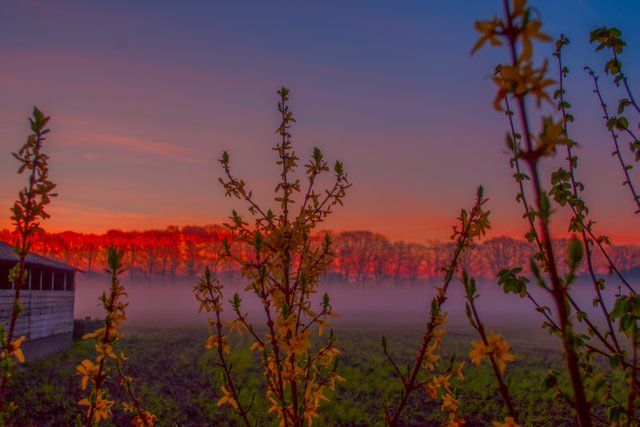 Flowering shrubs to bring you SPRING.
The Forsythia flowers appear on the bare branches in March and in our garden there is the yellow Forsythia, but did you know that there is also a much less well-known variant. You also have a white Forsythia! The Forsythia has its origins in China, and belongs to the Olive family. It is also called Chinese Bell because of the shape of the flowers. What you call him, I don't care. As soon as I see these cheerful yellow-colored flowers appear on the bare branches ... I know that SPRING is coming again. A better harbinger of the coming spring, as the flowering shrubs is simply not there!
Unfortunately ... spring is not here tomorrow.
Now 75 days is still long, so unfortunately for me ... and all other spring lovers, it's not that far tomorrow. We will have to come through another period with ice flowers on the window, a period in which we have to dress thickly when we go outside. A period in which it freezes that it creaks and the winter lover gets their fill ... and yes, even as a spring lover I can enjoy a beautiful winter day, and yes, I too can enjoy when snow has fallen ... Then it is wonderful to take pictures and your normal gray daily environment suddenly seems like a wonderfully magical winter fairy tale.
But please, don't let it take too long ... and please let us enjoy a wonderful early spring with warm temperatures in which nature revives ... and with nature, me too.