And today is another important day. We only have to wait 76 days until the official spring begins.


Time to show you a photo that I could make a few years ago of our Myla who spotted a bumblebee in a beautiful flowering crocus and went there with her little nose very curiously.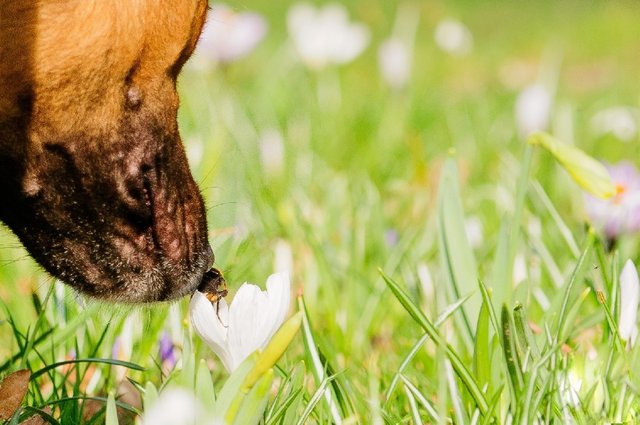 The lady also appreciates the new life around her very much. And just wanted to smell spring.
Meeting with a bumblebee.
For her, it absolutely didn't matter that my heart was tumbling three times around and then almost stood still. I was terrified that the bumblebee would stung her nose. But nothing I could do, any sudden movement on my part would certainly have resulted in exactly that because Myla would not be so careful anymore. I could only hope that it wouldn't happen ... but I couldn't resist taking a picture of this moment.
She was careful.
Fortunately Myla understood that she had to be careful and the bumblebee didn't do anything either ... the moment is engraved in my memory, but is also immortalized in the photo and now gives me a real spring feeling!
Because even though I say so myself, this photo contains all the ingredients needed for a nice spring feeling, right? Crocuses, colors, greenery, a bumblebee and the nose of a dog I love, what else do I want?
Wishing spring starts TODAY.
Hmmm well, that is actually very easy to answer ... I wish it was TODAY that day that spring had arrived and these two coldest dark months would be over. That the temperature outside rose again to 20 degrees, and that the sun could be full on my face all day.
Time of promise and new life.
Well, I think we all recognize the wishes. Oh of course I also give the winter lovers their fun, but for me personally… the winter may be kicked out of the country tomorrow and the time of promise and new life begins again!