Slipt-stitch mitts / Stulpen in Kettmaschen
---
Of course I knew about slip stitches in crochet: those were the simple little stitches you use to close a round or maybe to make an edge. But that there was so much more I only found out by accident. Someone introduced me to "Bosnian Crochet" - if it is really from Bosnia I don't know.

But it is really versatile and easy and gives you different interesting textures. This pattern is in probably the easiest slip stitch: through back loops only - but it makes a very elastic fabric that looks a bit like knitted.
Natürlich wusste ich was Kettmaschen sind: diese kleinen einfachen Maschen die man nutzt um Runden zu schließen oder vielleicht macht man auch mal eine Kante aus ihnen. Aber dass man damit noch viel mehr machen kann habe ich per Zufall erfahren. Ich stolperte über den Ausdruck "Bosnisches Häkeln", es ist vielseitig und ergibt verschiedene interessante Texturen. Dies ist in der vermutlich einfachsten Art von Kettmasche: nur in das hintere Maschenglied einstechen - aber es ergibt ein sehr elastisches Gewebe das fast aussieht wie gestrickt.
---

Elementary Mittens (Pattern/Anleitung) - not free but worth every penny!
---
Above you can see the beginning of the fingerless mitt (perhaps you recognise the yarn from my last post), you can see the knit-like texture. It's important to work loosely - if you think it's too loose it's just right ;) And it helps if your crochet hook isn't too round, you can see my Knitpro Symfonie hook there. The hook size should be bigger than recommended for the yarn, for this sock yarn I use a 4mm hook instead of the usual 2,5mm.
Oben sieht man den Anfang des fingerlosen Handschuhs (vielleicht kommt euch das Garn ja von letzter Woche bekannt vor...). Man kann schön die Struktur erkennen. Wichtig ist dass man locker arbeitet - wenn man denkt es wäre fast zu locker ist es gerade richtig. Auch sollte die Häkelnadel vorne etwas spitz sein (wie hier meine Knitpro Symfonie) und wesentlich größer als für das Garn angegeben: Ich nutze hier für Sockengarn eine 4er Nadel.
---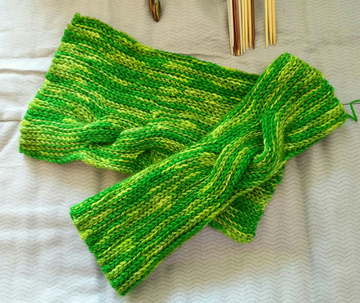 ---
Here's a finished one and the other ready to be crocheted together. It might look very tight but the fabric stretches easily to double it's width. That makes if perfect for "one size fits all" projects like gifts or charity work.

Hier ein fertiger Stulpen und einer bereit zum Zusammen-Häkeln. Der mag zwar eng aussehen aber das Gewebe zieht sich leicht bis zur doppelten Breite und mehr.

Dadurch ist diese Art zu Häkeln perfekt für "eine Größe passt allen"-Projekte wie Geschenke oder Sachen für wohltätige Zwecke.
---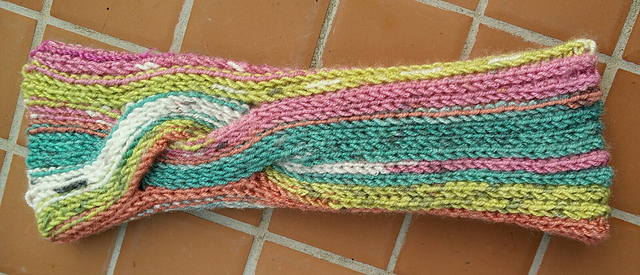 On the left the same pattern in a bamboo-poly mix, the right one is pure cotton.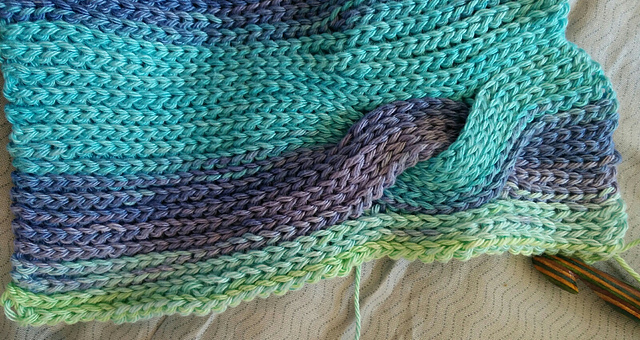 Der linke Stulpen ist aus einem Bambus-Poly-Mix, der rechte aus reiner Baumwolle.
---
What's on my needles
Progress is slow but it is there: my scarf is now 60 cm :)
Es geht nur langsam voran mit meinem Schal, aber es geht voran - 60 cm habe ich jetzt :)
---
---
10% of this post's rewards automatically go to
@t-r-f
, the SteemFest 2018 Travel Reimbursement Fund.
10% der Einnahmen dieses Posts gehen automatisch an
@t-r-f
, einem Reisekostenunterstützungsfond für das SteemFest.