MKAL - what's that? / Was ist ein MKAL?
Ich habe vielleicht schon darüber geschrieben: MKAL = Mystery Knit-a-Long. Ein Knit-a-Long bedeutet, dass eine Gruppe von Leuten zur gleichen Zeit nach der gleichen Anleitung strickt. Das "Mysteriöse" daran ist, dass man vorher nicht weiß, was man stricken wird. Es gibt vorher Informationen über die Art des Projekts (hier: ein Schal oder ein Cowl), die Art und Menge des benötigten Garns (hier: Lauflänge wie Sockengarn mit 3 gut kontrastierenden Farben, Menge abhängig von der gewünschten Menge) und die Konstruktionsart und Designelemente.
I might have written about it already: MKAL = Mystery Knit-a-Long. A Knit-a-Long means that a bunch of people are knitting the same pattern at the same time. The "mystery" part of it is, that you don't know beforehand what you will knit. You get information about the category (here: a cowl), the kind and amount of yarn you need (here: fingering weight yarn using 3 contrasting colors, amount depending on the length of your desired cowl) and the construction and design elements.
Der erste Teil der Anleitung enthält meist einige Informationen über Garn, Nadeln oder allgemeine Schwierigkeit. Bei diesem Projekt gibt es bereits einen zusätzlichen zweiten Teil mit einem Muster für ein Probestück, um zu sehen, ob die Garnfarben gut zusammenpassen und um sich mit der Art der verwendeten Strickmuster vertraut zu machen, auf die man während des Projekts trifft (siehe die Bilder unten auf der Ravelry-Seite des Projekts). Zu Beginn des MKAL wird der Designer einen "Hinweis" nach dem anderen veröffentlichen, der die Teile der Anleitung enthält. Das Stricken beginnt mit einem Thread im Ravelry-Forum, wo man sich austauschen und Fragen stellen kann und sehen, wie die Projekte der anderen aussehen. Ich liebe es zu sehen, wie verschiedene Farben das Aussehen eines Projekts verändern, man kann so viel lernen.
The first part of the pattern mostly contains some information regarding yarn, needles or difficulty. Here there already is an additional second part with a pattern for a swatch, to see whether your yarn colors look nice together and to get acquainted with the kind of stitches you will encounter during the project (see the pictures at the bottom of the Cowl's Ravelry page). At the start of the MKAL the designer will publish one "clue" after the other that contain the parts of the pattern and th eknitting will start, with a thread in the Ravelry forum where you can talk about your work, ask questions and see what the other knitter's projects look like. I love seeing how different colors change the look of a project, you can learn a lot there.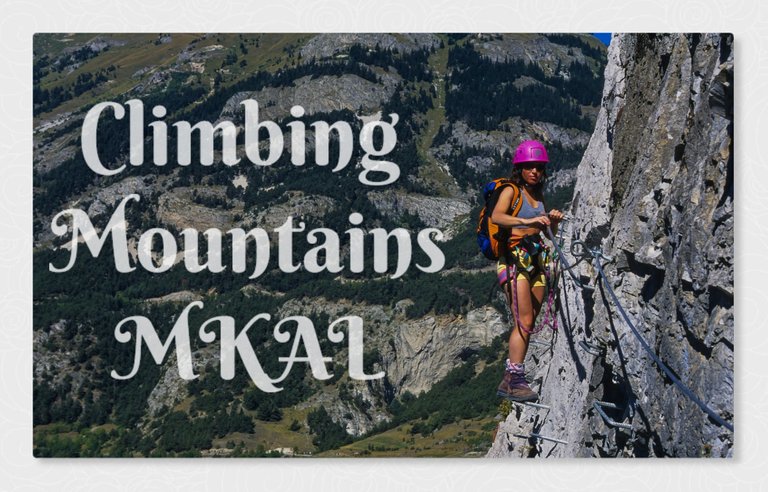 Why this MKAL? / Wieso diesen MKAL?
Erster Grund: Der Abstand zwischen den Veröffentlichungen der einzelnen Teile der Anleitung. Jeden Sonntag im März erscheint ein neuer - das lässt mir genug Zeit zum Stricken, ohne mich zu hetzen. Stricken ist kein Wettrennen!
First reason: The interval of the clues - one will be published every Sunday in March. So there is enough time for me to knit it. Knitting is not a race for me :)
Zweiter Grund: Die Überlegungen, die dahinter stehen. Das MKAL feiert den "Women's History Month", den Monat der Frauengeschichte. Die Designerin Susan Gressman schreibt dazu: "Jeder Teil der Anleitung wurde von einer beeindruckenden Frau inspiriert, die im STEM-Bereich arbeitet. Informationen über jede einzelne Frau werden zur Anleitung hinzugefügt." Mit einem solchen Hintergrund etwas Schönes stricken und dabei etwas über interessante Frauen lernen? Ja, ich habe mich sofort angemeldet, nachdem ich Anfang Februar darüber gelesen hatte :)
Second reason: The reasoning behind it. The MKAL is honoring Women's History Month, the designer Susan Gressman wrote: "Each clue was inspired by an amazing woman working in the STEM field. Information on each will be included in the clue." Knitting something nice with such a background, while learning something about interesting women? Yep, I signed on immediately after reading about it early in February :)
Preparations / Vorbereitungen
Jetzt muss ich mich "nur noch" für die Farben entscheiden. Man kann entweder drei Uni-Farben nehmen, zwei Uni-Farben und ein Gemustertes - oder ein Hauptgarn und fünf verschiedene für die jeweiligen Teile der Anleitung. Das werde ich wohl machen, mit Weiß als Hauptgarn und dann Gelb, Grün, Blau, Lila und Rot als Kontrastgarne. Alles aus dem Vorrat, nichts neu gekauft!
The only thing left for me to do is deciding on the yarn I use. You can use either three different monochrome yarns, two monochrome and one gradient yarn - or one main yarn and change the contrast yarn in every part of the cowl. I'm thinking about choosing the last one, with white as the main color and using up leftover yarn. It's stash busting time!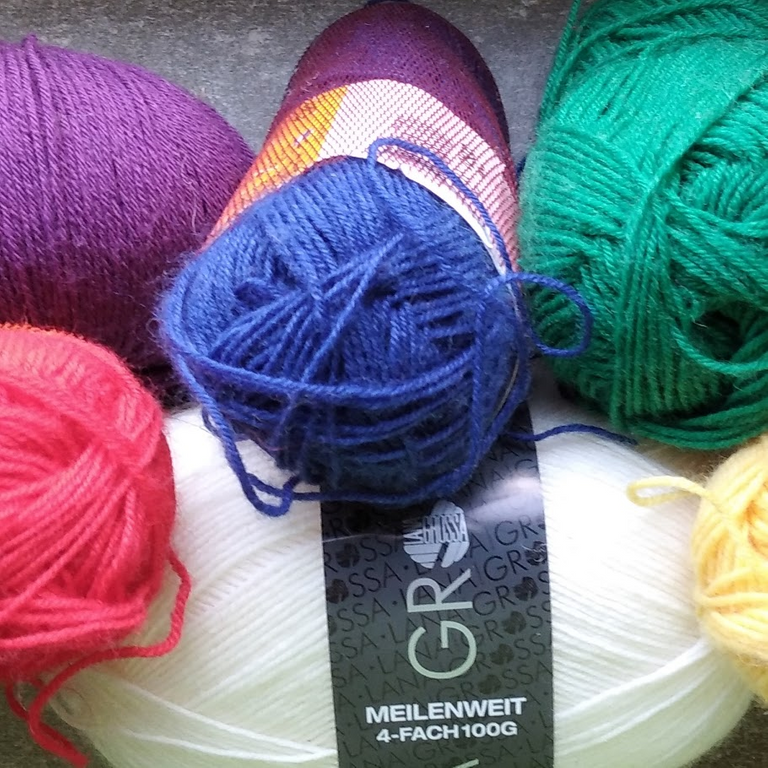 Ich höre Euch denken: "Worüber reden sie jetzt, der Needleworkmonday IST eine Community!" Ja, das stimmt, aber es gibt eine neue Funktion auf Steem (bisher nur auf den Steemit- und Steempeak-Frontends). Wenn man sich dieser Community anschließt und in ihr postet, werden alle anderen Mitglieder diesen Beitrag sehen. Also nicht scheuen dort beizutreten und alle Posts mit Bezug zu Handarbeiten dort zu veröffentlichen - es ist der einfachste Weg, sie allen Interessierten zu zeigen!
I hear you think: "What are they talking about now, Needleworkmonday IS a community!" Yes, that's true, but there is a new feature on Steem (so far only on the Steemit and Steempeak frontends). If you subscribe to this community and post in it, all other members will see that post. So feel free to join and post all needlework related posts there - it's the easiest way to present it to everyone interested in it!
Egal ob in dieser Community gepostet wird, "herkömmlich" im eigenen Blog oder in einer anderen Community: Wichtig sind die tags! #needleworkmonday am Montag, #needlework an den anderen Tagen und diese tags bitte als einen der ersten fünf nehmen - alle danach tauchen nicht auf bei Suchen! Auf diese hinteren Plätze kann man gut die tags für Tribes und Token setzen.
Regardless whether you post in this community or "normal" in your blog or in another community: Important is that you use the right tags (#needleworkmonday on Mondays, #needlework on the other days) and put them as one of the first five tags of your posts. Tags after that can't be searched for! That's where you can put the tags for the tribes and tokens :)
What's on my needles / Woran wird gerade gearbeitet
Naja... So viel Spaß ich auch am Planen von neuen Projekten habe, so lang zieht es sich hin alte zu beenden. Ich habe aber an allen meiner drei "aktiven" Projekte gestrickt. Allerdings habe ich letzte Woche festgestellt, dass ich momentan gar nicht Gehäkeltes in Arbeit habe und war stark versucht... Bitte bewundert meine Entschlossenheit, dass ich nichts Neues angefangen habe!
Well.... As much as I love to think about new projects... finishing them is not my forte... I've been knitting a bit on all three of my "active" projects. Though I realized last week that I had no current crochet project and was deeply tempted to start one. Please admire my power of resistance!
Was ich angefangen habe ist der zweite meiner "neu gestrickten" Socken. Ihr erinnert euch an die Bilder wie ich den Socken aufgeribbelt habe, das Garn geglättet und wieder gewickelt? Letzte Woche hat mir jemand erzählt, sie würde das bei Socken nicht machen, die könne man einfach so stricken (im Gegensatz zu Pullovern oder Tüchern). Weniger Arbeit? Klingt gut! Also ist dieser zweite Socken ein Test, ob man hinterher einen Unterschied sieht :)
But I started the second one of the "reknit socks". You remember the post where I showed you how I unraveled and straightened it and wound it into a nice cake? Last week an aquaintance told me she never does it with simple socks. Sweaters or shawls, yes, but she would knit socks straight from the old one. Less work? Count me in! So I decided to use this as a test :)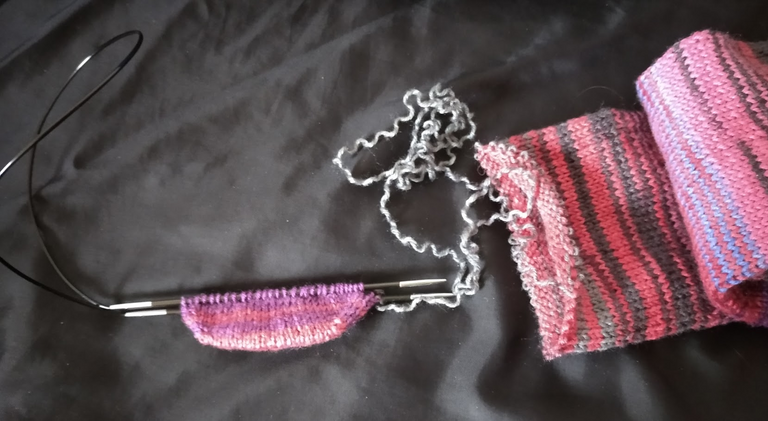 ---
---
5% der Einnahmen dieses Posts gehen automatisch an @needleworkmonday, unseren Gemeinschaftsaccount.
5% of this post's rewards automatically go to @needleworkmonday, our community account.
---