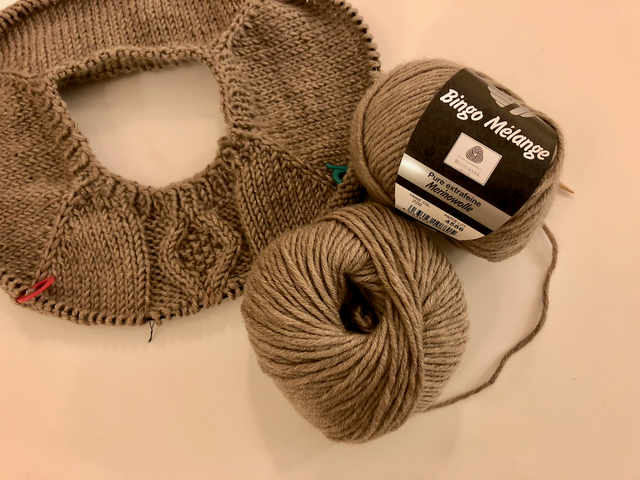 I am proof knitting a long lasting baby/kid's sweater in my mind to make a pattern in the near future (hopefully!).
This time I picked 100% wool yarn for 4.5-5.5mm needles. It is a bit thicker than the one I used for my daughter's first sweater, which she wears three winters and inspired me to make the pattern. Yes, I'm happy to see the sweater lasts so long and I would like to share this happy feeling :)
I picked the thicker yarn because it may be easier for beginners to finish a piece quickly. But I found my hypotheses is not 100% right. The sweater I'm proof knitting now is more for deep winter. It may be chunky for spring and autumn.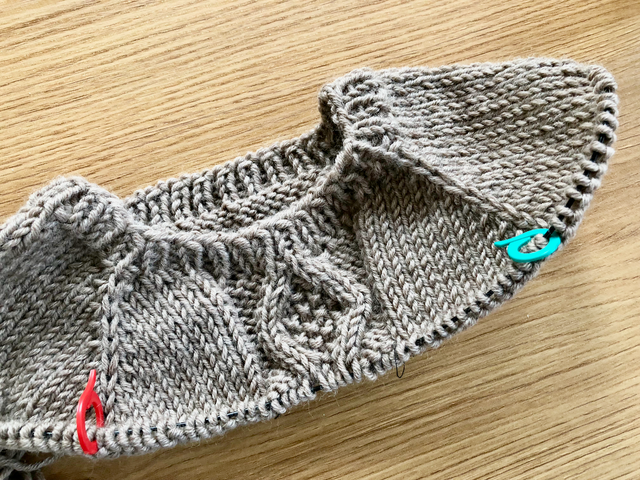 To knit a sweater for multi seasons, I recommend you to use a lighter yarn. Needle size wise it should be 4.0-4.5mm. Like the following one: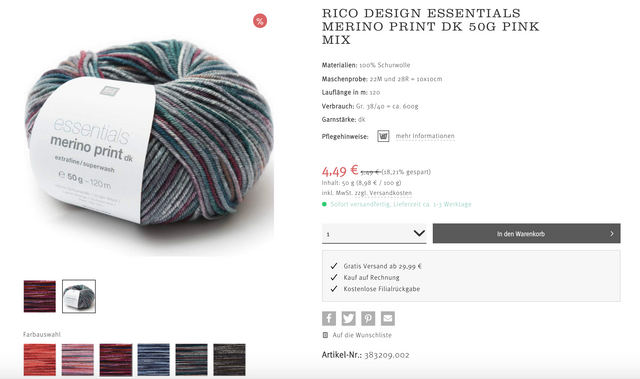 https://www.wolle-roedel.com/rico-design-essentials-merino-print-dk-50g?number=3066973
The yarn above is the one I used for my daughter's sweater two years ago (during crypto bubble!).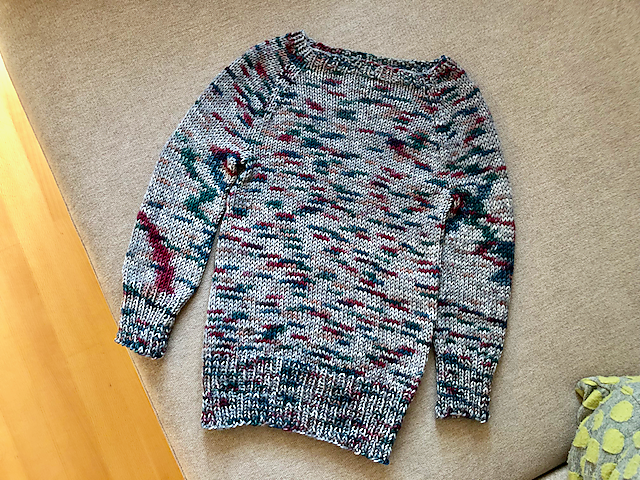 Recently I was happy to find it's still sold at a shop and also online.
So here is my conclusion. Yarn for needle size ...
4.0-4.5mm: three seasons sweater (with cotton yarn, it can be a summer sweater)
4.5-5.5mm: winter sweater
Talking about material, I like to use 100% wool yarn or those with other natural materials. Good for skin and also good for the environment.
You may worry about pilling, but if you select a right yarn, it won't be a big problem. My daughter's has some. I just remove them time by time and the sweater looks fine :)
Ya, there are still a lot to learn. But I'm excited to make my first pattern after knitting for many years!
---
長くきられる赤ちゃん・子どもセーターのパターンを作ろうとしています。3年前の今頃編んだセーターを子どもは未だに着ていて、自分が作った服が一番長持ちしているというのはとてもうれしく、この気持ちをみんなとシェアしたいなと思って。
試し編みには、子どものセーターを作った毛糸よりも少し太めの毛糸を使っています。というのも、太めの毛糸だと早く編み上げられるので、初心者の人もモチベーションを失わずいいかなと思ったからです。・・・が、4.5mm-5.5mmくらいの針で編む毛糸を使うと、真冬向きのセーターになりますね。考えていなかった!
春、秋、冬3シーズン着られるセーターにするには4.0-4.5mmの針向けの毛糸を選ぶのがよさそうです。素材としては肌と環境を考えると、ウール100%またはその他の自然素材がよいと思います。子どもはじゃんじゃん汚してくれるので、洗うたびに化学繊維で水を汚染するのは気が引けます。木綿の糸を使うと夏にも着られるセーターまたはカーディガンになりそうです。これも試したいです。
毛玉が心配という人もいるかもしれませんが、毛糸の当たりがいいとほとんど問題になりません。当たりの確率を上げるには、お店でサンプルを見たり、まずは一玉買ってゲージの確認がてら試し編みしてみるのをお勧めします。私は子どものセーターに毛玉が増えてきたなというタイミングで季節に1、2度、動画を見ながらちまちま毛玉を手でとっています。これで三冬問題なく着られています。
編み物は10代かそれ以前に始めて、途中ブランクはあったものの長く続いている趣味の一つですが、まだまだ学ぶことはたくさん。ここにきてようやく自分でパターンを作れるようになるのかな。プログラミングや外国語で最初はコピーから始めるのと似ている気がします。
長持ちする赤ちゃん・子どもセーターのパターン、ライフワークとして取り組めたらと思います。
---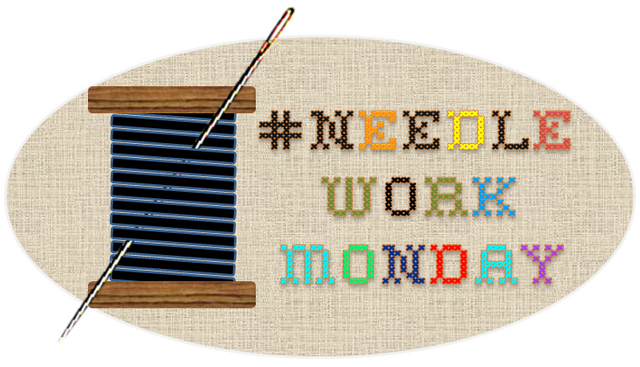 Needlework Monday is initiated by @crosheille and @crystalize. Now it has its own account @needleworkmonday. Thank you to the team for hosting this wonderful & fun weekly tag!
針仕事の月曜日は@crosheilleさんと@crystalizeさんが始めた月曜日の針仕事コミュニティーです。和気藹々針仕事の話題で盛り上がります。英語の投稿にヘルプが必要でしたら discord などでお気軽に声をかけてください。