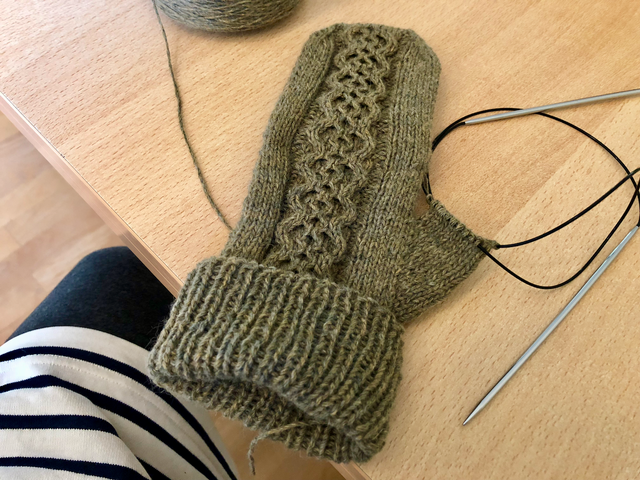 Today it's about a pair of convertible gloves I'm knitting right now.
Last year I lost one of my favorite gloves I used for seven years. I take wear and take off them quite frequently for example for using my smartphone, shopping etc. I think this is the cause that I lose my gloves.
Then I came up with making a pair of convertible globes. Convertible globes are fingerless gloves with mitten like finger covers.
I looked up patterns on Raverly but most of convertibles have finger covers attached separately. It makes a line between the fingerless part and the finger cover. I wanted to make them seamlessly connected as I felt like putting a cable pattern on my gloves.
Here comes my experiment. First I made a mitten with a hole on top of palm. After I finished knitting the main mitten part, I picked stitches inside and started knitting fingerless part.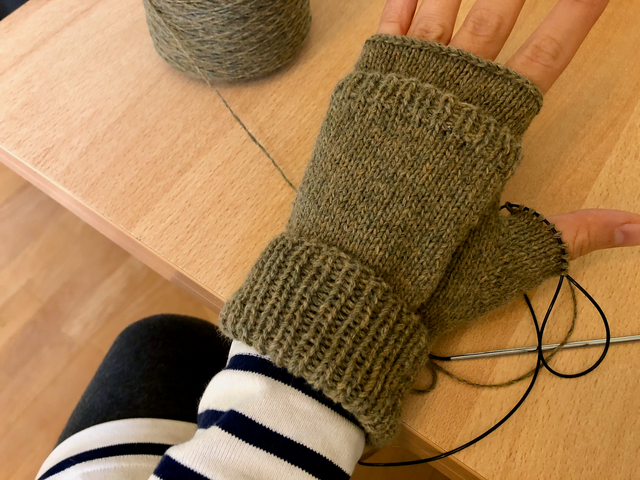 The connection part is not super smooth but it's OK seamless :)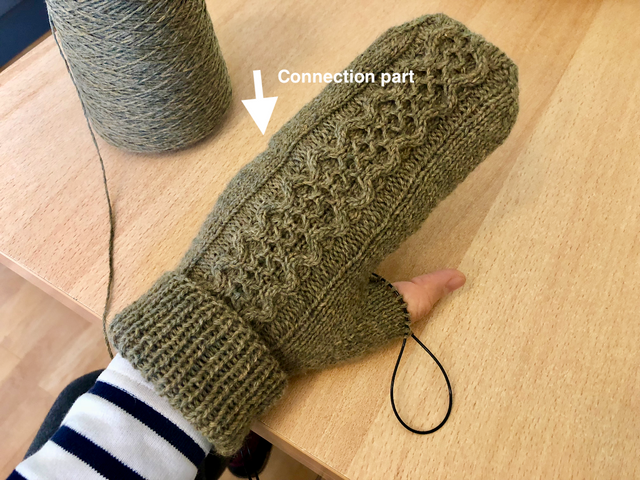 There is no pattern. I put it on my hand time by time and adjusted it. I learned how to make thumb from One Cable Mitts on Raverly and used a cable pattern on Cable Knitting Patterns (No. 48, side cables)
I'll finish the thumb within next days and start knitting right one. I look forward to wearing it especially at outdoor markets and shopping with warm hands.
---
指カバー付きの手袋を作っています。
去年の今頃7年以上使ったお気に入りの手袋を片側だけなくしてしまいました。何でなくしてしまったのか考えてみると、私は外出先で指先を出したくて、頻繁に着脱するからだと思うにいたりました。スマートフォンについては専用手袋でもいいのですが、マーケットなど屋外で買い物をするときに指の感覚が必要で、あと、小銭が取りにくい・・・。
英語でコンバーティブルと呼ばれているタイプの手袋なら脱がずに指先だけ出せて、なくさない上、暖かそうです。ただ、Raverlyでコンバーティブルの作り方を探してみると、指カバーと指なし手袋の継ぎ目が結構気になり、継ぎ目がきにならないように自己流で作ってみることにしました。
まず手首からミトンを編みはじめて、手のひらの上端に指を出す穴を作ってそのまま指先まで編みます。ミトンが編めたら手の甲の目を拾って指なし手袋の指先部分を編みます。ものすごく継ぎ目が見えなくって完璧とは言いませんが、なかなかの出来ではないかと思います。今週仕事が終わったら親指部分を編んで、右手に取りかかろうと思います。
適宜自分の手にはめながら編んでいるので作り方はありません・・・。親指の付け方はRaverlyのOne Cable Mittsを参考にして、ケーブルはCable Knitting Patternsの48番のパターンのサイドのケーブルを使いました。
これでマーケットで寒い思いをせずに買い物できるかな。冬が近づいているので早々に完成させたいです :)
---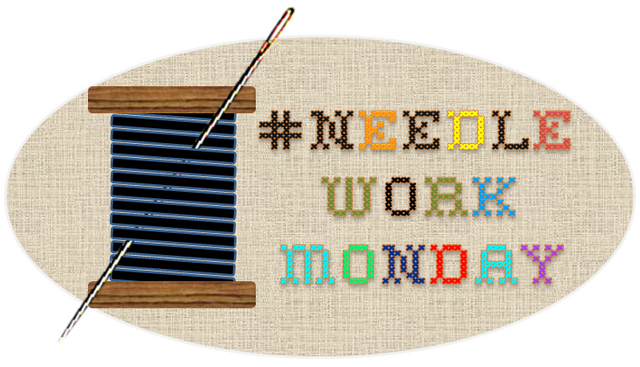 Needlework Monday is initiated by @crosheille and @crystalize. Now it has its own account @needleworkmonday. Thank you to the team for hosting this wonderful & fun weekly tag!
針仕事の月曜日は@crosheilleさんと@crystalizeさんが始めた月曜日の針仕事コミュニティーです。和気藹々針仕事の話題で盛り上がります。英語の投稿にヘルプが必要でしたら discord などでお気軽に声をかけてください。
---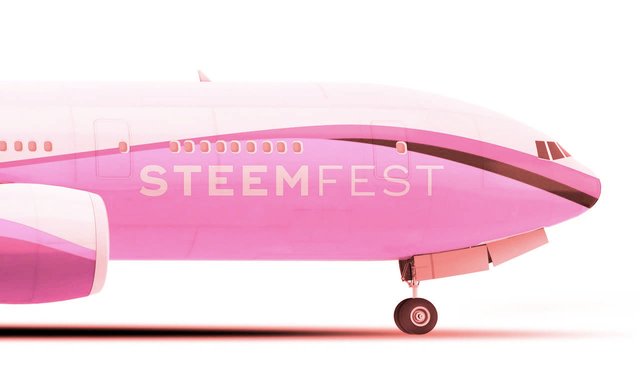 As it was nice to be at SteemFest last year and would like to support participants this year, 50% of my reward goes to @t-r-f (SteemFest Travel Reimbursement Fund 2019) until SteemFest. Detail of my idea is written in the following post:
Half of my reward goes to SteemFest Travel Reimbursement Fund / SteemFestの旅費サポートプログラムに報酬の半分を寄付します