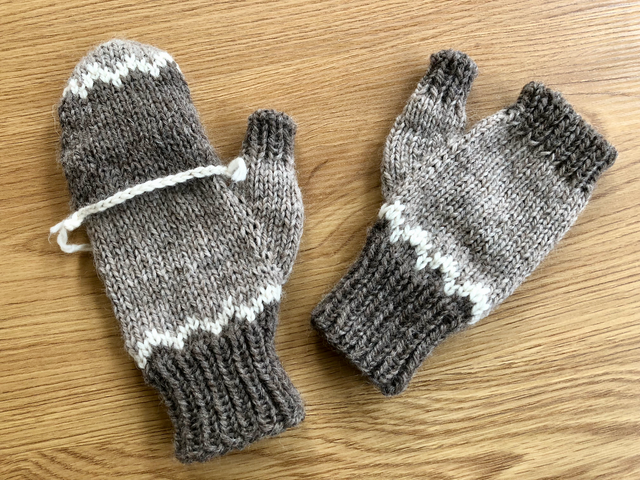 I wasn't 100% satisfied with the convertible glove I wrote about two weeks ago. It shows winkles on top of fingers when I bend my fingers. I think it is because I knitted it with too slim yarn and needles (around 3.5mm). If it's a pair of fingerless gloves, I guess it's fine with slim yarn.
While I was wondering I shall make the right side or not, I found a chunky glove I made last year spontaneously. I made it in one day after I lost one of my gloves to have both hands warm. I liked the chunky fatty glove. Especially mittens looks nicely warm. It fits well to my hand as it's quite fatty.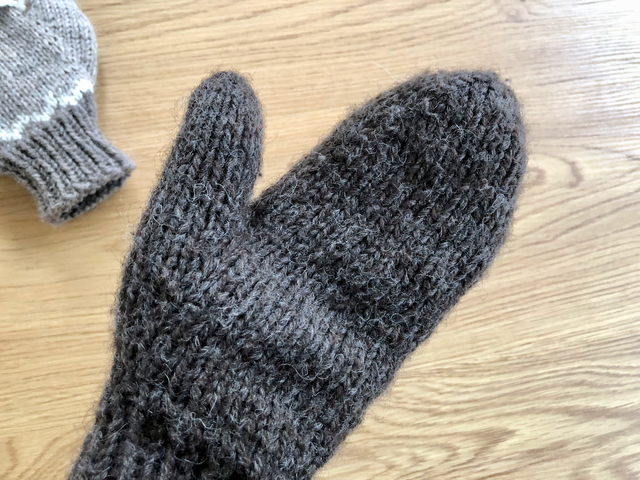 The yarn was used to be part of my sweater. Unfortunately the shape of the sweater didn't fit well to me so I decomposed it and use the yarn time by time for other projects.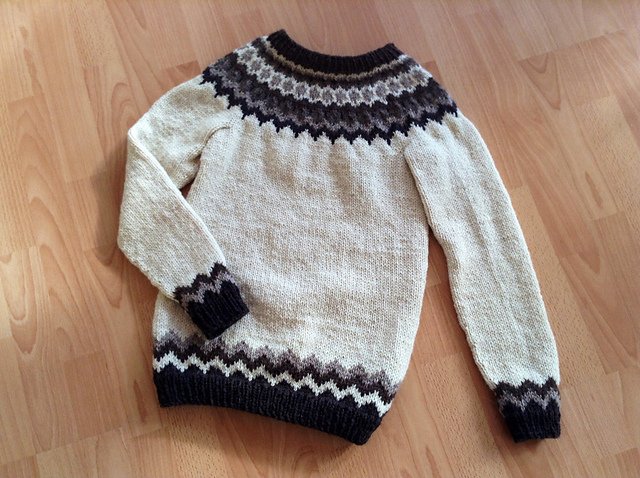 I quickly made a fingerless glove shown on top of this post with the same yarn. I have to carefully pick yarn so that I don't run out of a color somewhere in the middle ;)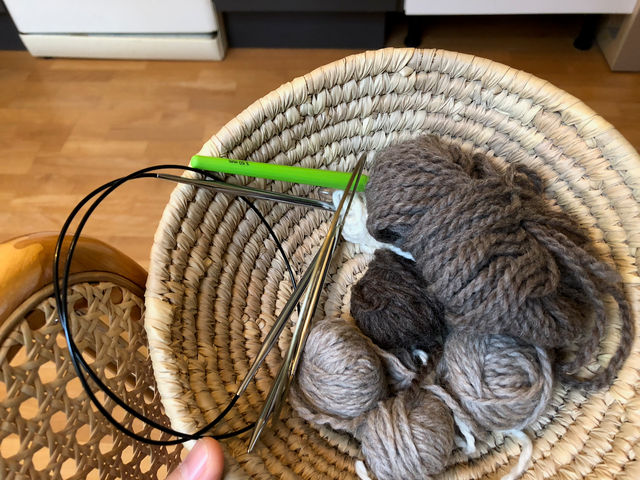 No pattern. I made the pattern ad-lib by fitting it on my hand. I learned how to make thumb from One Cable Mitts on Raverly.
I'm quite satisfied with the result of my second attempt so far. I continue knitting it and will have a pair of convertible gloves soon (finally!).
---
実は先日作り始めた指カバーのついた手袋にちょっと不満がありました。細い毛糸はケーブルが綺麗に見えるのはよいものの、ミトンにほしい感じのボリューム感がなくて、指を曲げた時などに変なしわができるのが気になっていたのです。
もう片方を作るか作らないか迷っていた時に、去年手袋を片方だけなくして、急遽作ったミトンを見つけました。そうそう、このボリューム感がほしいんだ。このミトンは休日1日で編めたので、残っていた同じ糸で指カバー付きの手袋を編み始めました。この糸、ドイツに来たばかりの頃にセーターを作ったものの、微妙に形が合わなくてほどいたものなのです。
糸が足りなくならないように模様や色選びに気を使いながら編みました。週末で指無し部分が完成。指カバーはまだひとつ編んだだけで本体につけていませんがよい感じではないでしょうか。指カバーも少し工夫して編んだので、指を曲げた時に変なしわがよりません。
パターンはありません・・・適当に手に合わせながら編みました。親指部分はRaverlyのOne Cable Mittsと同じです。ミトンの指先については、従来の編みかたよりもきちんと指先にフィットさせつつ変な形にならない方法をみつけたのでいずれ書きたいです。
今週仕事を終えてもうひとつ指カバーを編んでとりつけたら完成。子供のお迎え、買い物、庭仕事のおともになりそうです :)