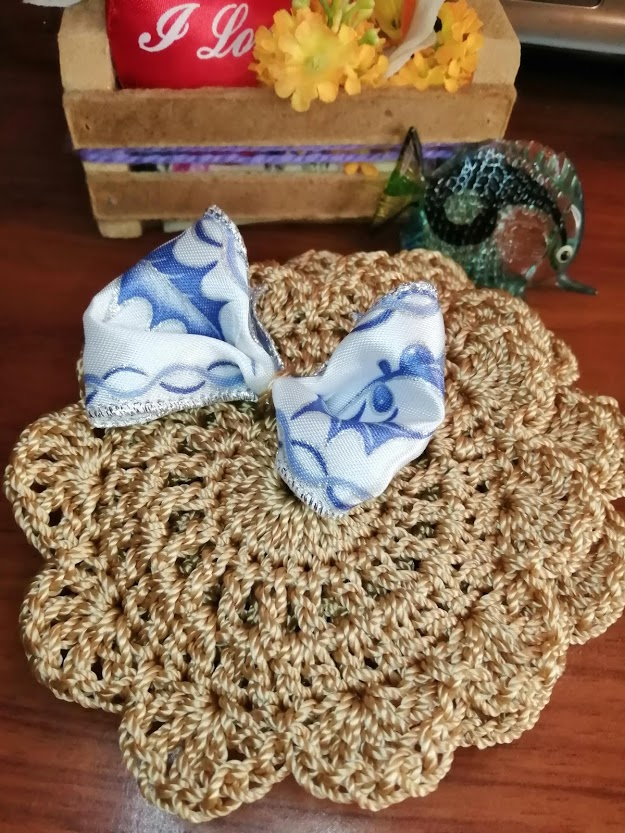 Amigos..!! Bienvenidos a un nuevo tutorial de crochet, deseando que estos días de descanso y tranquilidad familiar puedan recuperar las fuerzas necesarias para seguir adelante, en busca de tus sueños..!!
Vamos a realizar unos hermosos Porta-Tazas con ganchillo, usando la técnica de crochet. Acompáñenme y les muestro como podemos realizar una labor sencilla para regalar o usar en nuestro hogar.
---
Dear Friends! Welcome to a new crochet tutorial, wishing that these days of rest and family tranquility can recover the strength to move forward, in search of your dreams ...!
We are going to make some beautiful Crochet Cup Holders, using the crochet technique. Come with me and I show you how we can make a simple work to give away or use in our home.
---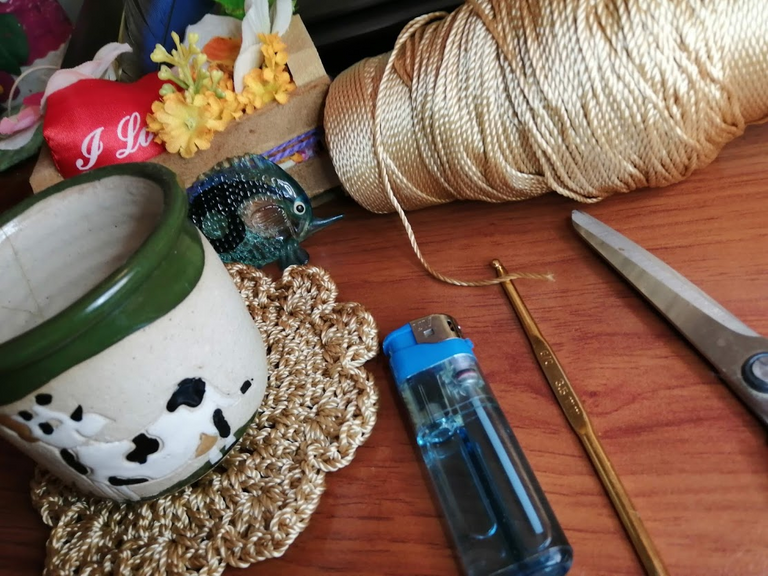 Materiales:
Cordón, hilo mercerizado, pabilo (realmente el hilo que tengas a mano).
Aguja Nro 6 (3.5mm), puedes usar la que ajuste a tu hilo.
Tijera.
Yesquero.
---
Materials:

Lace, mercerized thread, wick (really the thread you have at hand).
Needle No. 6 (3.5mm), you can use the one that fits your thread.
Scissors.
Plasterer.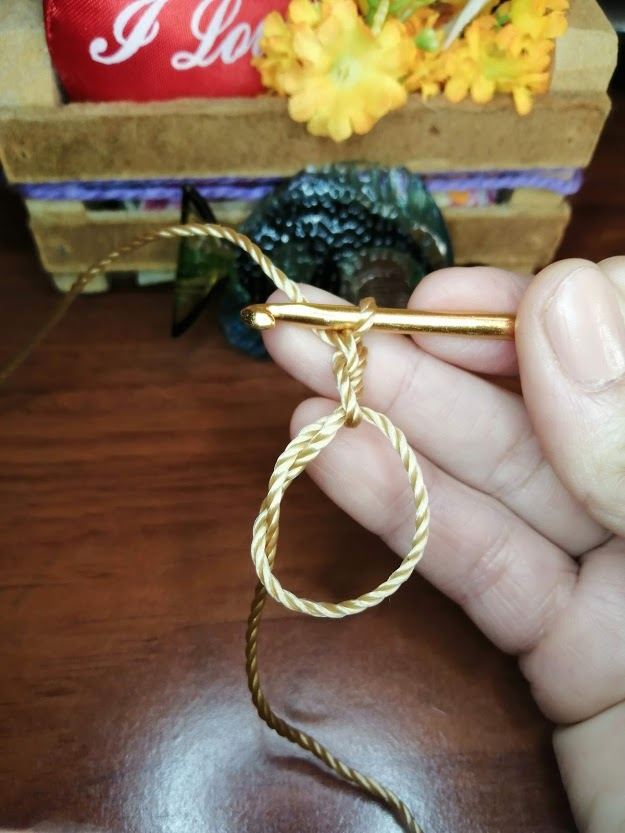 Inicio
Iniciamos con dos cadenetas formadas en un aro mágico, éste va a sustituir el primer punto alto de la labor.
---
Start
We begin with two chains formed in a magic ring, this will replace the first high point of the work.
---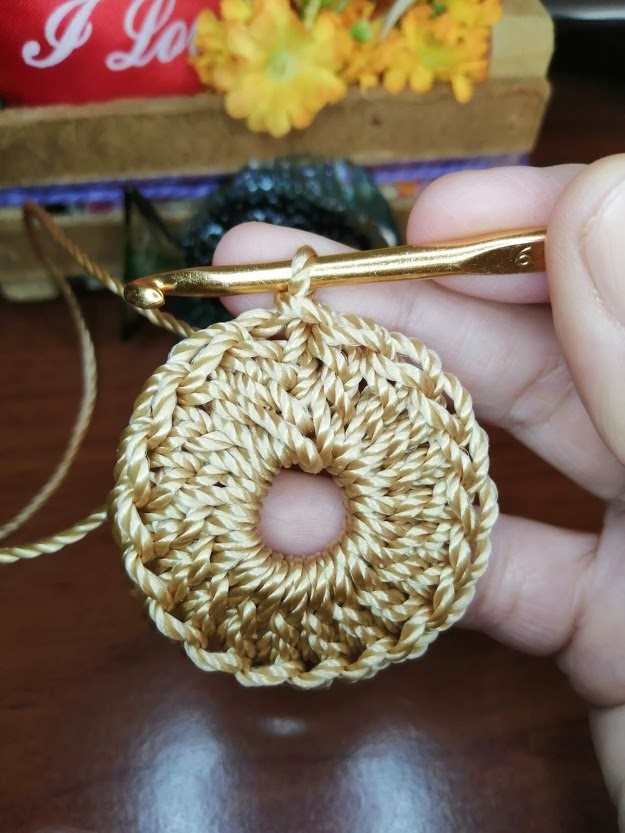 Primera Vuelta
Continuamos realizando 19 puntos altos, ajustamos el hilo y cerramos con un punto deslizado.
---
First round

We continue with 19 high stitches, adjust the yarn and close with a sliding stitch.
---
---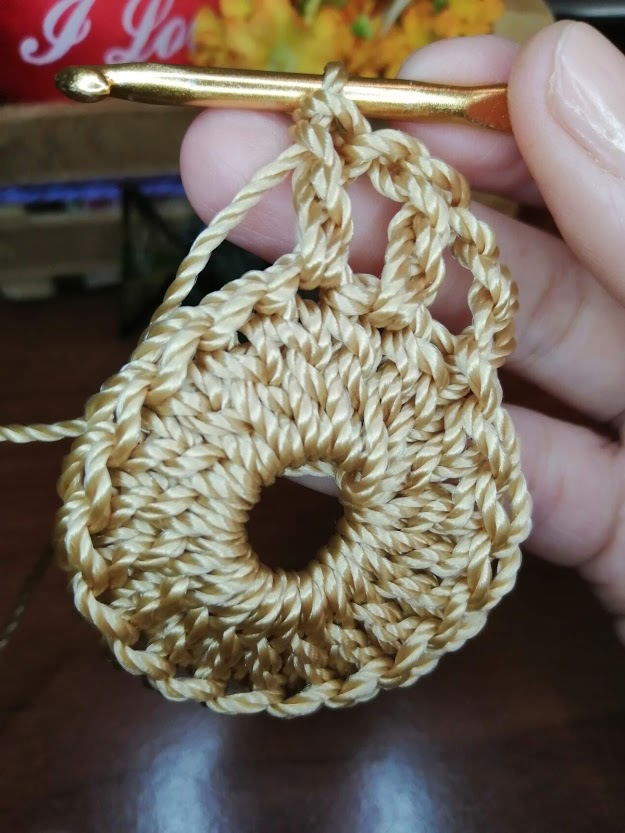 Segunda Vuelta
Para la segunda vuelta, vamos a realizar 3 cadenetas, que van a sustituir el primer punto alto y un espacio. Repetimos un punto alto y una cadeneta en todos los 19 puntos base, cerramos con un punto deslizado.
Al final contaremos con 40 puntos en el contorno de nuestra labor.
---
Second Round

For the second round, we will make 3 chains, which will replace the first high point and a space. We repeat a high point and a chain in all 19 base points, we close with a sliding point.
At the end we will have 40 stitches on the outline of our work.
---
---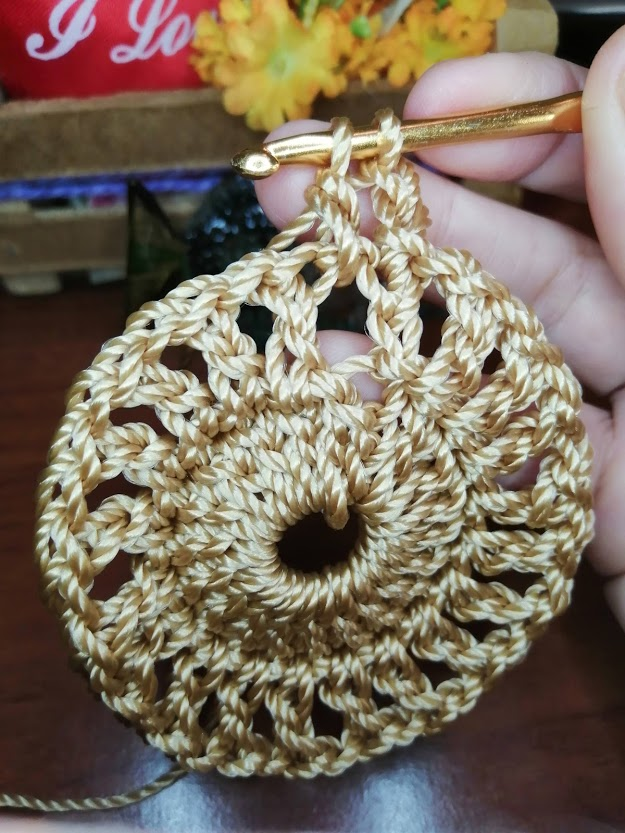 Tercera Vuelta:
Ya llegamos a nuestra tercera vuelta donde levantaremos nuestras primeras dos cadenetas que sustituirán nuestro primer punto alto y continuaremos con 39 puntos altos en cada uno de los puntos de la cadena base.
---
Third Round:
We have reached our third lap where we will raise our first two chains that will replace our first high point and we will continue with 39 high points in each of the points of the base chain.
---
---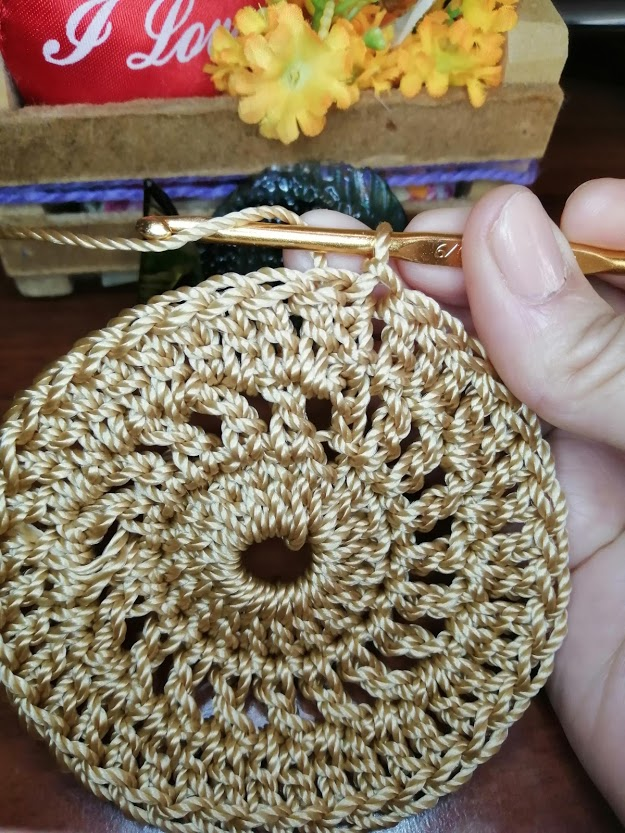 Cerramos con un punto deslizado y de esta manera va quedando.
---
We close with a sliding point and in this way it is left.
---
---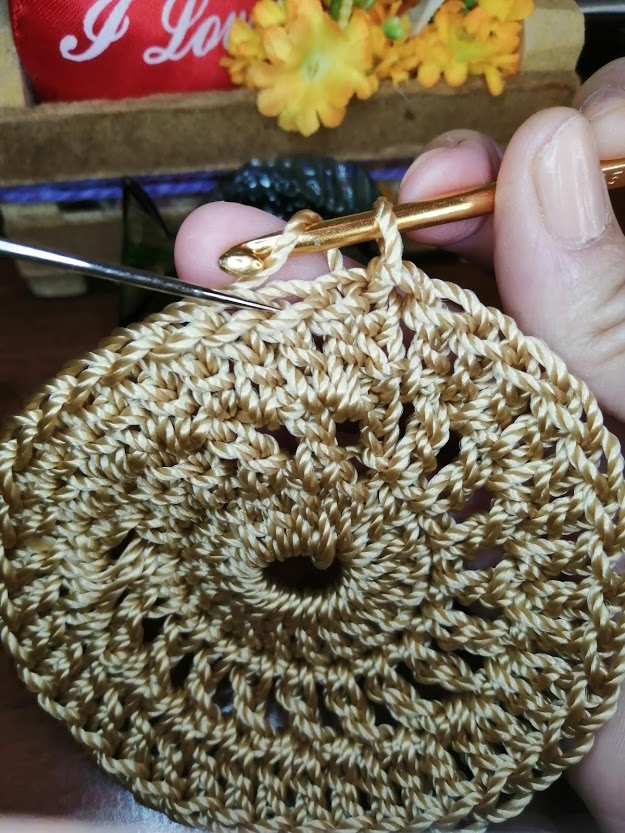 Cuarta Vuelta:
Vamos a formar 10 pétalos: tomamos una lazada, saltamos un punto de la base y realizamos un punto alto donde indica la imagen, en total vamos a realizar 5 puntos altos intercalado con una cadeneta.
---
Fourth Round:
Let's form 10 petals: we take a loop, jump a point from the base and make a high point where the image indicates, in total we will make 5 high points interspersed with a chain.
---
---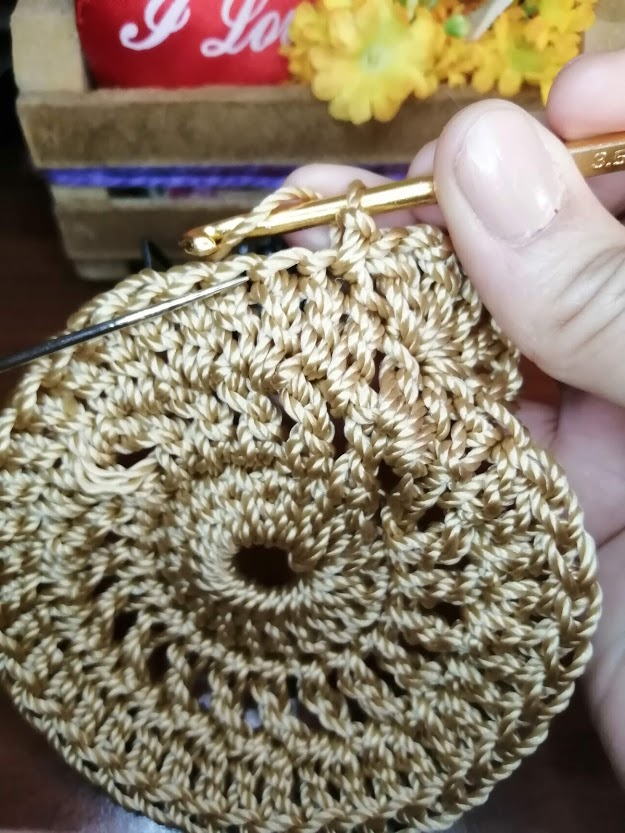 Procedemos a saltar un punto y realizamos un punto deslizado, para dar firmeza al pétalo.
---
We proceed to jump a point and make a sliding point, to give firmness to the petal.
---
---
Para formar un nuevo pétalo, debes saltar un punto de la base y repetir el paso de inicio de la cuarta vuelta.
---
To form a new petal, you must skip a point at the base and repeat the starting step of the fourth lap.
---
---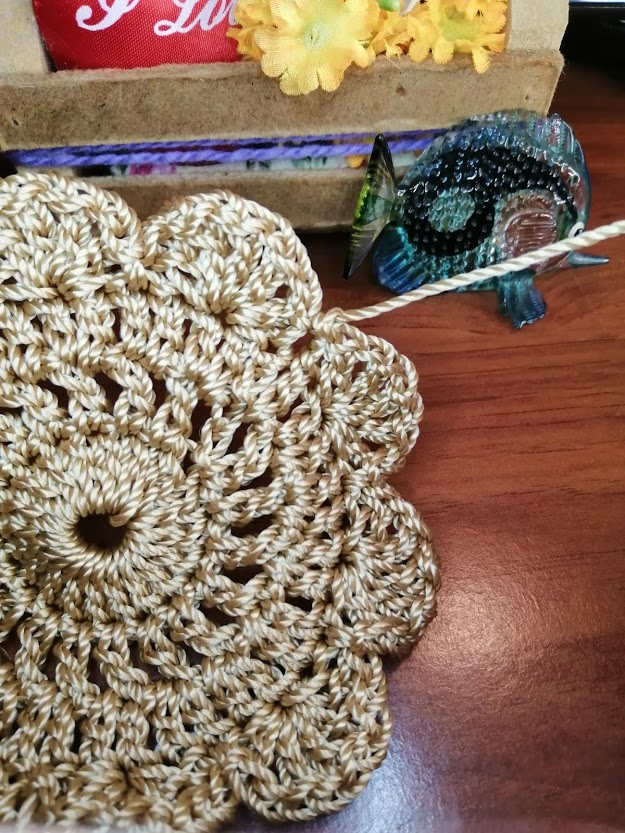 En total nos van a salir diez (10) pétalos. Cerramos con un punto deslizado, aseguramos con un nudo.
---
In total we will get ten (10) petals. We close with a sliding stitch, secure with a knot.
---
---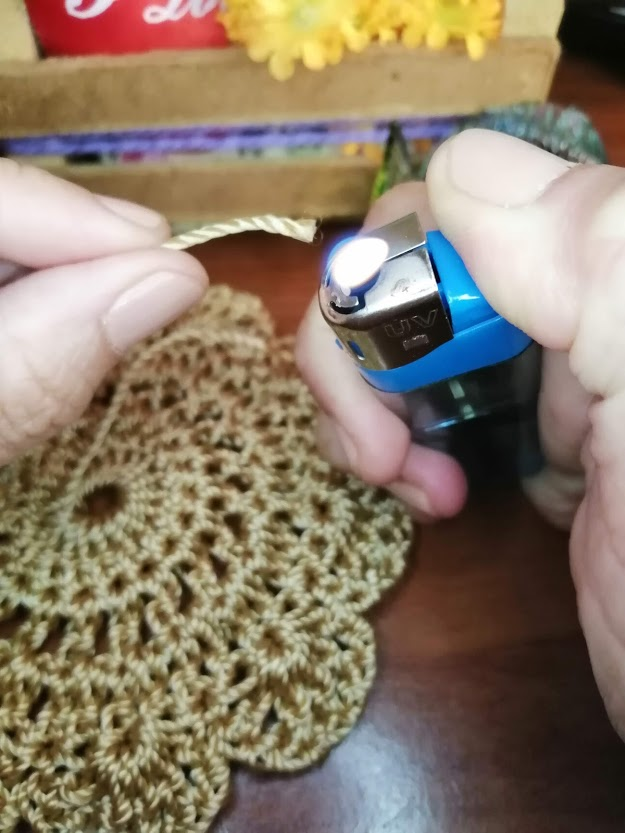 Procedemos a quemar las puntas para que no se deshaga, este hilo es de plástico, por lo que debemos tener mucho cuidado.
---
We proceed to burn the tips so that it does not fall apart, this thread is plastic, so we must be very careful.
---
---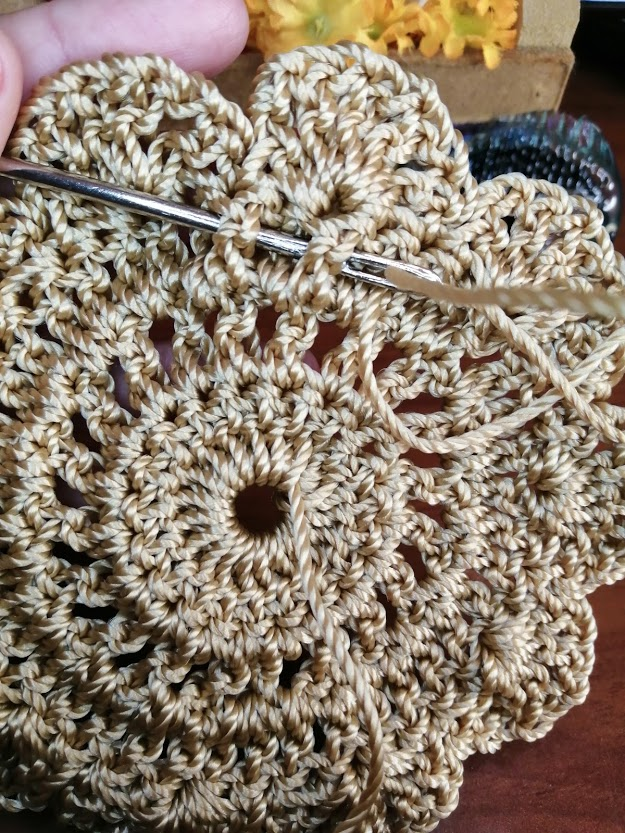 Escondemos nuestro extremo del hilo y volvemos a quemar levemente (en este caso) para que no se deshaga y se mantenga firme la labor.
---
We hide our end of the thread and lightly burn it again (in this case) so that it does not fall apart and the work remains firm.
---
---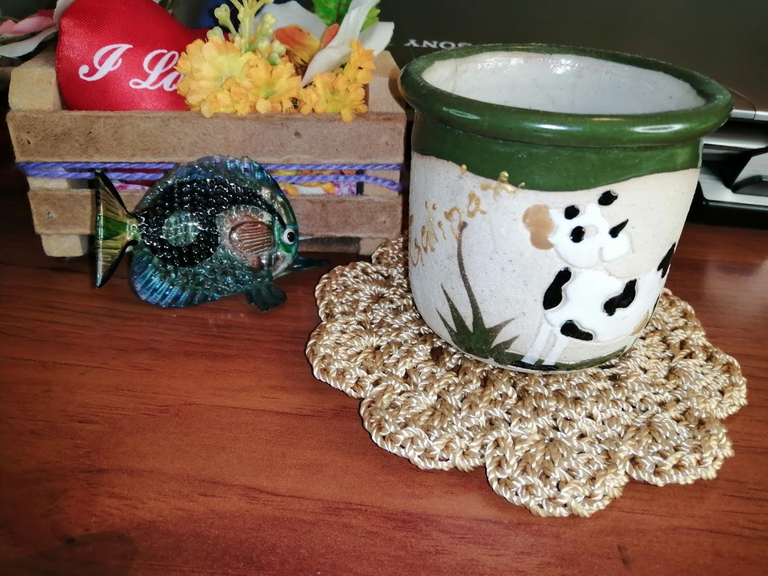 Ya tenemos un lindo detalle para colocar nuestras tazas o, si son como yo, aún debo entregar algunos regalitos de navidad para mis amigas.
---
We already have a nice detail to place our cups or, if they are like me, I still have to deliver some Christmas gifts for my friends.
---
---
Ha sido un gusto haber realizado este sencillo motivo a crochet, espero que te guste y te animes a realizarlo!
Nos vemos mañana, Dios mediante para un nuevo "Invento creativo", por favor cuídense mucho, mantengan las medidas de higiene y sana distancia, recuerden que les queremos mucho..!! Besitos..!!
---
It has been a pleasure to have made this simple crochet motif, I hope you like it and dare to make it!
See you tomorrow, God willing for a new "creative invention", please take care of yourselves, maintain the measures of hygiene and healthy distance, remember that we love you very much! Kisses!
---
---
@leticiapereira
HuaweiY9