Streben nach Harmonie
Buddhafiguren und Steinlaternen, Kies, Bambus und Ahorn, all das verbindet man in Europa mit asiatischen Gärten. Bei unserem Taiwan-Besuch im Oktober letzten Jahres hatten wir die Gelegenheit, nach einem ausgezeichneten Essen in
diesem Restaurant
, einen fernöstlichen Garten zu besuchen.
The pursuit of harmony
In Europe one associates Buddha figures, stone lanterns, gravel, bamboo and maple with Asian gardens. During our visit to Taiwan in October last year, we had the opportunity to visit a Far Eastern garden after an excellent meal in
this restaurant
restaurant.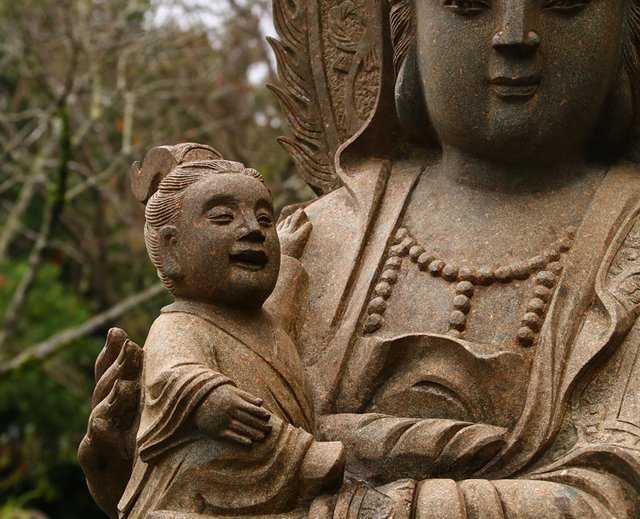 Die chinesische, wie auch die japanische Gartenkunst ist geprägt durch eine jahrtausendealte Tradition. Es geht immer um das Streben nach Harmonie. Die Wechselwirkung von Kräften, die sich in der Natur gegenseitig bedingen, manifestiert sich in der chinesischen Lehre durch Wasser und Stein.
Chinese as well as Japanese garden art is characterized by a millennia-old tradition. It is always about the pursuit of harmony. The interaction of forces that are mutually dependent in nature manifests itself in the Chinese teachings through water and stone.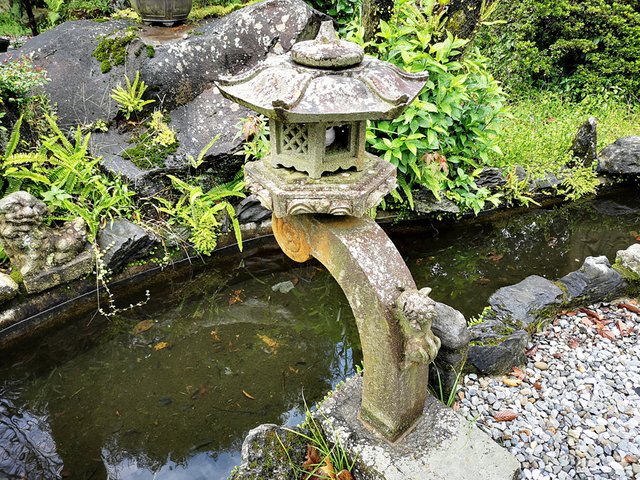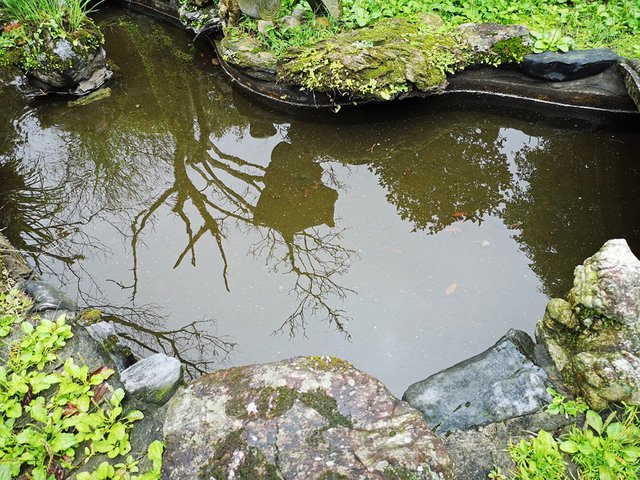 Die Kombination von Wasser (Yin), das in seiner weiblich geprägten Erscheinungsform nachgiebig, nass und dunkel erscheint, und Steinen, die hart und aufrecht für das männliche Prinzip (Yang) stehen, bringt die Harmonie der Elemente gut zum Ausdruck.
The combination of water (Yin), which in its feminine appearance appears yielding, wet and dark, and the hard, straightened up stones, that stand for the male principle (Yang), expresses the harmony of the elements well.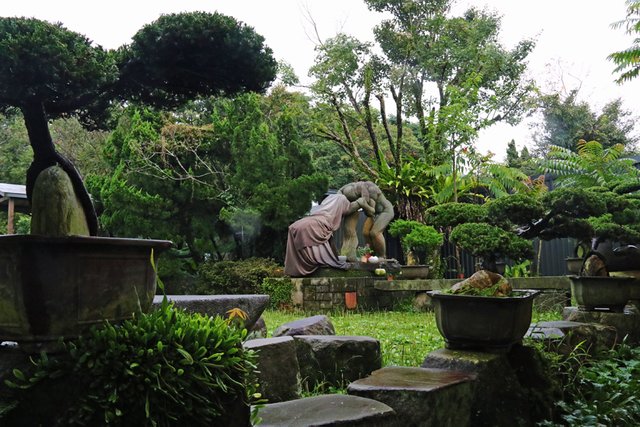 Weitere gestalterische Elemente des Yin-Prinzipes sind waagrechte Linien, liegende Steine, Moos oder Bäume mit breiter Krone, während senkrechte Linien, Bambus, aufrechte Steine und rauer Fels das männliche Prinzip verkörpern.
Further creative elements of the Yin principle are horizontal lines, lying stones, moss or trees with a broad crown, while vertical lines, bamboo, upright stones and rough rock embody the male principle.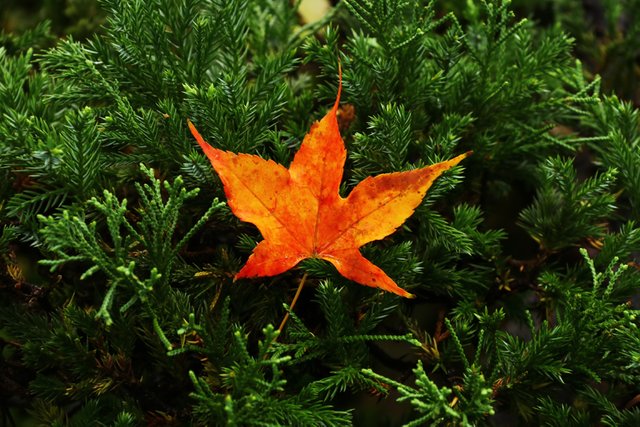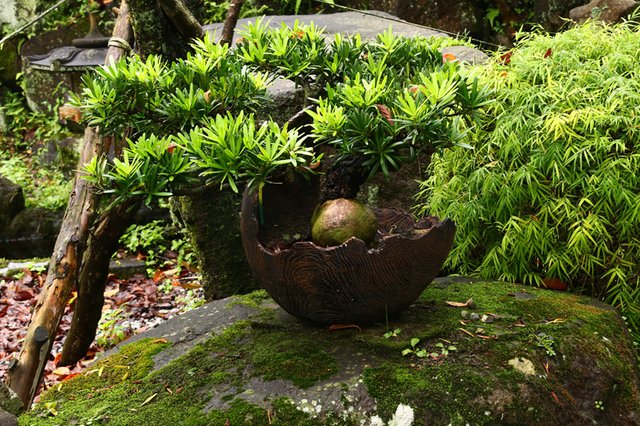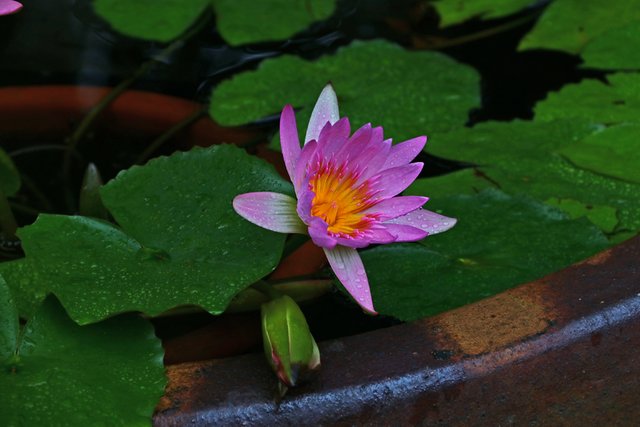 Trotz der in Südostasien vorhandenen üppigen und farbenprächtigen Flora spielen blühende Pflanzen bei der Gartengestaltung im Gegensatz zu Europa eine untergeordnete Rolle.
Despite the abundant and colourful flora in Southeast Asia, flowering plants play a subordinate role in garden design, unlike in Europe.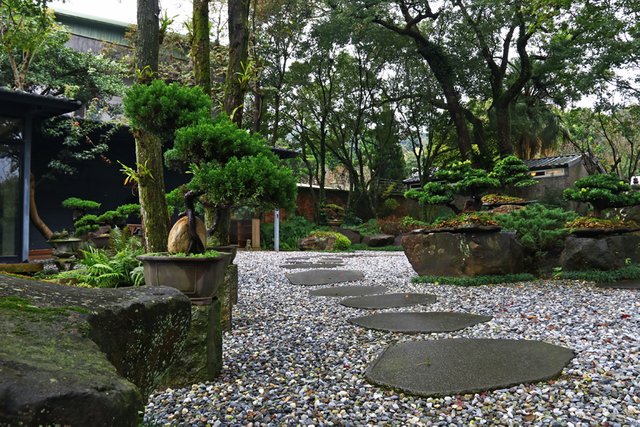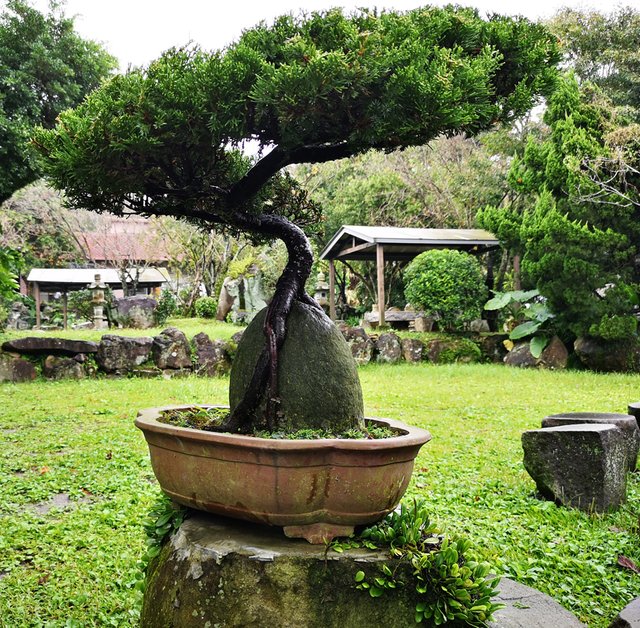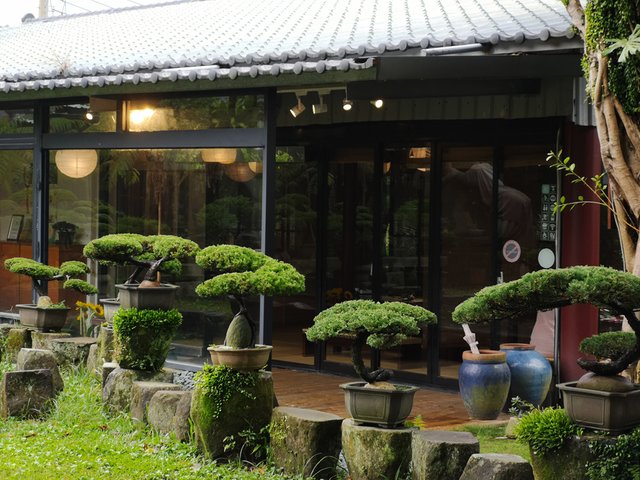 Bonsai, die Miniaturbäumchen, die in einem Gefäß kultiviert werden, gelten in der fernöstlichen Kultur als Inbegriff des Einklangs zwischen Mensch und Natur. Besonders in japanischen Gärten stellen sie ein wichtiges Gestaltungselement dar.
Bonsai, the miniature trees cultivated in a vessel, are considered in Far Eastern culture to be the symbol of harmony between man and nature. Especially in Japanese gardens they are an important design element.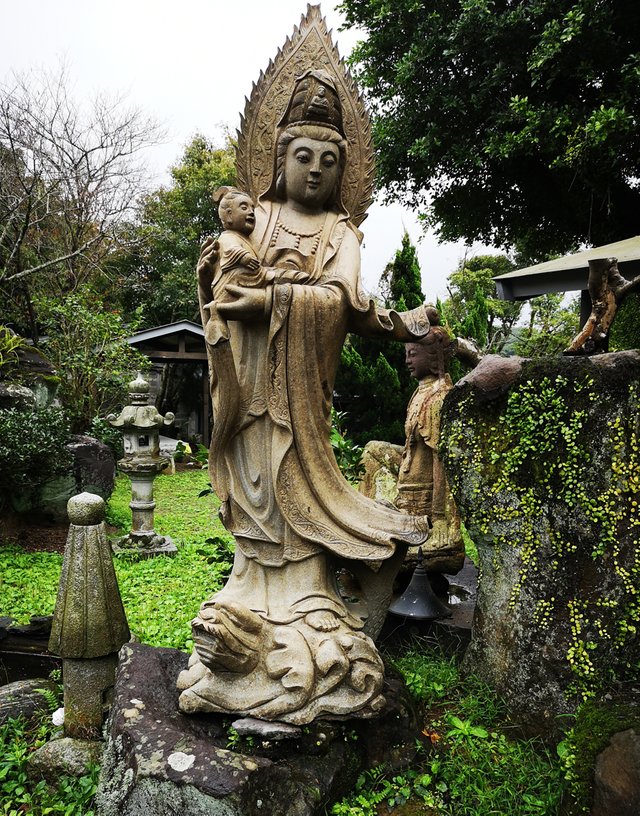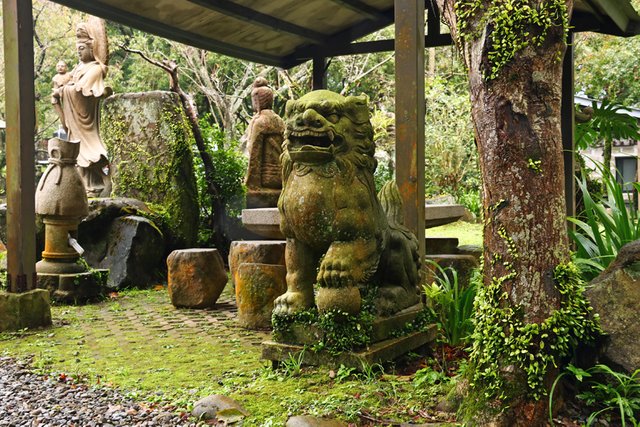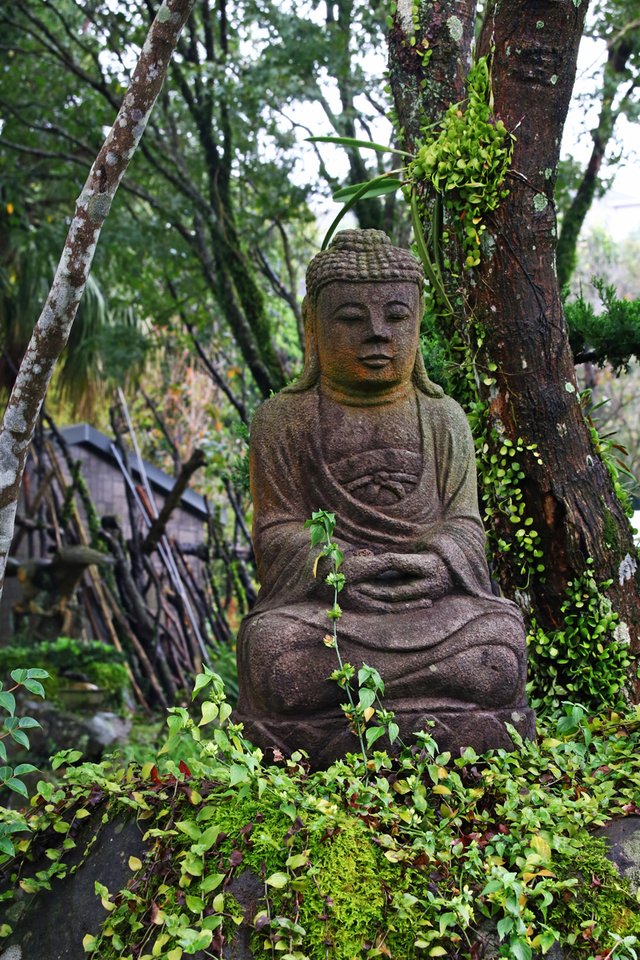 Auffällig in diesem Garten war die Vielzahl an Statuen von Gottheiten, Laternen oder anderen Skulpturen.
The most striking feature of this garden was the large number of statues of deities, lanterns and other sculptures.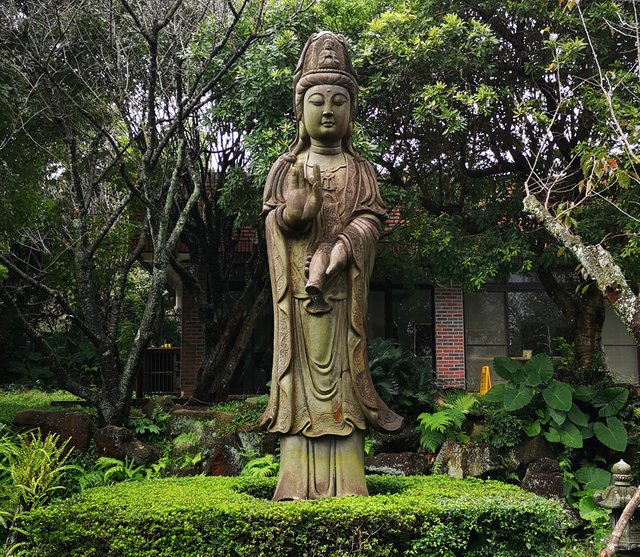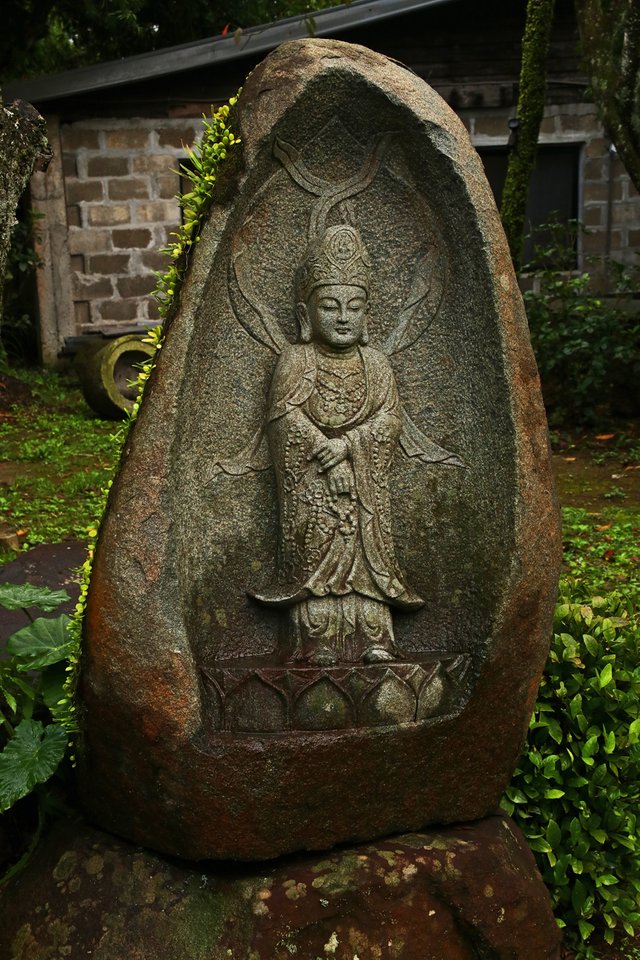 Jedes Element hat einen historisch-mythischen Hintergrund. Wird der fernöstliche Garten nach Europa exportiert, bleibt es häufig bei einer reinen Ansammlung von Versatzstücken, da die geistige Substanz dahinter fehlt.
Each element has a historical-mythical background. If the Far Eastern garden is exported to Europe, it often remains a pure accumulation of set pieces, because the spiritual substance behind it is missing.