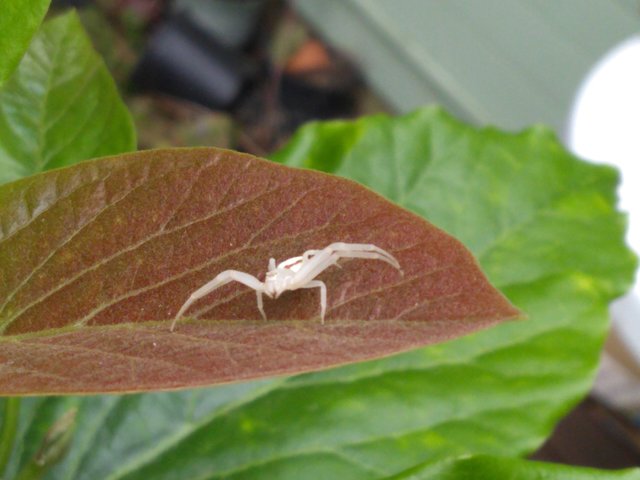 The little Goldenrod Spider has been at home, well sharing time between the avocado and bay tree I have on the deck. It has been doing quite well and I am regularly seeing it crabbed out with arms in the air, ready to catch prey. It has been here for about a month and a half now and I am hoping it keeps going till winter. I just might bring it in with the plants for the cold season... I want to bring my Cat Faced Spider in for the winter. I would love to have her in a corner of the house somewhere helping our bug problem for the cold times.
I started the day by picking squash after J went to school for his second day of kindergarten. Yesterday I got my bluetooth receiver that hooks to my garden stereo in the shed. Now when I am anywhere in the garden my phone can play over my sound system (2 - 10" subs and 2 two way shelfs) with nice clarity and no lag. Avantree RC500 Long Range Bluetooth Music Receiver was only $38 with tax and has a 160ft range. Well worth the money.
I got the bt setup and then tested it out by picking beans for my orders I deliver in the morning.
This afternoon I split about 14 rounds of pine before I got to hot and needed a break. Then after J got home from school I went out and ran the chainsaw for a while to finish cutting down one of the 4 trees. 1 down, 3 to go... At least the tallest is half done, just the fat ass bottom is left which takes forever due to the girth of the trunk.
Tomorrow morning is a co-op delivery, no school for J, and more picking and splitting that needs to be done. In the evening I am going to be likely buying a Metolius Half Dome haul bag from a listing on Craigslist. STUPID EXCITED!!!!



11820

Daily Activity, Gardening, House Chores, Weight Lifting, Yard Work