Hi Steemit family!
Today we will continue with another of the most beautiful and exotic birds on the planet, this series of publications I love but at the same time sadden me, every year disappear or are about to disappear unique species that for their beauty are captured to be sold illegally as pets, this practice is recurrent in industrialized countries where there are no forests and can not appreciate this type of animals. Today it is the turn of the gray crowned crane. Join me to learn more about this beautiful bird.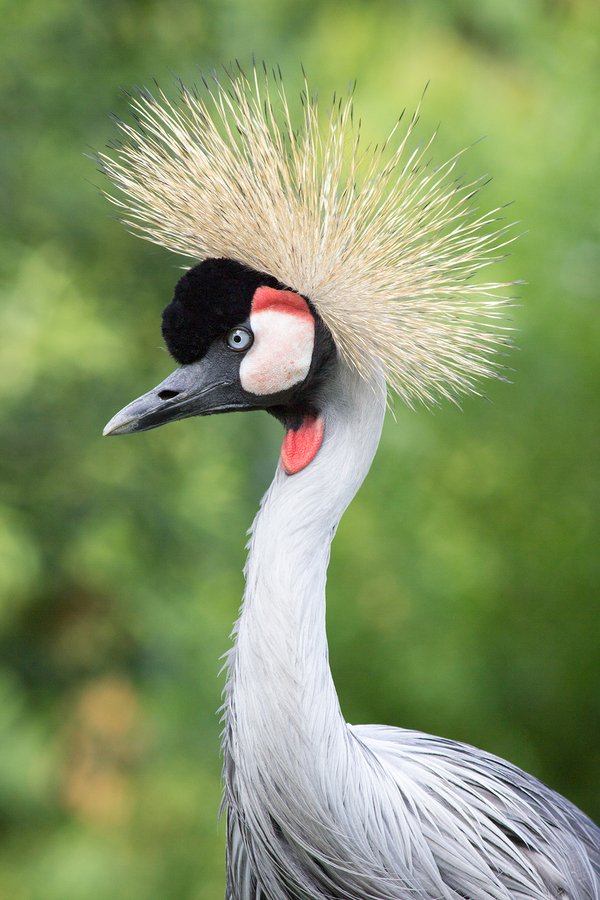 source
The grey crowned crane whose scientific name is Balearica belongs to the gruiform class, although it is an exotic bird it is a common bird and a national bird in Uganda, although it is found almost all over the African continent, its particular name is due to a natural crown that it wears on its head.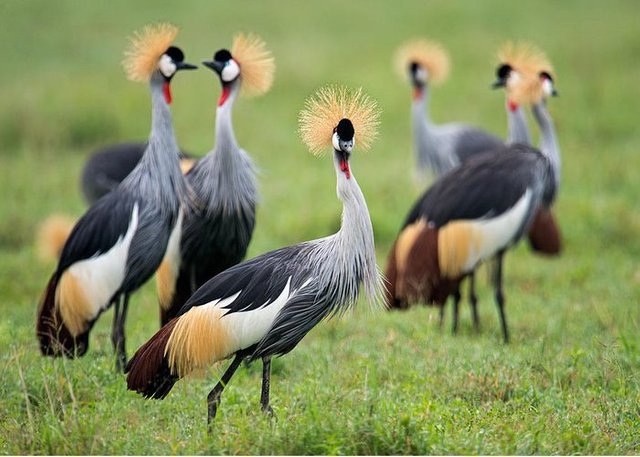 source
Its largest reserve is between Central Africa, Uganda and Kenya. Its main habitat is the same as that of other types of cranes, wetlands, swamps, savannahs, cultivated fields and open spaces, especially in the mating season, they walk in pairs and prefer sites with these characteristics.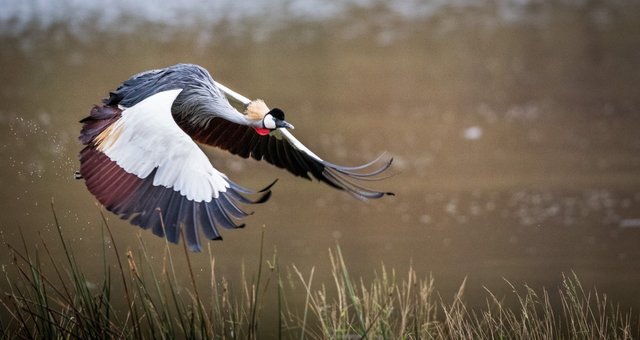 source
Among its main characteristics we have that it is a crane of smaller size if we compare it with similar species, only they arrive to measure 1, 10 meters of maximum height, there is no difference between both sexes, its color is gray as its name indicates, it has a crown that characterizes it of other species of crane, it has big hanging red papadas in its throat, while its cheeks are of white color, its beak is of black color, while the rest of its body parts vary in tones between gray, black and white, while the crown stands out due to its yellow color.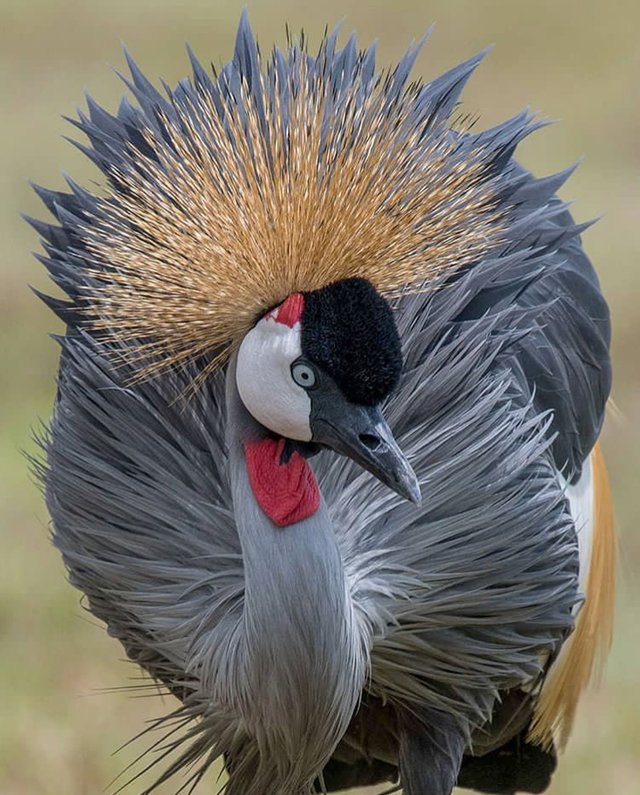 source
As for their reproduction we have that is dedicated to elaborate very well the nest making the nest quite striking, large and spacious, factories in swampy areas surrounded by water, the nest is built between the male and female, also share tasks such as incubation and breeding of birds in their early stages of life. In one breeding season the female lays 2 pale light blue eggs, then spends a maximum of 35 days incubating until the hatching of the offspring which have a reddish brown colour and sometimes is grey.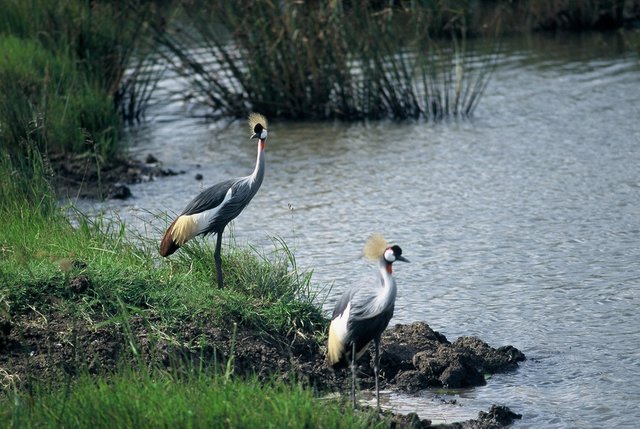 source
Their diet is based mainly on the ingestion of weed shoots, seeds, insects, and some small invertebrates and vertebrates, other ways to get food are sites where there are crops where you can consume corn, soybeans, millet, peanuts.
As for its behavior, there is something that is common and unique of this species, sleeps perched on trees the rest of the species sleeps on the shores of swamps. As far as courtship is concerned, they have complex dances, both female and male. One of the strangest things is when they grab branches, catch them with their beaks and throw them upwards, dropping them again. With this they are able to strengthen their ties and create pairs.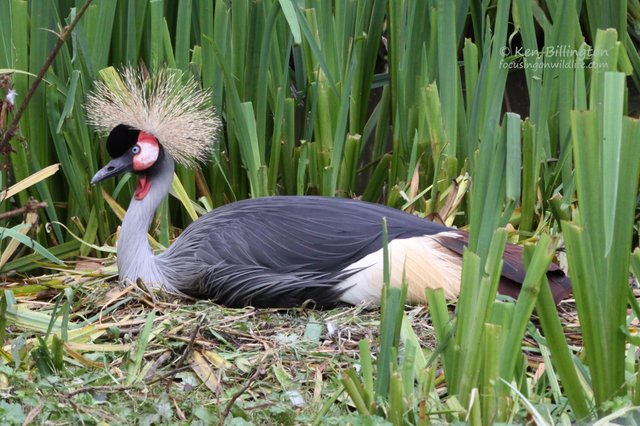 source
They communicate with a sound similar to the breeding of frogs and are strong that can be heard miles away, usually remain motionless for hours in the treetops is unique feature because no other species of crane performs this action, in general is a very passive bird, to walk slowly unless you feel under threat achieving high speeds, to fly you need to spread your wings and run to propel and fly.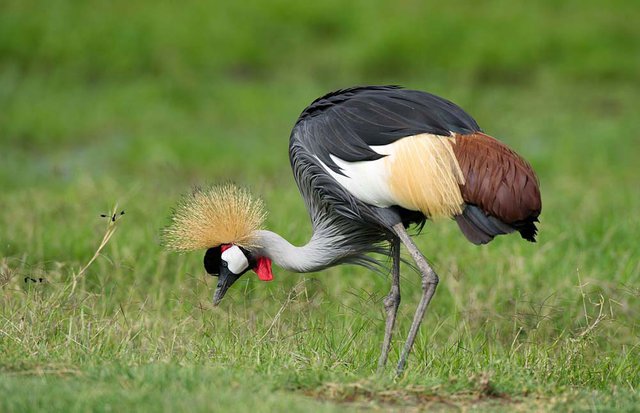 source
Thank you for reading
---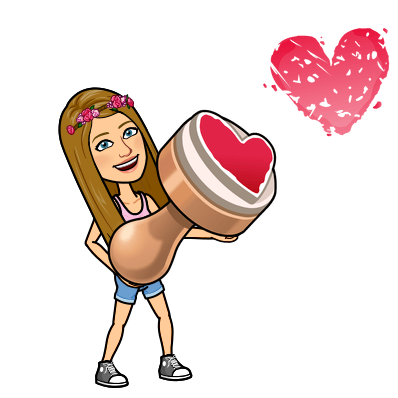 If you liked reading this article, feel free to FOLLOW ME, UPVOTE and RESTEEM! It's always appreciated =D. Thank you all for your support and see you soon for the news flamingirl's adventures!