On the evening of the imminent HF21 we wanted to make sure everyone was aware. The implementation is scheduled to occur tomorrow at 11am EDT. What does it mean and how will it impact you?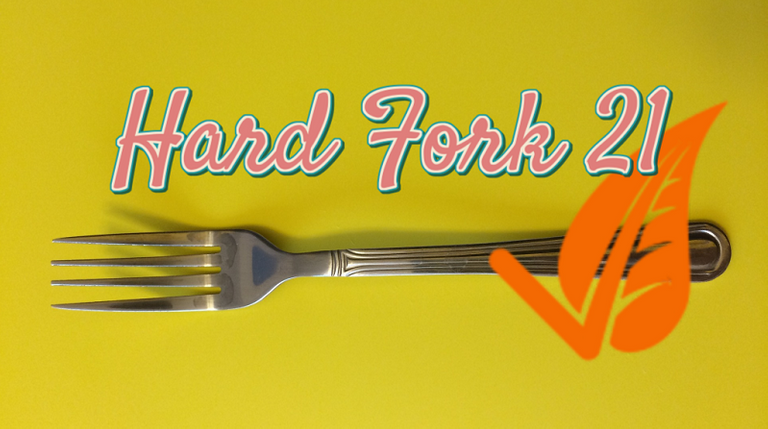 For those of us that are deep into the innards of the Steem blockchain it has been quite a discussion topic. What does it boil down to and what does it mean for #naturalproducts?
So what is a hard fork?
Steem is a blockchain, whether you realize it or not. Every time we write a post, vote on a post, comment on a post that action is written to the Steem blockchain.
When it's time to upgrade the blockchain, that is to add features, the software upgrade is referred to as a Hard Fork, in this case HF21 (this will be the 21st upgrade.) After the upgrade we continue to move along the new version of the blockchain.
Sounds Ominous
Not really. Ok, yes, the last one didn't go so well, if you were around for it but we think they learned a few things. We expect that this Hard Fork will go fairly smooth, however you may want to have alternate plans, just in case. :-)
What does it mean to me?
Aside from the technical implementation and potential impact the main things the Hark Fork covers are:
Steem Proposal System
Economic Improvement Proposal
We'll focus on the EIP pieces as they will have the most immediate impact.
Convergent Linear Rewards Curve
Curation Rewards
Downvote pool
Convergent waz-iz-fuzz, huh?
Convergent Linear Rewards Curve. Yes, it's a mouthful. If you really want to go into it on a deep dive, here's a great post, Reward Curve Deep Dive. The TL;DR version. For your claims, it's described as the best of both worlds between superlinear and linear rewards - we are currently using linear rewards curve. It essentially keeps the share of the rewards pool in proportion with the holders SP and number of votes along with the total rewards pool. It does decrease the rewards pool to 65% of the steem that is generated every 3 seconds; down from 75%, but 10% goes to the Steem Proposal System (a pool put into place to fund development or projects.)
Curation Rewards
This will effect the rewards that you see from your curation efforts. One thing to take note of, you should not vote before the post is 5 minutes old. If you do, you will reduce your curation reward. The Author, curator split will be set to 50%/50% (from 75% author / 25% curator). Curation becomes more rewarded after HF21. So for us, it means that we hope to see more people upvoting and curating content and inviting content creators to the #naturalproducts tag.
After the HF21 and next Air drop we will have an announcement regarding curation and content (stay tuned.)
Downvote
There will now be a separate downvote pool that you can use to downvote content that does not align with the community guidelines. You will be able to downvote without impacting your ability to earn on curation rewards(upvote). If you see something that is a poor post or something that violates our tribe/community guidelines for #naturalporducts then downvote it - probably polite to comment in the post if you feel comfortable.
We've added a couple of links in the resources section if you want to dig into the math of it all or want to read more on HF21.
In terms of the #naturalproducts tag, in general, stay the course and continue to create and curate great content. Let's focus on the tags guidelines and maintaining the quality of the posts. Help each other out to make the posts the highest quality. Continue to evolved the community. Let us know if you have any questions about the HF.
Just a note - They have chosen Tuesday, August 27th at 11:00 AM EDT for the coordinated upgrade.
If you want to have a look here is a link to the actual Steem 0.21.0 notes - https://github.com/steemit/steem/releases/tag/v0.21.0
Become a supporter
Become a supporter. We're looking for like-minded individuals to help support the #naturalproducts front-end project through delegations. Your delegations will help to support contributors and the further development of the front-end. Your support will also allow us to help ensure that the quality of content is high and consistent with the expectations of the community and industry and that posts are rewarded.
You can use these custom links to delegate Steem to us:
30SP, 50SP, 100SP, 250SP, 500SP, 1000SP
Join us in #naturalproducts on https://www.naturalproducts.today!
---
The NATRL token is a utility token specific to the NaturalProducts.Today site (based on Steem) used for curation, rewards, and contest promotion. The token price is market-driven and may never have any value.
images:pixabay
---
Resources: