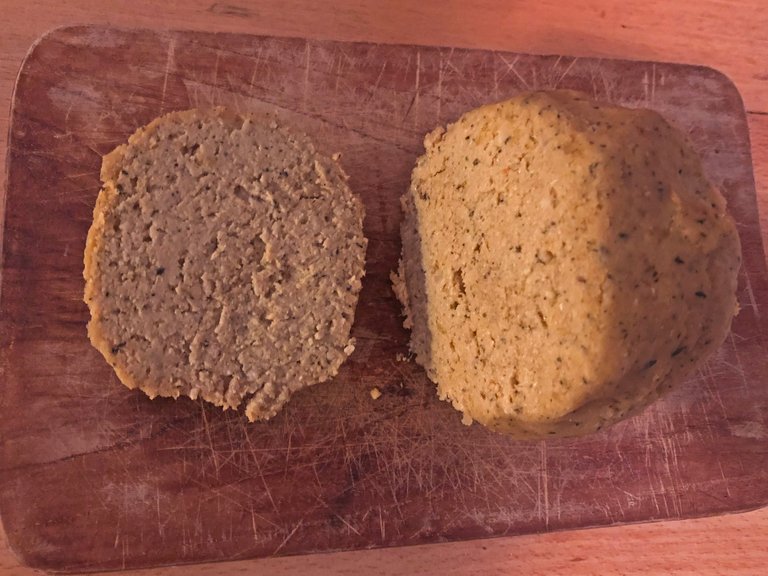 Introduction
Dear Steemians and Natural Medicine Enthusiasts!
That's right, I proudly belong to a steemian tribe called #naturalmedicine or #hive-120078. For those who do not know, the yellow character in my profile Image(avatar) is an Imaginary comic character that ascends into pure light in a comic I write, from which I publish some glimpses on my blog here. In a way, this is who I would like to become. Attain the power to completely dissolve into pure light by choice or spiritual ascendance. After having embraced life, living only makes this possible. Therefore no fear but embracing death and darkness with infinite light that shines within Amitabha. His name is Yang Yanje (@yangyanje), which means Bright Black Sheep or Light/ Bright Shinobi (Yanje, to some Ninja). He carries a Phonetic name (Soan, or 张 - Zhāng which means archer(bow and arrow)) Who is a Taoist Monk previously Shaolin of the Mahayana Chan order from a special lineage 800 plus years ago. I prefer the name Shinobi because it means person of stealth as opposed to assassin. My character is Vegan and very, very peaceful. So is the story of his so called student, which is (Rane Shinobi). My Graffiti name is also RANE (use these 4 letters) @yangyanje chooses not to harm or indirectly cause it. He attains spiritual enlightenment during a trance meditation achieving a state of samadhi. Yang might be someone who we could all be, but from the future. Here and now Yang Yan je is fictional. Or not?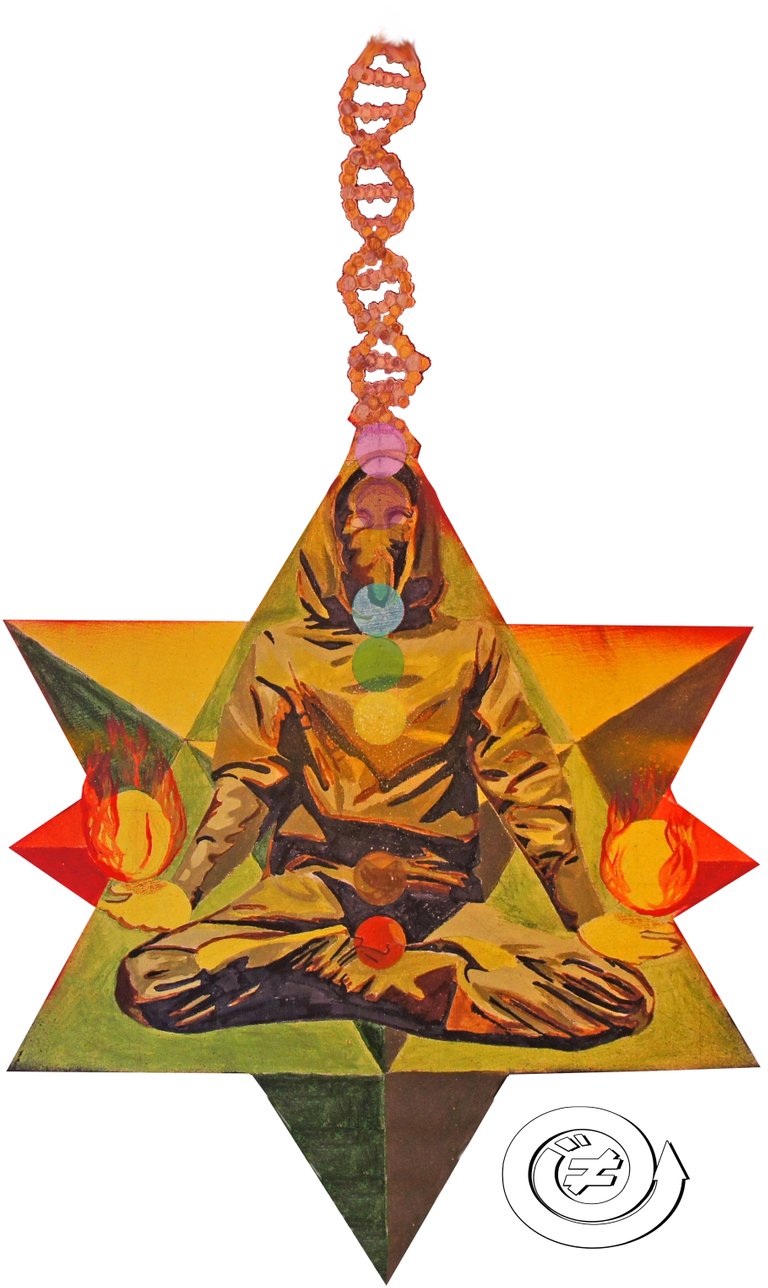 #oc "Canvas Painting, 2012" by @yangyanje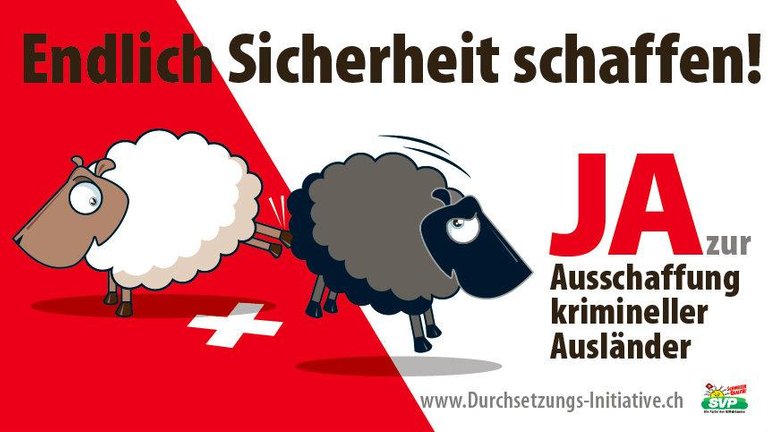 SOURCE
A friend of mine who speaks chinese told me once that Yan je in Chinese could also mean Black Sheep. I really liked that fact, because I was labelled a criminal by certain officers for doing spontaneous demonstrations for liberty, justice and against racism towards people of different color. Whilst doing street shows with breakers(b-girls and b-boys), intelligent and metaphorical rap and speeches against the conservative political party depicted in the image above almost 20 years ago in Switzerland, for the small percent of bald headed cops who needed to make a statement with me and their riots of racial profiling. I could not walk 50 Meters after departing a train downtown without undergoing a police shirt wearing my hip hop swag. I even spend jail time because some civil servants wanted to teach me a lesson for dancing out of the row. So I did nod my head off the track of sheep herd and moving to the music of liberty, free speech and for addressing Switzerlands cosmopolitanism to create a global cultural equality. Today I would surely question some of the victimising statements I made. At the time my demonstrations failed because majority voters propelled a new asylum law in Switzerland. Whether for the better or worse, I was much younger back then. The city faced the events that would unfold in form of various demonstrations that truly made me very emotional. A lot of opposition from so called leftists and circumstances that people would be shocked about today. Many swiss mothers had to legally deal with their partners/fathers deportations to Africa with the swiss migration authorities pathetically poor english skills, which also no one would believe today. I had taken myself out of Swiss Society not for a boycott, but because I wanted a different path for myself. I set out to a journey and left the country for 5 years. Where I went and what happened is another story. I only returned to see the same corporate political oligarchy in power to poison Swiss groundwater with the farmer majority voters. These voters force the rest of the country to comply to their desired policies. The campaign in power has financial backing for marketing campaigns that leave little voice to others. Every 6th member or parliament works in Agronomic Industries, Milk Production or the Sugar Industry. Politicians pursuing shareholder interests, funnel tax payers money to a pharmaceutical lobby that imports Pesticides, Insecticides, Herbicides etc /poison for which currently no one posses waste water management technology that can filter many of these VOC (Volatile Organic Compounds), specially certain hydrocarbons. I am surely not only addressing the hydrocarbons here! An unacceptable threshold of nitrate concentration in groundwater far exceeding 25 mg/l as nitrate has already been determined more than 14 years ago. I don't even want to mention the feed stock prophylactics that create all the Antibiotic Resistant Genes, for which we can't blame the majority voters Ignorance. A Study from 2006 Swiss Federal Office for the Environment explains in Detail. ARG's belong to some of the most hazardous substances found in water to human health! After a campaign by a highly inspiring person named Franziska Herren and her initiative's backers Delinat AG, Bioweine, Fredy's Backwaren, Greenpeace Schweiz, Schweizerischer, pro natura, Jungfreisinnige Aargau, Arbeitsgemeinschaft Wasserwerke Bodensee-Rhein, Aqua Viva, die Gewässerschutzorganisation der Schweiz, Ärztinnen und Ärzte für Umweltschutz (AefU), Swissveg, Vegetarisch, Vegan. Für Tiere, Umwelt & Gesundheit, VISION Birchhof, Oberwil-Lieli, Biologisch-dynamischer Gemüseanbau, www.biovin-martin.ch, Permakultur Schweiz, Zeitpunkt, die Zeitschrift für intelligente Optimisten und konstruktive Skeptiker, and many more that support this initiative Switzerland is currently on HIGH ALERT!! For #naturalmedicine, ecological deisgners, #homesteaderscoop and enthusiasts that love permaculture, this means that Switzerland could become one of the first countries to have billions of taxpayers money going into healthy and organic agriculture.
Switzerland! Wake UP!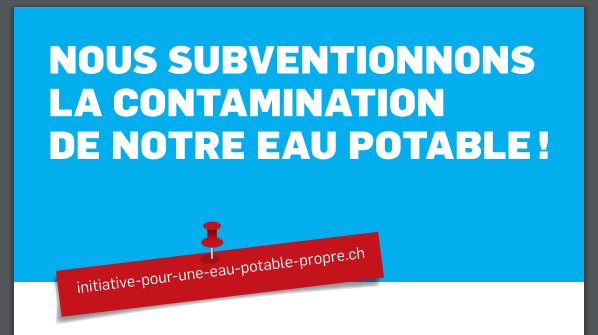 Our subsidies contaminate our drinking water!
I am Rane Shinobi the Red Shinobi. The student of @yangyanje, Rane was born of Rajgir Mountain in 1185 AD. The one who doesn't think he is while becoming...Humble.. The causal or vascular growth that tries to reach the light catalytic, in it's own state of consciousness, yet connected to all. Movement, yet paying attention to the sound. Like gasping for air, a twig of a branch making it's way into unchartered space, longing to reach, yet staying connected with roots to the earth that nourishes during this attempt to achieve, evolve. Not bound by limitations. A reflection of the universe infinitely entangled to many states of consciousness. This humble being is here because of you! Yes, I am talking about you Steemian! As we are a Hivemind, this is not about me! If I was just a fictional character and rather subjective, you know me now and if we meet, you will know who I am. You are reading this, you found me. If I upvoted your post, I will read your entire book if you write one and if we meet I want to listen to you! As this mystical or rather fictional character, Rane unfolds, shapeshifting between the real world, across the blockchain, the #steemiverse, we are all connected to. In this realm where each one of us becomes a link of superposition within many hive mind communities, entangled to send ripples across interconnected chains that are felt by each grain of particles scattered throughout space, by an awakening village that is a first of it's kind global economy.
The #naturalmedicine tribe has summoned Yang Yanje /@yangyanje during a Group Meditation guided by @bewithbreath. Part of #naturalmedicine, #mindfullife became a key principle that changed everything...

A very dear friend of mine was going through a phase with a lot of pressure on him and he just needed a break. During his break we spoke over the phone. He was in Ecuador at the time. He shared with me that sometimes one just needs to take a step back and breathe when life gets rough and everyone demands. At that moment this made a lot of sense to me as that was exactly what I needed. Breathing instantly became much more too me and reminded me of pranayama, qi-gong and tummo. I remembered that every time so called realities had pushed me to the edge, a strong urge to go inwards seemed to be present and contemporary. My journey on this path of mindfulness continues to show me what paying attention truly means and I am so humbled by all these wonderful people that write so beautifully about spirituality.

Vegan Ch**ze
In Summer 2019 @vincentnijman and me were at my place after an awesome time traveling in the Netherlands. I wanted to make a red pesto for us with dry tomatoes and sunflower seeds. Deciding to leave out the dry tomatoes only to try various versions of sunflower seeds, vinegar, herbs, garlic, yeast and natural binding agents I stumbled across creamy ch::ze spreads. I had made ch::ze before from cashews, for which I use the same technique I am about to describe. The idea was to make these solid using binding agents, which I did. But why? I am not making any Cheese? Am I?
Firstly I must say that this attempt is rather grainy. Variations would usually include adding locust bean gum powder to a mix of sunflower seeds, which in this case I didn't, but I would recommend.
Variations:
You can also add turmeric for color and even coconut milk if you like. I used coconut fat/oil. I also used smoked salt and garlic. For my cheese I use nutritional yeast. You can also add agar agar powder in addition. To give it a taste you can either add apple cider vinegar of lemon juice and ground lemon peel/skin.
In a regular version I would cook up a bit of coconut milk, add some agar agar, some turmeric let that cool down.
As next step I would put the sunflower seeds in a mixer with a bit of water, coconut fat(raps seed oil, olive oil), lemon peel, a bit of lemon juice, locust bean gum powder, some salt, smoked salt, nutritional yeast, black pepper and garlic. Then I would mix everything in the same mixer again and put it in a form or a cloth to dry. Depending on the thickness I would leave it outside for at least a day in a bowl or nicely compressed in a woven cloth.
A Vegan Ch**ze was a long due post. I will post more variations soon. Feel free to participate and tag me in your attempts. This makes it really fun for me to engage. :)
Ingredients:
Dried Thyme
Black Pepper
Himalayan Salt
Smoked Salt
Lemon Juice (Half Lemon)
Lemon Peel (little more than a Half Lemon)
Sunflower Seeds (340-400 G)
Garlic (1-2 Cloves)
Water (add to just not clog the mix)
Olive Oil (2-3 Spoons)
Apple cider Vinegar (A few Drops)
Dried Yeast (8g)
Preparation:
| Lemon | Garlic |
| --- | --- |
| | |
random images
I basically put all the Ingredients in a mixer. Starting with sunflower seeds, water, garlic, lemon skin, lemon juice, 1 TbS of coconut fat, some olive oil, smoked salt, black pepper and thyme. I recommend a vitamix.
Note, this was done with a regular mixer to show. I will post plenty more Ch::ze recipes here in time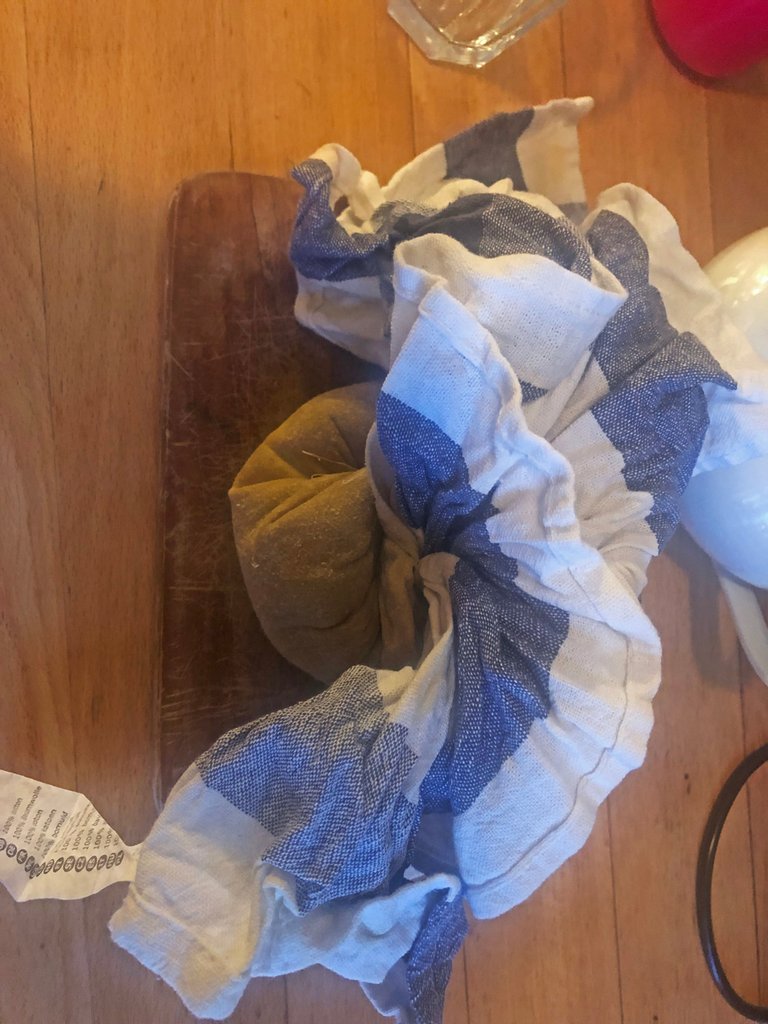 Next you will have a mix thats rather thick if you have done it right. There are no binding agents here, therefore the mass that I have are rather grainy. I now add the dry yeast but recommend nutritional yeast. mix the yeast and then pore it into a woven cloth and twist it as much as you can. Tie it and put it in a bowl. Play around with the quantities to suit your desired outcome.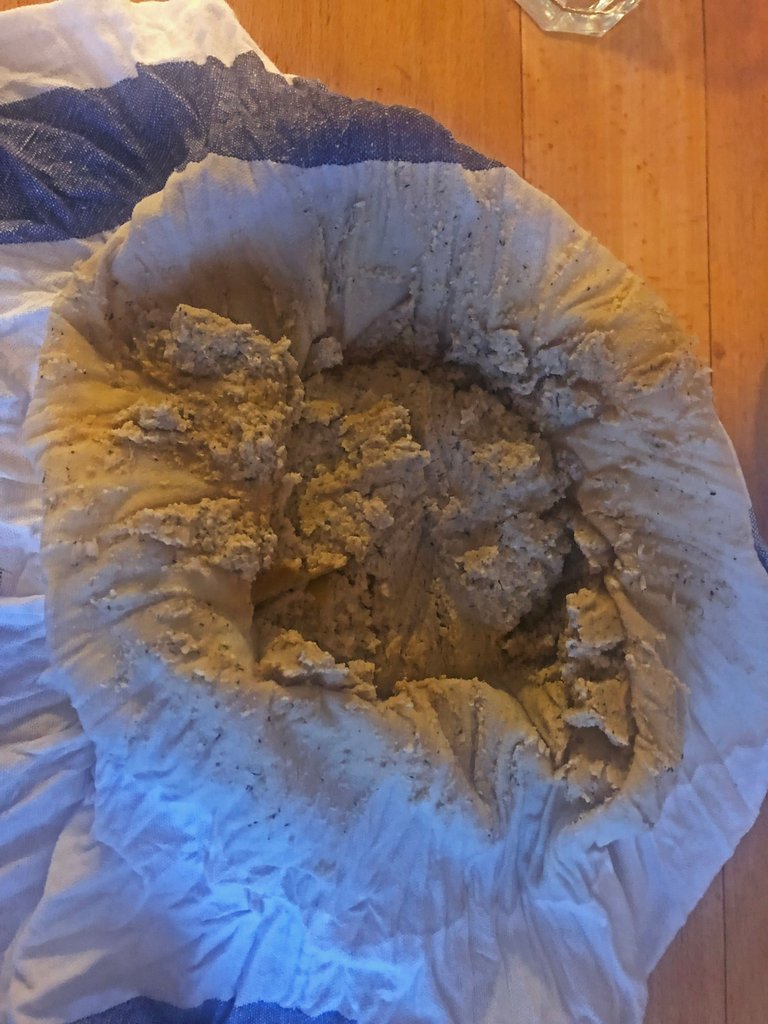 After a day or more, in my case 3 days I opened the cloth and got this mass.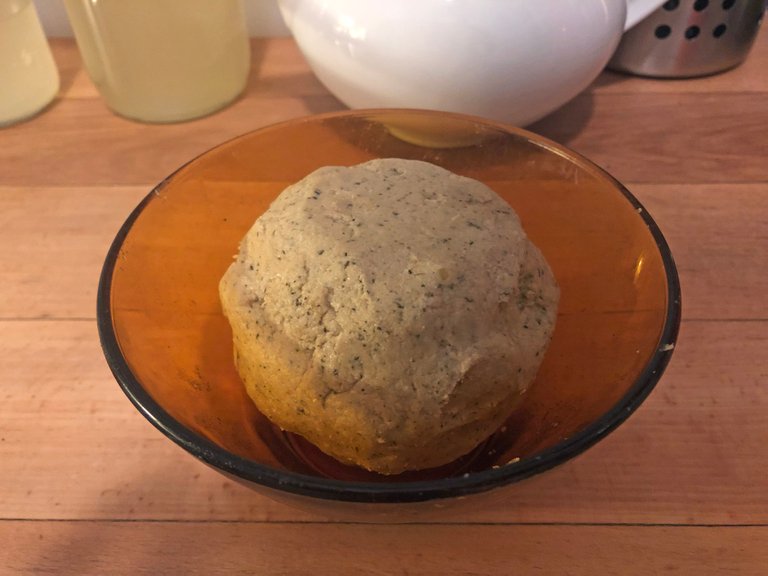 The mass looks more like a dough. I carefully bound the pieces, scraped the cloth and put it in a bowl.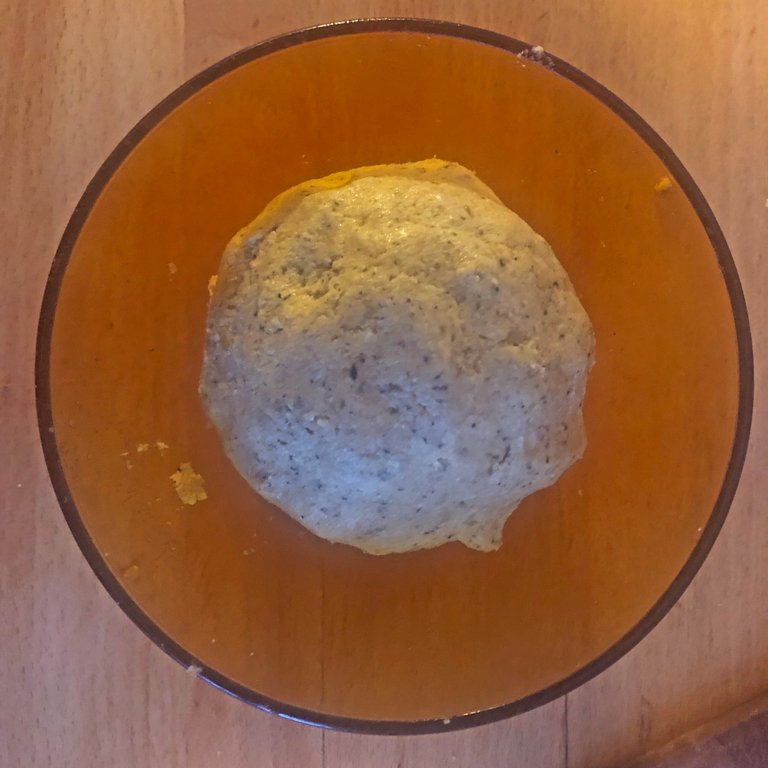 Note that this is a simple version that does not take ingredients that are hard to come by, like the ones mentioned above. Many of my other versions turned out better, but this one really tasted good with the lemon peel and thyme flavour, which is why I thought it was still worth sharing. Also because I always forget to take enough pictures of the process.
| | |
| --- | --- |
| Category | #food |
| Camera | iphone 8 |
| Location | Berlin - Germany |
| Photographer | @yangyanje |
Here are all my previous recipes. Pragmatic means : quick and easy to make:

If you feel excluded by the herd, simply don't follow sheep - Soan Shinobi a @yangyanje original
[ NOTE: #vegansofsteemit, #food, #creativecoin, #naturalmedicine, #vegan, #palnet, #neoxian, #marlians, I made this ch--ze at @mamrita 's crib who is new here and also loves #naturalmedicine]