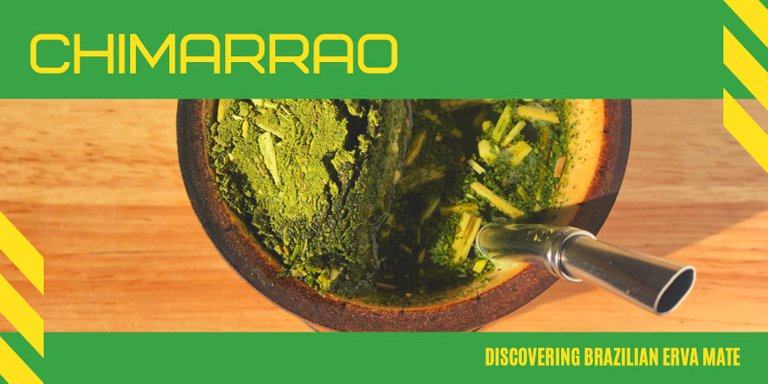 My company hired, Gabriel, an Android mobile app developer few months ago and he is originally from Brazil. Every day, he would sip a kind of tea from a calabash gourd using a metallic straw. It's only a recently that I discovered that the drink is a Mate. I know about Mate from primary school I think, we've been taught it was a very popular drink in Mexico and mexican would drink that all day long.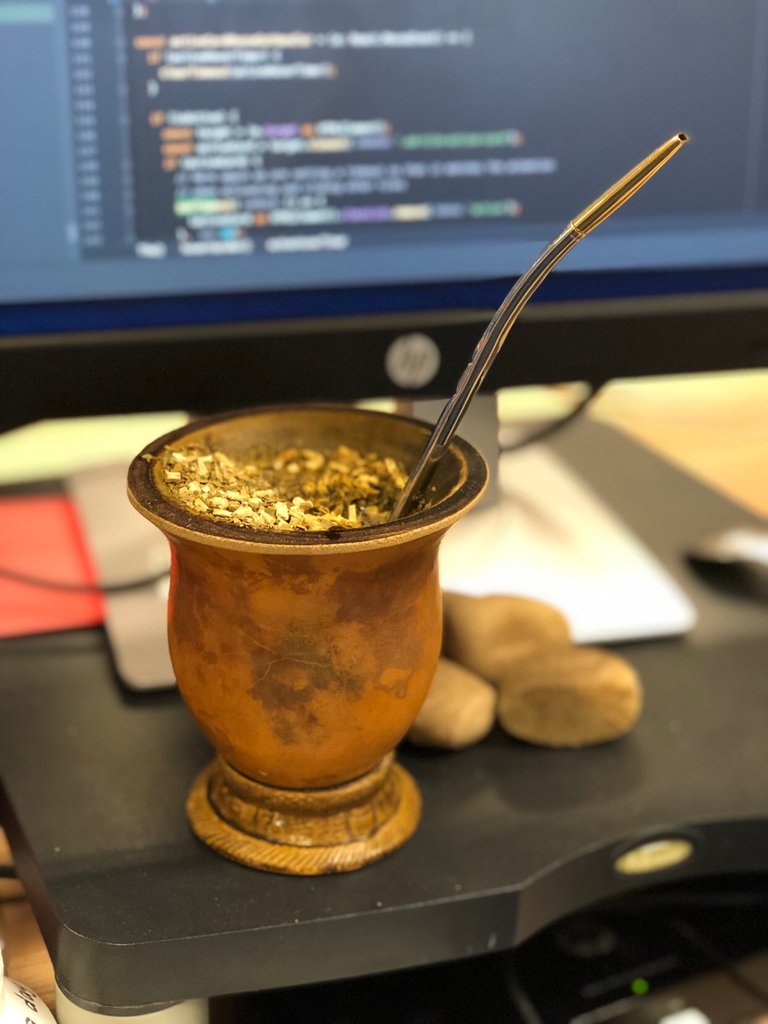 I one day got interested and gave it a try and found out that it was tasting very similar to green tea. After some research, I discovered that Yerba Mate is also high in caffeine but with more nutrient than green tea. In Brazil, it the plant is called Erva Mate and the drink is Chimarrão.
Gabriel also explained to me that Chimarrão is traditionally a social drink where we would pass the Cuia (gourd) around following some rules as we will see later. So I don't have to buy a set for myself as we can share his. However, I wanted to have the opportunity to drink some at home so asked Gabriel to get me a Cuia and some Erva Mate. I already ordered some Bomba (the metal straw with built-in filter) for drinking with green tea and other loose leaves infusions at home.
Different types of Mate
Not really knowing what I was doing, I just went on eBay and ordered a pack of Mate made in Argentina. I thought that they would all be the same but I was wrong! Gabriel told me his one is better 🤣, I asked him what was the difference and he told me to just try and see, so I did and he was right 😅.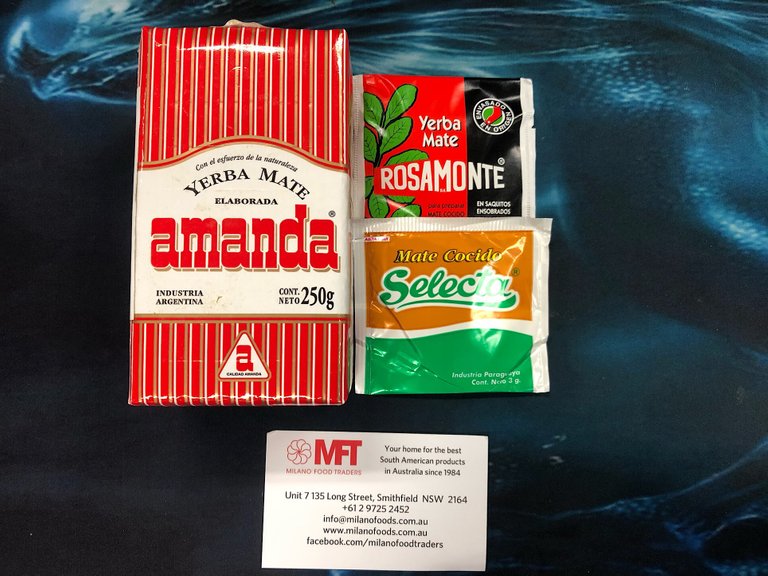 The Brazilian Erva Mate (pictured below) has a more grassy, fresher taste, like green tea while the Yerba Mate from Argentina (above) has a stronger, woody taste, not that it taste bad but it's quite a shock. But I built a taste for it now and don't mind either, especially if I add a little bit of my homemade Stevia powder to sweeten it a little.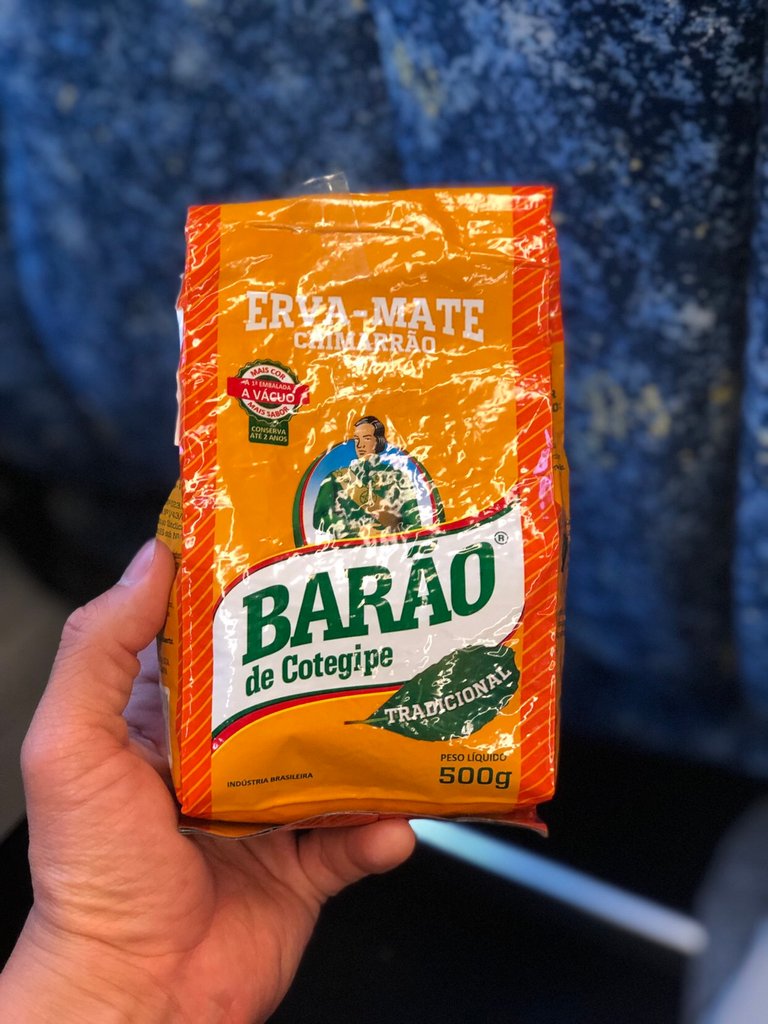 I then found this great article The 4 Types Of Yerba Mate (By Country) that explained that there are four types or Mate and each type is prepared differently hence the difference in their color and taste.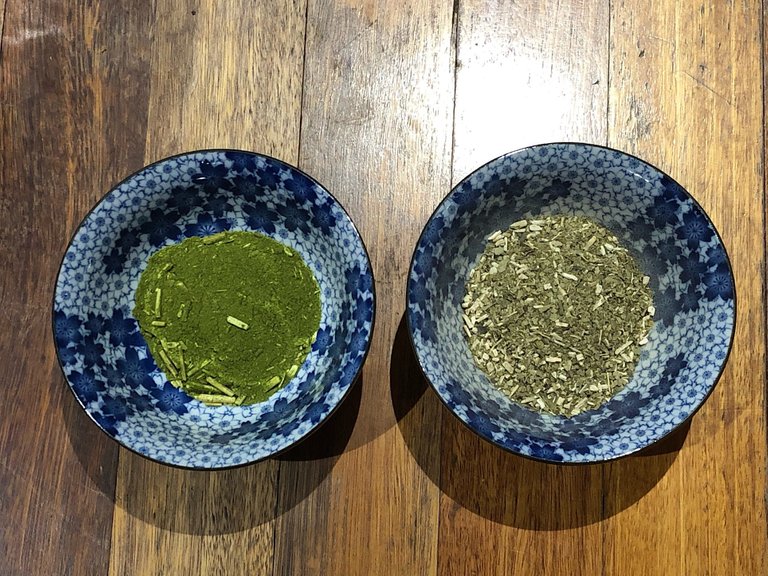 As you can see in the photo above, the two Mate look different. The Brazilian one is on the left and the Argentinian one is on the right. The Brazilian Erva Mate has a vibrant green color and has a powdery consistency while the Argentinian Yerba Mate is paler in color and more chunky.
Because the Erva Mate is powdery, you can prepare a Chimarrão in different ways. As you can see in the picture (my first Chimarrão at home) below, the powder can be slightly compacted on one side while you set the Bomba and pour water on the opposite side.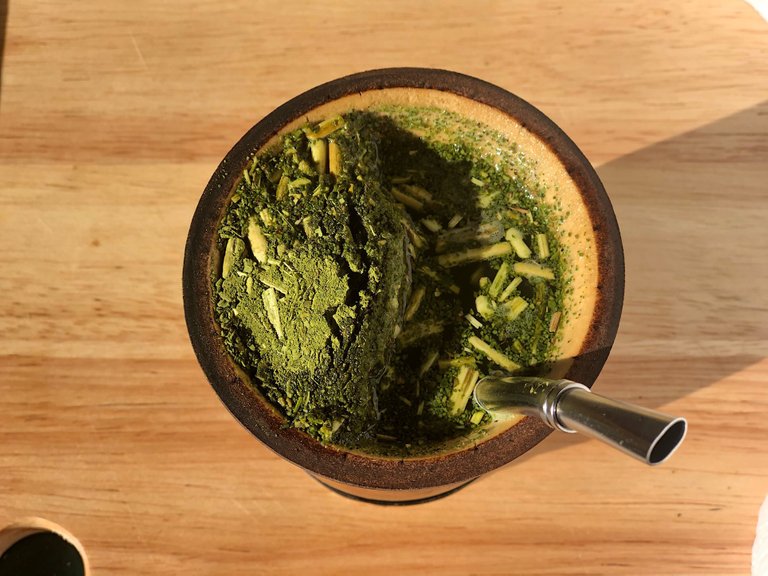 Here are other interesting ways of preparing a good Chimarrão:

Social rules / ritual for drinking Chimarrão
As mentioned above, Chimarrão and other Mate drinks are a social drink, it is also nicknamed "The drink of friendship" and I find that funny because the word "mate" also means friend in English 😅.
When drinking Chimarrão with friends, there is a ritual and some rules to observes as to show respect to the others.
In a nutshell, one person, the "Cevador" prepares the Chimarrão and drink first to make sure that the Bomba is installed properly and does not get clogged and that the drink is of quality with right water temperature etc... The first drink from the Cevador is also a sign of altruism as the first infusion can be bitter and often cold as cold water is added first to soak the Mate and protect it from burning when adding the hot water. He then filled with more hot water and passes the Cuia and the thermos of hot water to the next friend and so on until it comes back to the Cevador. One would only say a final "thank you" to the Cervador, implying he/she had enough.
Health benefits of Chimarrão
One prepared Cuia can last for about 2 Litres of hot water until it is too weak and need to be emptied and prepared again. It allows you to get regular input of caffeine throughout the day in a healthier way than drinking too much coffee. You get regular low input rather than short term high intensity boost.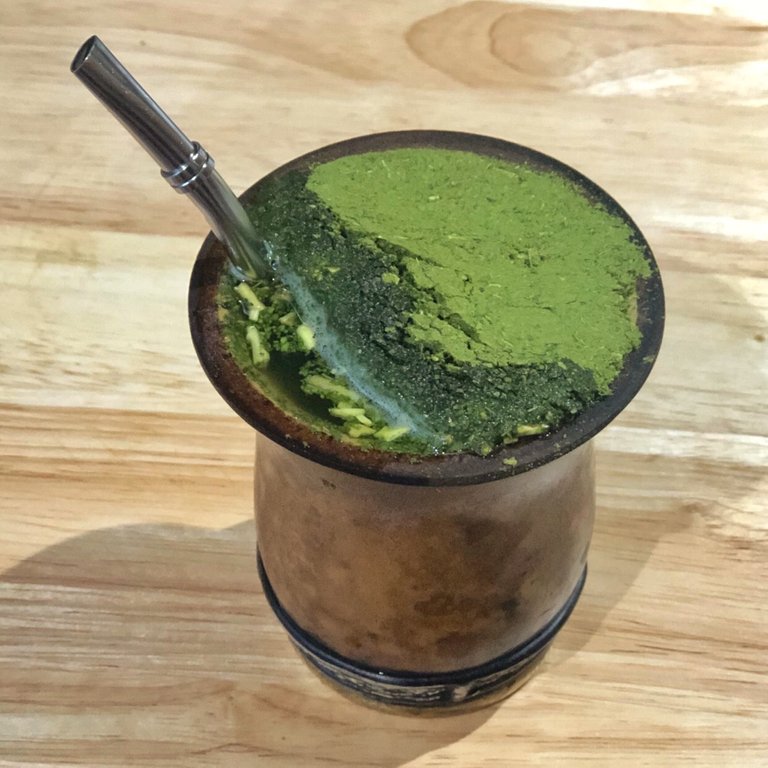 Rather than repeating what other websites are saying about health benefits of Mate, here are some articles:
Scientists often go in contradiction with one another so read, digest and make up your mind 😄.
---
Previously on my blog:
---
Vote for my witness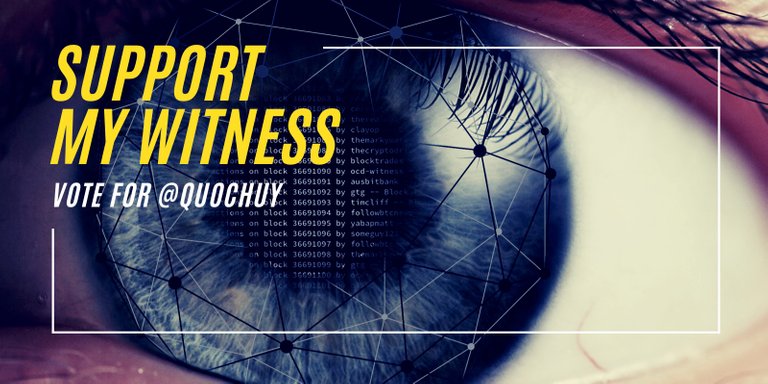 On Steem, Witnesses are playing the important role of providing a performant and safe network for all of us. You have the power to choose 30 trusty witnesses to package transactions and sign the blocks that will go in the Steem blockchain. Vote for me via SteemConnect to help me do more useful projects for the communities.
---
| I'm a member of | these communities |
| --- | --- |
| | |
| | |
| | |
| | |
| | |
---
Credits
The image at the top has been generated with the Canva app using my own photo.
---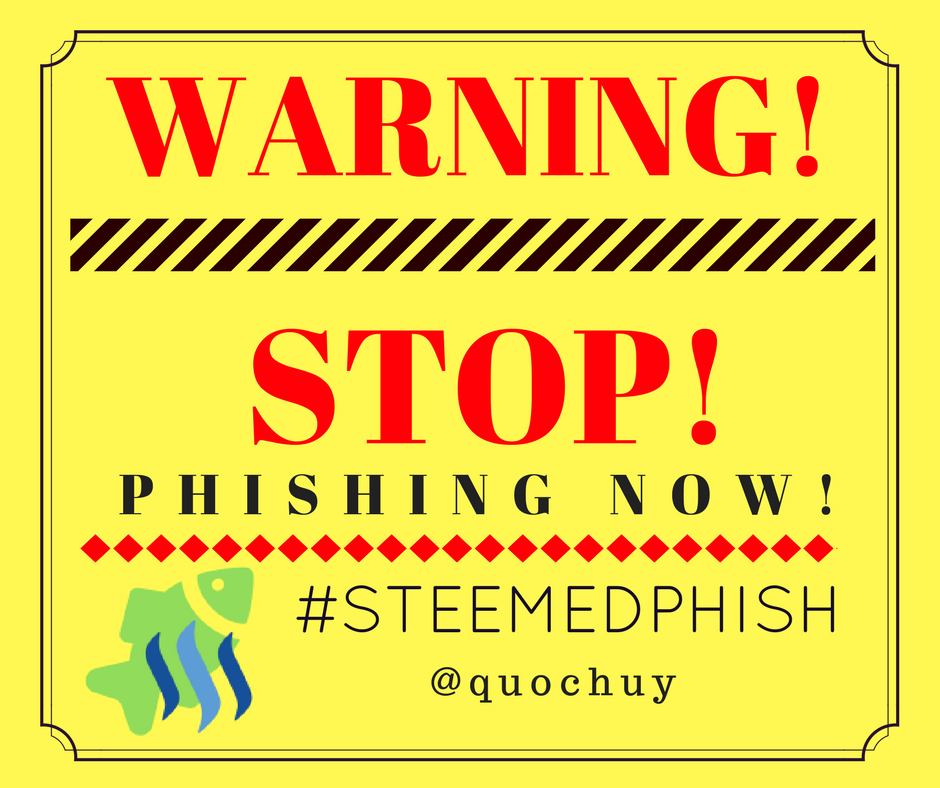 Banner by @josephlacsamana
Protect your money against Phishing Scam!
Cryptos accounts are the target of international scammers because they want your hard earned money!
Those people are very clever and in a moment of inattention, you've given them your login and password!
I've created a Chrome extension that can help you detecting scam links!
Install Steemed Phish Chrome desktop browser extension now!
Password and Private Keys security
You all know that your Steem password is the access to all your STEEM, SBD, posting, transferring, everything... right?
So, please, follow these simple steps and keep yourself safe:
Apart from the initial setup of your account, NEVER use your password ANYWHERE, if stolen, it will give full control to your Steem account.
Backup your password and keep it somewhere safe. Use a password manager like Lastpass, print it on paper and put it in a safe (no kidding). If you forget your password, no one can help you out.
To login for creating content and curating, use your Private Posting Key
To make transfers and account operations, use your Private Active Key
To encrypt and decrypt memos, use your Private Memo Key