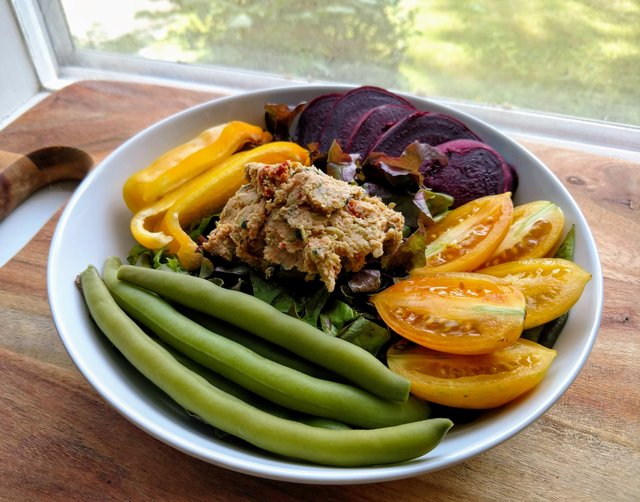 Hey everyone! I hope you all had a fantastic weekend! I very much enjoyed my kitchen organizing adventures, especially when I reaped the benefits while doing my usual weekly meal prep today. It's so much easier to get creative in a tidy space, whether in the kitchen or elsewhere! Your mind can go right to the task at hand as opposed to spending time hunting for what you need or having to clear things off of your workspace. I especially wanted a clean slate to be able to whip up something to jump in on the latest @naturalmedicine challenge--herbs!
Of course there are so many wonderful herbs to choose from. Plenty that we grow in our own backyard garden. I wasn't quite sure what I wanted to use for my post until I stepped outside to see what is looking good right now. I have to be honest, it's been so hot outside lately that I have hardly stepped foot in the garden lately. Kudos to @dksart for keeping up with it and harvesting anything I need! We finally have some of the purple basil growing from seeds I bought a few months ago, but it's not quite ready to start plucking just yet. Lots of mint and lemon balm as usual, but they weren't quite speaking to me today. However, despite culling it back quite aggressively just a little while ago and drying some for later use, the oregano has exploded yet again!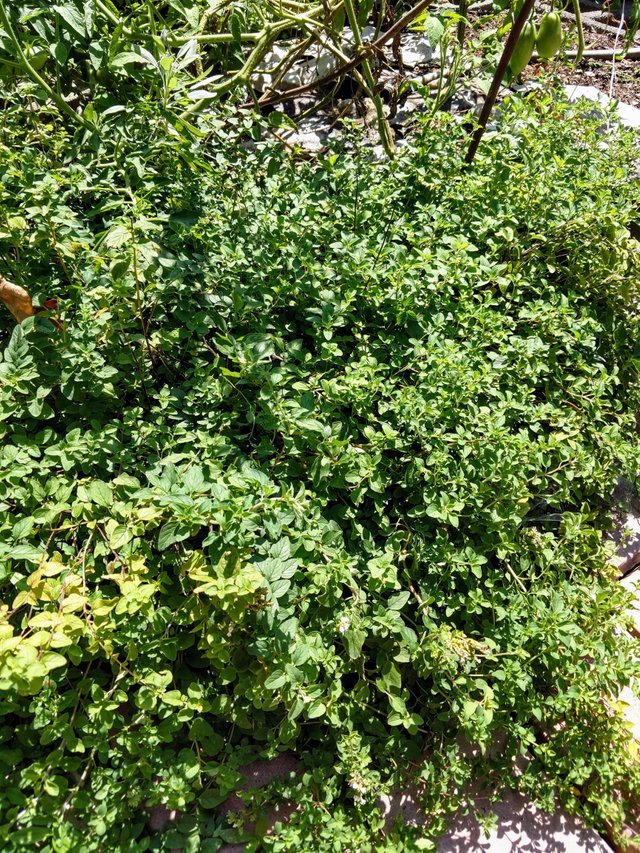 Oh boy, with that much beautiful greenery available, my decision was made. Besides just tasting delicious, this herb is just as healthy as so many of the other plants in the same category. I actually first remember hearing about some of these health benefits years ago when I first started working as a trainer. I had a fabulous husband and wife duo from Ireland who came in to workout at the studio where I was employed at the time. Those two were avid world travelers and were a wealth of knowledge in so many areas of life. I believe I was starting to get a little sniffle one time and the wife recommended I get some oil of oregano--specifically labelled P73 to ensure it was in fact from origanum vlugare--to help boost my immune system. Upon further research, I found there was evidence that the extracted oil was especially good for bacterial and viral infections, fungal overgrowth, and general inflammation. I believe it is often used to treat animals like chickens, as well, for a more natural option than antibiotics. Though the oil is much more potent than the fresh herb, you can't go wrong consuming it in your daily meals, as well, since you still get plenty of the good antioxidants and polyphenols. Every bite adds up!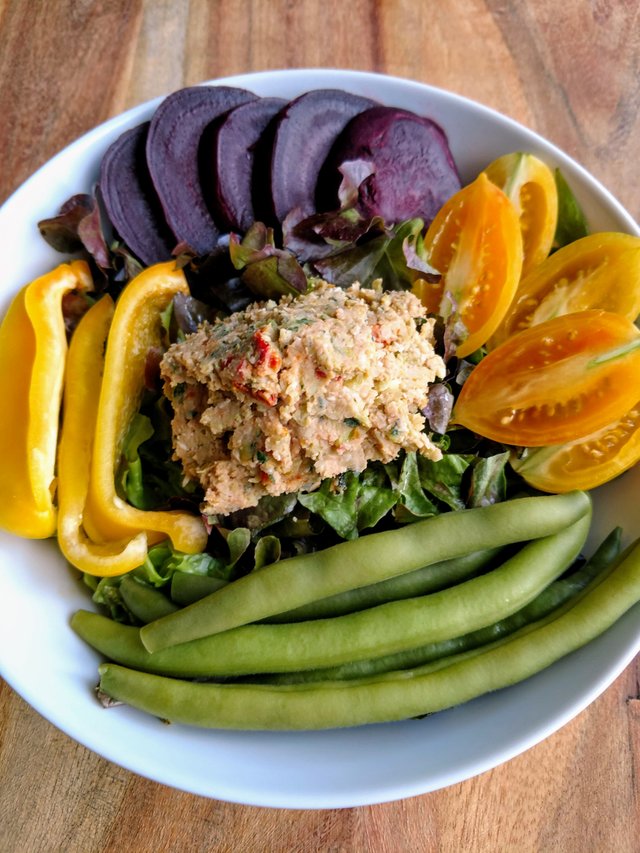 Speaking of meals, I ended up using the bit I snipped off today in a delicious Buddha Bowl! My farmers market run yesterday restocked my fresh produce with plenty of goodies to enjoy a nutrient-packed bowl. These tend not to get super fancy in my house, but they always hit the spot. You can sub in whatever vegetables are in season at your market or even better, from the garden!
This time around I sliced up fresh tomatoes and bell peppers, blanched organic green beans, and cooked beets in the pressure cooker for the colorful variety to please my eyes and my belly. The red oak lettuce underneath made a lovely base (props to my hydroponic guys and all their stunning greens). I love using hummus or other dip instead of traditional salad dressing in my bowls, plus if you use a big scoop it will add some plant-based protein and fiber to boot! It's also an excellent place to toss in a bunch of fresh herbs like my oregano. The lady peas and other beans are fresh out of the pods right now here in the South, so I opted to use those instead of chickpeas. I know I've probably shared similar recipes before, but I'll do the quick rundown again just in case someone would like to replicate it.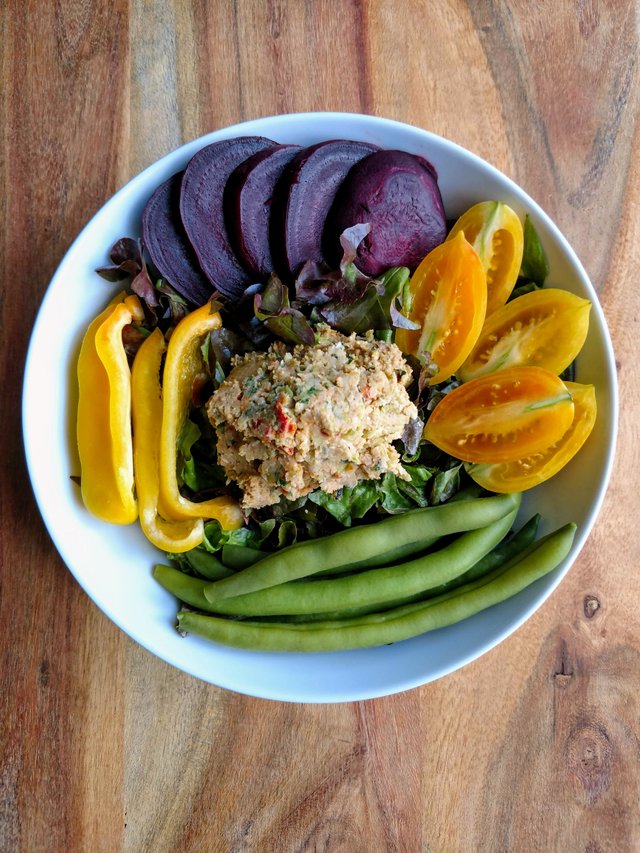 Sun-Dried Tomato & Oregano Lady Pea Hummus
1 1/2 cups cooked lady peas (can sub chickpeas or navy beans)
1/2 cup roughly chopped fresh oregano
1/3 cup chopped sun-dried tomatoes
2 tablespoons tahini
1 small lemon, juice & zest
sea salt & pepper to taste (optional)
Place everything in a food processor. Blend together until smooth. Use a bit of water* to thin out the mixture as needed, but only add about a tablespoon at a time so that your mixture doesn't get too runny. I like my dips with some good texture, but you can make yours just how you like it with more liquids if you prefer it smoother!
*I tend not to use much oil in my cooking, but you could also add a few tablespoons of good quality oil if you like.
The really great thing? These bowls travel well for lunch on the go! I went ahead and made extra bowls for the next few days as a great recovery meal after my lunch time runs. Between the herbs, greens, and all those veggies my body is going to be happy soaking it all up! I might even add some pumpkin seeds tomorrow for some extra crunch and a bit extra healthy fat to make sure I absorb all those nutrients even more.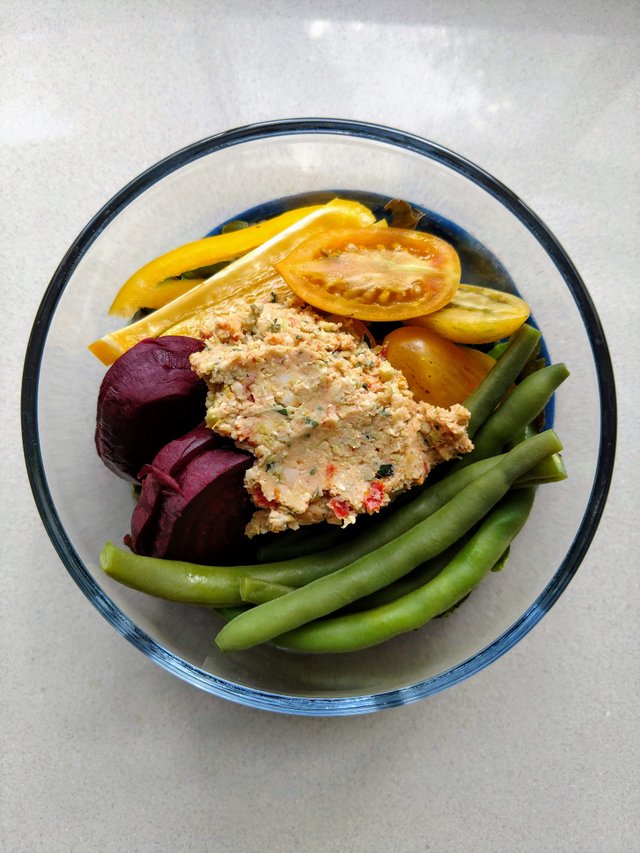 There really is no wrong way to add herbs to your meals! They make such a fresh pop of flavor that can enhance even the most simple dishes. I know my fellow #fruitsandveggiesmonday folks are all about the herbs, so hopefully we'll see a few of you enter this latest fun contest, too! Thank you as always to @riverflows and the @naturalmedicine crew for hosting and making me think of even more ways to add those natural healing plants to my daily and weekly routine!
Raise your forks to a delicious and healthy week!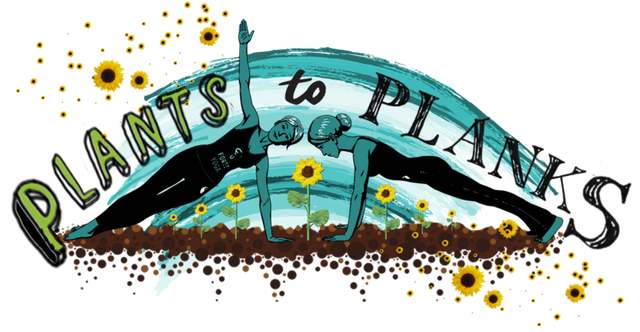 Banners by @zord189, @woman-onthe-wing, @dksart and @bearone for @steemusa