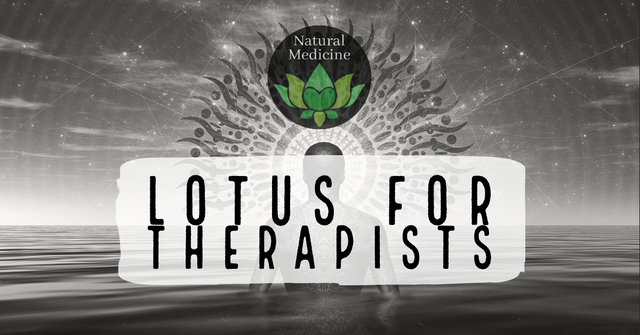 Ever since I started on Steem, I could see how the idea of SMT's and decentralised blockchains could work for many sectors, not the least of which was the the natural therapies field.
When I wrote this article on gamifying education I was working at the time as a lecturer in a Chinese Medicine degree course. I could see how earning 'tokens' through publishing assessment could be used to help natural therapy students on graduation with the start-up of their professional practice.
This was always something at the back of my mind when we putting together LOTUScoin. The thing about having a token economy is that there needs to be regular trade of the tokens, not just for other tokens, but also for goods and services, as I wrote in this post about the local Steem economy.
Imagine that you're a holder of a token, and you can use it for more than just upvotes or rewards for Proof-of-Stake...
Within the Natural Medicine Tribe, that has already started to organically surface, as members within that community have started offering LOTUS for stuff that they have. It's become an organic trading/bartering space. And I see that only growing as time continues.


Therapists' use-cases for LOTUS
One way that professional therapists can help market themselves in the online world is to regularly produce content that informs potential clients, and thus empowering them with knowledge to make informed choices for their health & wellbeing. This kind of 'infotainment' can also add value to their existing client-base by providing a readily-available source of the information that they have already been introduced to in sessions.
Blogging and 'advertorial' can be useful as a source of promotion for a therapist's business. Out there in the 'attention economy', therapists usually pay to get their content seen. Ever since Fakebook changed the rules and algorithms for FB Pages and introduced advertising, it became harder for therapists to get their stuff seen by enough people.
A lot of industry-specific websites and print magazines are happy to print your latest article without paying you anything, possibly giving you a discount on advertising space. What all these sites will tell you is that "you just can't pay for good exposure".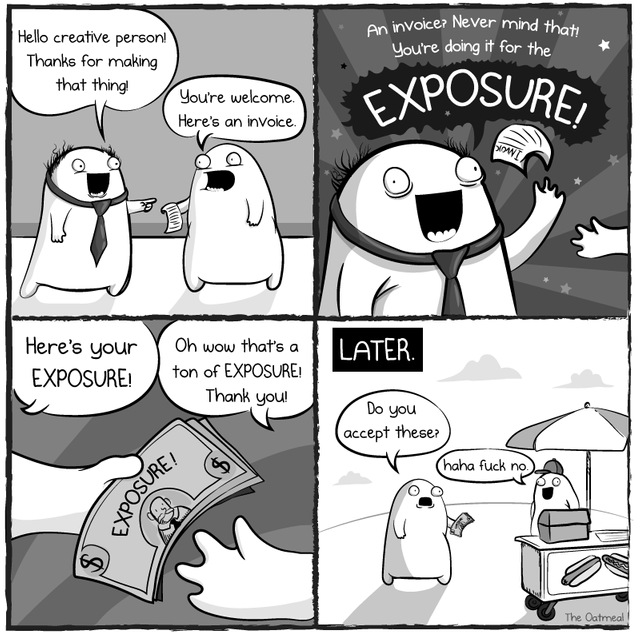 Image source courtesy of The Oatmeal
Steem has changed that. Therapists can now at least earn something for publishing their content, and at least have it available online to be seen. This still isn't perfect, because your client-base may not be on Steem; and your audience on Steem may not be your current client-base...
... Yet!
With naturalmedicine.io, that has the potential to change things. Being a Steem-powered platform focussed solely on natural medicine, health, and healing we are now set up to start reaching a global audience of potential clients for your services (or maybe even goods).
Because the platform has strict moderation to prevent the feed being clogged up with irrelevant and poor-quality content, it will be marketed to LOHAS (Lifestyles Of Health And Sustainability/Spirituality) audiences around the world.
Our hope is that the website can start on-boarding new users who will not only create their own content, but also curate quality content by quality natural therapists using LOTUS.
And as they start accumulating LOTUS, they can start using it to purchase natural medicine-related goods and services.
Here's the thing: there is nothing stopping any existing natural therapists on the platform from offering Steemians some kind of service in exchange for LOTUS now!
We may not have a formal marketplace (although there is HomeSteaders Co-Op or payment portals on any Steem dApps (yet), but there is still a way to send LOTUS using your Natural Medicine Wallet to someone in exchange for something.
And right now prices are pretty good across the board for buying and stockpiling tokens. LOTUS is easily available on either Steem-Engine or Steemleo DEX.


Who is this for?
Naturopaths
Herbalists
Homeopaths
Reiki practitioners
Nutritionists/Dieticians
Life/Health/Fitness Coaches
Counsellors (grief, trauma, etc)
Psychotherapists
NLP practitioners
EFT practitioners
Hypnotherapists
Astrologers
Tarot readers
Shamanic healers
Ayurvedic practitioners
Tantric therapists & Reltionship/Sexuality coaches
Yoga/Tai Chi/Qigong teachers
Meditation teachers
Feng Shui/Building Biology consultants
Permaculture Designers
Etc

What could you offer?
If you are a natural therapist, here are just some ideas on what you could offer in exchange for LOTUS:
Online naturopathy consultations
Online counselling or coaching sessions
E-books
Videos for embodied practices such as Yoga or Qigong
Online courses
Herbal tinctures
Face-2-face consultations (if another NM folk is in the same town)
Online workshops or seminars
1-on-1 personalised, guided meditation sessions (online)
Tarot readings
Astrology readings
Distance healing sessions (Reiki, etc)
Online dietary therapy sessions
Weight-management consultations or programs
etc.
These are just the things I came up with in a minute. I'm sure there are other ideas out there, waiting to be manifested into reality.
When it comes to working out how Steem and Natural Medicine could work for you as a therapist, it means stepping outside of the usual way of thinking as a therapist. Ultimately, you know best what you do, and who would benefit the most from it, and how this blockchain and this Tribe can help facilitate that.
There's no reason you can't start right now, so what specifically is stopping you?