Ansiedad. // Anxiety
Spanish
Desde pequeño cometí excesos, fui un niño gordo, incluso recuerdo que en el colegio me llamaban "bolibomba" por una marca de chicles venezolano que venia en redondas esferas de chicle, comúnmente menta.
De verdad tenía un problema y no lo sabía conscientemente, tenía mucho miedo del mundo, un miedo tan grande que en clases siempre estaba sudando a borbotones sin necesidad de hacer deporte, todo esto generaba más burlas hacia mi persona. Esto provoco en mi un constante estado de alerta máxima donde trataba de controlar todo a mi alrededor para evitar sentirme rechazado
Incluso, antes de haber agarrado la costumbre de comerme 20 chicles diarios recuerdo en mi colegio de música tomarme una docena de vasos de Té artificial azucarado y no darme cuenta del clima mental reinando dentro de mi cráneo.
Cuando llegué a la edad de 14 años empece a fumar cigarros, me fumaba comúnmente una cajetilla de 10 cigarrillos al día, a veces mucho más, a veces menos, este habito duró mucho tiempo hasta que un día tuve un pico, me fume cuarenta cigarrillos al cabo de medio día, teniendo así una dificultad para respirar bastante fuerte y dándome como resultado una verdadera adicción a la nicotina
para ese momento contaba con 17 años y estaba en mi segundo trimestre de Audio, un momento oscuro para mí, pues sentía severa necesidad de fumarme un cigarro uno tras otro, tuve que controlarme mucho para serenar mi necesidad de nicotina, sabiendo el daño que me hacia empece a limitar mis cigarros a solo un par al día, otro agravante a toda esta situación es que gracias a mi baja autoestima por tanto escuchar de manera despectiva que estaba gordo dejé de comer, dándome esto un alivio complaciente, creyendo que estaba haciendo algo que me ayudaría cuando en realidad fue uno de los procesos de autodestrucción más prolongados en mi vida.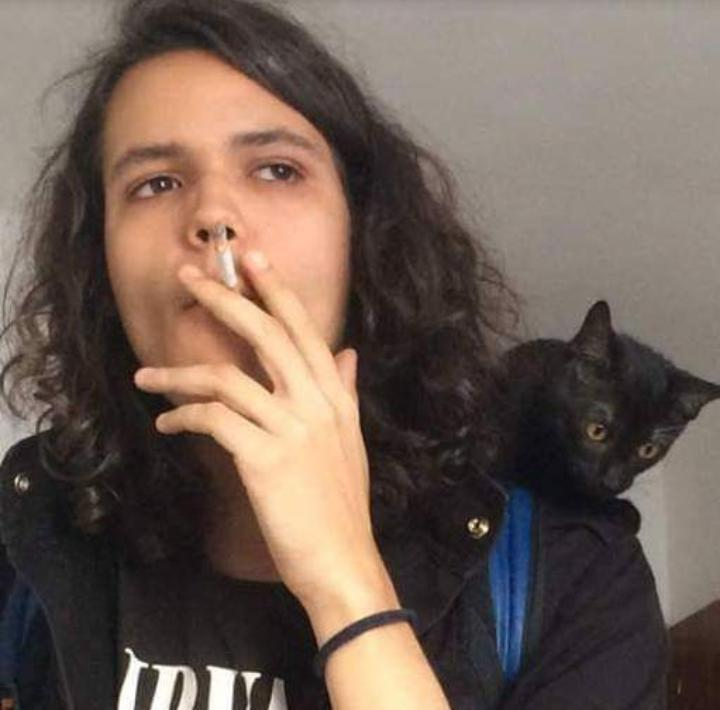 en 2017 la economía de Venezuela era una completa locura y tenía que decidir entre comer o fumar cigarros... fácilmente mi decisión era esta segunda teniendo como resultado días donde mi único bocado era una calada de humo.
A decir verdad tenia muchísimas ganas de morir, pero esto para mi era normal, creo que había vivido muchos años con esas ganas gigantes de morirme de manera inconsciente, cuando vives en Venezuela, la norma es escuchar en todo momento una desgracia disfrazada con una sonrisa, me había dado cuenta de que la energía detrás de mis excesos se llamaba ansiedad, no me había dado cuenta de que la vida no era una carrera y empece a correr a temprana edad, no sé si por haber estado en ambientes de trabajo desde pequeño pero haberme autoexigido era mi manera para conseguir aprobación... eso también tiene sus partes positivas como por ejemplo mi camino por la docencia desde los 14 años, cuando llegue a un acuerdo de beca-trabajo en una academia de canto.
2017 fue un año para cambiar mi vida, habia comprado unas "esferas shaolin" son dos esferas que al girarse con una sola mano generan un movimiento circular que activa el flujo de la sangre en el sistema, empece a usarla para todo hasta que un día sucedió algo muy extraño, dejé de sentir ansiedad en el metro de caracas. ya incluso las maldiciones de las personas estresadas por el aglomeramiento de personas por vagón no me afectaba e incluso dejé de sudar.
Luego de aquellas experiencias tuve un decubrimiento personal muy bonito y fue la des-satanización de todo lo externo a mí y la practica de la respiración y la calma para equilibrarme y no sentir ansiedad
Hoy por hoy fumo uno que otro cigarro ocasional, optando más por presentaciones de tabaco naturales que de tabaco industrial, porque a decir verdad, me gusta mucho echar humito, disfrutar el sabor del tabaco y meditar, he probado tabaco mezclado con distintas hierbas, entre ellas manzanilla y lavanda y uno de los descubrimientos relativamente recientes fue el del Rapé, una presentación de tabaco molido que se inhala y me enseña a tener momentos de introspección sagrados para mí.
Al conectar con el camino de la medicina me dí cuenta de que la polaridad de las sustancias tiene más que ver con mi propia polaridad de lo que imaginaba, y que si disfruto las cosas en conciencia no hay manera de que me puedan hacer daño, el único daño que podía tener mi ser podía ser ocasionado por mi propia mente, al pisar el terreno de la ansiedad a la hora de realizar cualquier cosa.
He observado mucha gente que es capaz de ignorar personas por el simple hecho de fumar tabaco y creo que hay más veneno en pararse dentro de cualquier posición inflexible qué al hacer tu voluntad sin remordimiento de conciencia.
Conclusión: un camino del medio, flexible y con tendencía a crecer de las experiencias dará no solo un alma saludable si no también feliz y libre.
---
---
English
Since I was a child I committed excesses, I was a fat kid, I even remember that in school I was called "bolibomba" because of a Venezuelan gum brand that came in round gum spheres, commonly mint.
I really had a problem and I didn't know it consciously, I was very afraid of the world, a fear so great that in class I was always sweating profusely without doing any sport, all this generated more mockery towards my person. This provoked in me a constant state of maximum alert where I tried to control everything around me to avoid feeling rejected
Even before I got into the habit of eating 20 pieces of gum a day, I remember in my music school drinking a dozen glasses of sweetened artificial tea and not noticing the mental climate reigning inside my skull.
When I reached the age of 14 I started smoking cigars, I commonly smoked a pack of 10 cigarettes a day, sometimes much more, sometimes less, this habit lasted a long time until one day I had a peak, I smoked forty cigarettes after half a day, thus having a rather strong difficulty in breathing and resulting in a real nicotine addiction
By that time I was 17 years old and in my second trimester of Audio, a dark time for me, as I felt a severe need to smoke one cigarette after another, I had to control myself a lot to calm my need for nicotine, knowing the damage it was doing to me I started to limit my cigarettes to just a couple a day, Another aggravation to this whole situation is that thanks to my low self-esteem and therefore hearing in a derogatory way that I was fat, I stopped eating, giving me complacent relief, believing that I was doing something that would help me when in fact it was one of the longest processes of self-destruction in my life.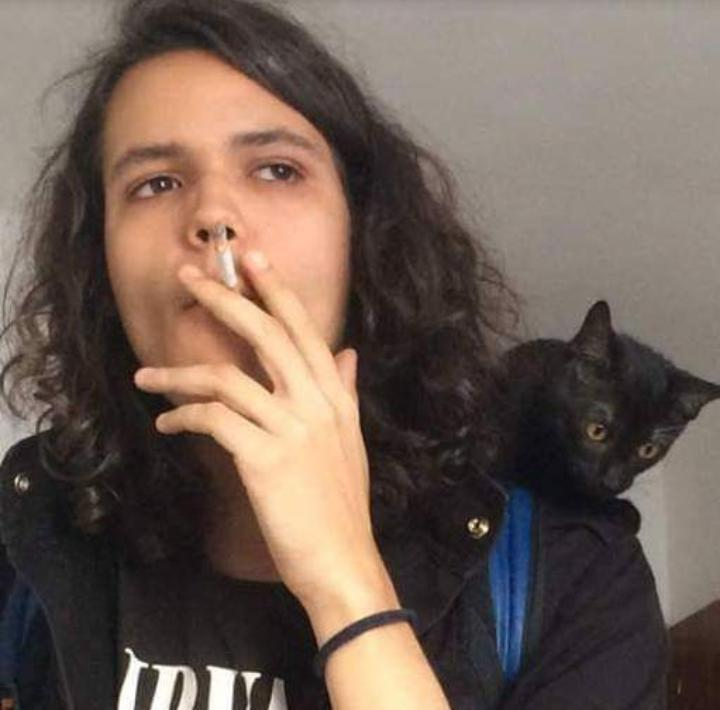 In 2017 Venezuela's economy was a complete madness and I had to decide between eating or smoking cigars... easily my decision was the latter resulting in days where my only bite was a puff of smoke.
To tell the truth I had a great desire to die, but this was normal for me, I think I had lived many years with these giant desires to die unconsciously, when you live in Venezuela, the norm is to hear at all times a disguised misfortune with a smile, I had realized that the energy behind my excesses was called anxiety, I had not realized that life was not a race and I started running at an early age, I do not know if because I had been in work environments since I was a child but to have demanded myself was my way to get approval. ..that also has its positive parts like for example my path through teaching since I was 14 years old, when I got a scholarship-working agreement in a singing academy.
2017 was a year to change my life, I had bought some "shaolin spheres" are two spheres that when turned with one hand generate a circular movement that activates the flow of blood in the system, I started using it for everything until one day something very strange happened, I stopped feeling anxiety in the caracas subway. even the curses of people stressed by the crowding of people per car did not affect me and even stopped sweating.
After those experiences I had a very nice personal discovery and it was the desatanization of everything external to me and the practice of breathing and calmness to balance myself and not feel anxiety
Today I smoke the occasional cigar, opting more for natural tobacco presentations than industrial tobacco, because to tell the truth, I like to smoke, enjoy the taste of tobacco and meditate. I have tried tobacco mixed with different herbs, including camomile and lavender, and one of the relatively recent discoveries was that of snuff, a presentation of ground tobacco that is inhaled and teaches me to have moments of introspection that are sacred to me.
In connecting with the path of medicine I realized that the polarity of substances has more to do with my own polarity than I imagined, and that if I enjoy things in consciousness there is no way they can harm me, the only harm my being could be caused by my own mind, by stepping into the realm of anxiety when it comes to doing anything.
I have observed many people who are capable of ignoring people simply because they smoke tobacco, and I believe that there is more poison in standing in any inflexible position than in doing your will without remorse of conscience.
Conclusion: a middle way, flexible and with a tendency to grow from experiences will give not only a healthy soul but also happy and free.