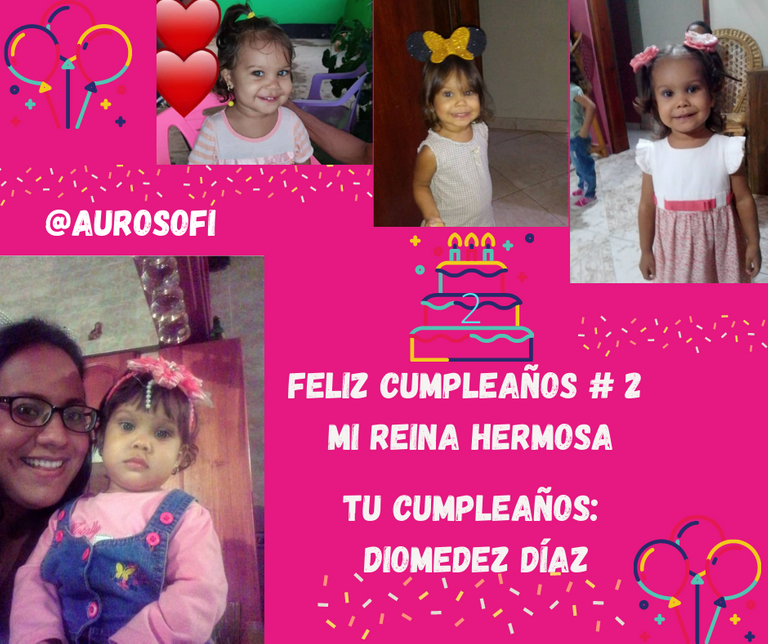 imagen elaborada con canva

Hola mis queridos y apreciados lectores y curadores, espero tengan todos un feliz día. El día de hoy mi corazón está de fiesta porque celebro la vida de mi princesa menor, esa hermosa niña que Dios me dió la dicha de que fuese mi hija.
Hello my dear and appreciated readers and curators, I hope you all have a happy day. Today my heart is celebrating because I celebrate the life of my youngest princess, that beautiful girl that God gave me the happiness of being my daughter.
Tal día como hoy hace exactamente 2 años atrás nació ésta hermosa princesa la cual llevó por nombre "Aurora" un nombre con un gran significado ya que hace mención al amanecer, a la dicha de ver llegar un nuevo día, a ese milagro en el que la noche finaliza para darle paso ala luz, la claridad y la hermosa mañana.
On a day like today, exactly 2 years ago, this beautiful princess was born, whose name was "Aurora", a name with great meaning since it refers to sunrise, the happiness of seeing a new day arrive, that miracle in which the night ends to give way to light, clarity and the beautiful morning.
A continuación les muestro algunas de sus primeras fotos:
Here are some of his first photos: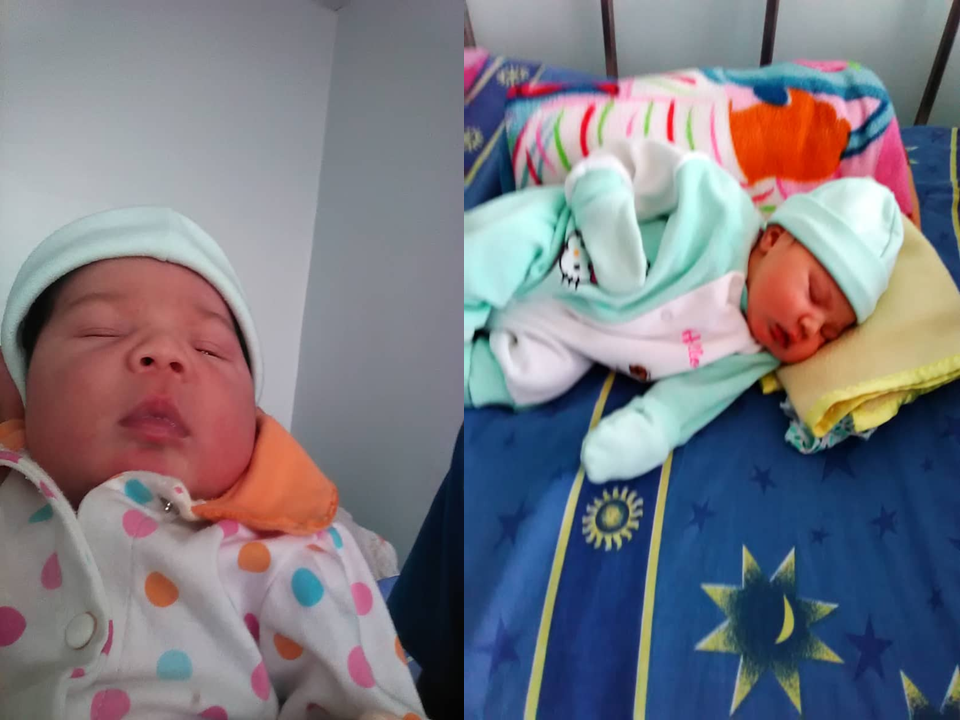 Una preciosa gorda que nos iluminó aquel 20 de abril de 2019 y la cuál 2 años después sigue siendo la luz de nuestras vidas.
A beautiful fat woman who enlightened us that April 20, 2019 and which 2 years later is still the light of our lives.
Dios le brindó un maravilloso don que dicen que se lleva en los genes, pero que en realidad heredó de su abuelo paterno que fué contar con unos hermosos ojos claros que deslumbran con sólo mirarla. Sin duda alguna un verdadero regalo de la vida
God gave her a wonderful gift that they say is carried in the genes, but that she actually inherited from her paternal grandfather, which was to have beautiful clear eyes that dazzle just by looking at her. Without a doubt a true gift of life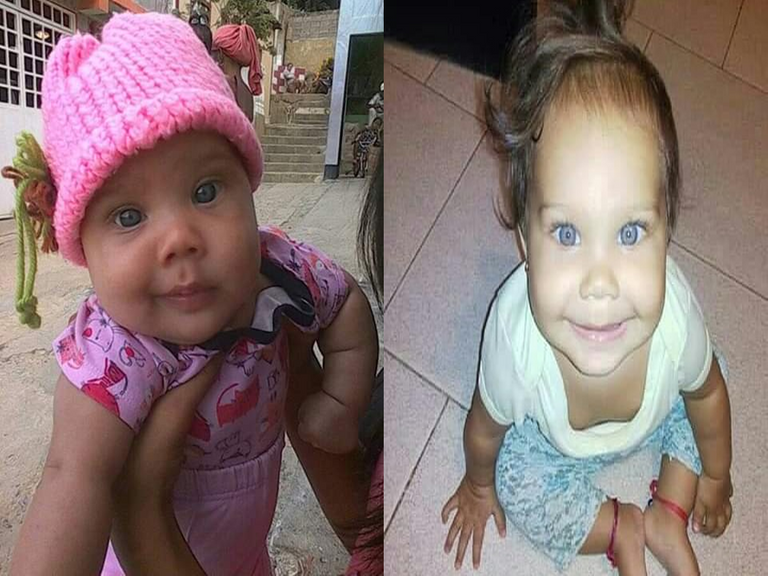 Estoy feliz de tenerla a mi lado y poder disfrutar cada instante de su crecimiento lleno de travesuras, ocurrencias y ternura.
I am happy to have her by my side and to be able to enjoy every moment of her growth full of mischief, humor and tenderness.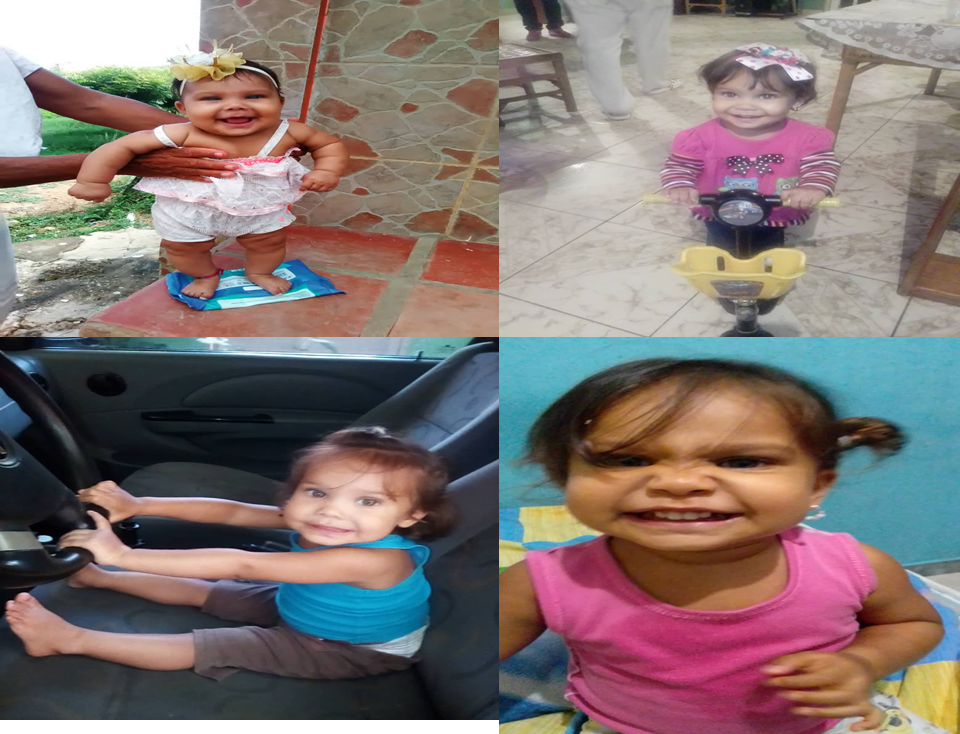 Por tal motivo hoy al celebrarse su cumpleaños número 2, quiero dedicarle una hermosa canción del gran cantante vallenato Diomedez Díaz llamada "Tu cumpleaños", una fantástica canción en la que se expresa todo el amor que podemos sentir por una persona y la felicidad que nos llena el alma de poder celebrar un año más de su vida.
For this reason today to celebrate his birthday number 2, I want to dedicate a beautiful song by the great Vallenato singer Diomedez Díaz called "Your birthday", a fantastic song that expresses all the love that we can feel for a person and the happiness that we fills the soul of being able to celebrate one more year of his life.
Aquí su letra:
Here his letter:

¡Ay! Vamos a entonar una canción
Pa' que cantemos
Vamos a festejar con emoción
Su cumpleaños
Vamos a decirle con amor
Que la felicitamos
Y que siga cumpliendo muchos más
Que la virgen la tiene que cuidar
Que de mi parte nada en la vida le faltará

Y que los cumpla feliz muy feliz
Deseamos todos en esta reunión
Y que los cumpla feliz muy feliz
Deseamos todos en esta reunión

Tus amistades llegamos aquí
Pa' compartir esa gran bendición

Bendición de mamá
Bendición de papá
Bendición de mamá
Bendición de papá

Y yo te vine a cantar esta canción
Y te deseo mucha felicidad

¡Ay! Vamos a abrir una botella de vino
Pa' que brindemos
Por que hoy con toditos tus amigos
Amanecemos
¡Ay! Por que hoy esta cumpliendo años
Lo que mas quiero
Y estoy repleto de felicidad
Que hasta me han dado ganas de llorar
Gracias a Dios
Porque has cumplido un año más

Cuántos clavelitos nacerían
Junto contigo
Cuántas rosas blancas ese día
También nacieron
Cual sería el cura que le diría
A tu padrino
El deber que él ya tenia con su ahijada
Que los diez mandamientos los rezaban
Desconociendo que tu tenias
Quien te cuidara

Y que los cumpla feliz muy feliz
Deseamos todos en esta reunión
Y que los cumpla feliz muy feliz
Deseamos todos en esta reunión

Tus amistades llegamos aquí
Pa' compartir esa gran bendición

Bendición de mamá
Bendición de papá
Bendición de mamá
Bendición de papá

Mil felicitaciones
Que cumplas muchos más
Que la virgen te cuide
Que te cuide bastante
Por que yo de mi parte
También te cuidaré

El tiempo pasa volando, parece que fué ayer cuando te tuve en mis brazos por primera vez princesa, con el corazón en la mano doy gracias a Dios por permitirme celebrar tu vida , sólo le pido que me la bendiga, me la proteja y le brinde muchísima salud.
Time flies by, it seems like yesterday when I held you in my arms for the first time princess, with my heart in my hand I thank God for allowing me to celebrate your life, I only ask that you bless me, protect me and give you a lot of health.
Ésta canción es para ti mi amor bello:
This song is for you my beautiful love:
Fuente del video
Queridos amigos de ésta manera finaliza mi post de cumpleaños para mi princesa menor. espero les haya gustado tanto como a mi. me despido de ustedes hasta una nueva oportunidad. Gracias por su atención.
Dear friends, this is the end of my birthday post for my youngest princess. I hope you liked it as much as I did. I say goodbye to you until another opportunity. Thanks for your attention.

El texto fué traducido utilizando google traductor
The text was translated using google translator
Las fotos emitidas en el post pertenecen a mi álbum familiar de fotos
The photos issued in the post belong to my family photo album