SOO EXCITED! And hope you are happy for me and more even if you can join us. We all know that Coronavirus crisis has been harsh for everyone, and of course also for artists and live venues. Unusual post but I wanted to share :) I hope you are happy for me, this happens THIS WEEKEND :) and though tickets are sold tuning to the stream is free, no need to register unless you want to chat or replay, so hope you tune in tonight, when I'm scheduled to perform.
And here is a picture all set up and ready to weave some magic!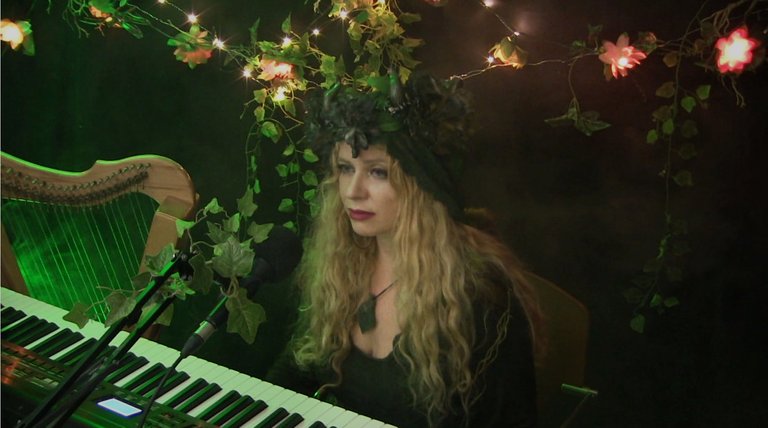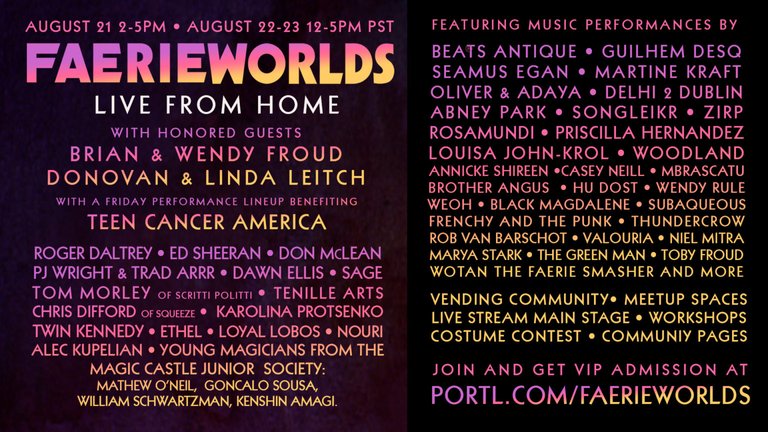 Despite current crises in the world, music and magic find their way to thrive.
I'm honoured to announce that I'm part of the line up of Faerieworlds 2020.
Faerieworlds is a fantasy convention with live music performances that take place every year in Oregon. I premiered in USA back in 2008 and it was one of the most amazing experiences and a moment where I made some friends, friendships that have endured the years. I also attended several Faeriecons organized by the same team, but meanwhile Faeriecon were always indoor conventions, Faerieworlds take place out in Nature under the stars. This year due to CoVid and Coronavirus crisis Faerieworlds have become an online event featuring not only mainstream artists like Ed Sheeran but the best of my genre (fantasy neofolk). I'm proud also to be in the same poster as my fairy sisters Kelly Miller Lopez (aka. Rosamundi) and Louisa John Krol (Australia). Long time friends we are three sisters scattered in the globe and we have dreamt so long of the time we can gather, even if virtually this has made my day.
More at https://faerieworlds.com
The live stream is FREE through live stream service PORTL (link in the poster) but you have to be VIP for replay and some workshops, still if you want to tune in while I perform you're welcome and everyone can join to the show. It startes yesterday night with Ed Sheeran, Don McLean, Niel Mitra, Martine Kraft and more
Tonight it starts at:
12-5 pm PST (21-3 am in Europe CET)
I don't have an specific time as some artists perform a couple of songs, some like me half an hour set, but I guess halfway through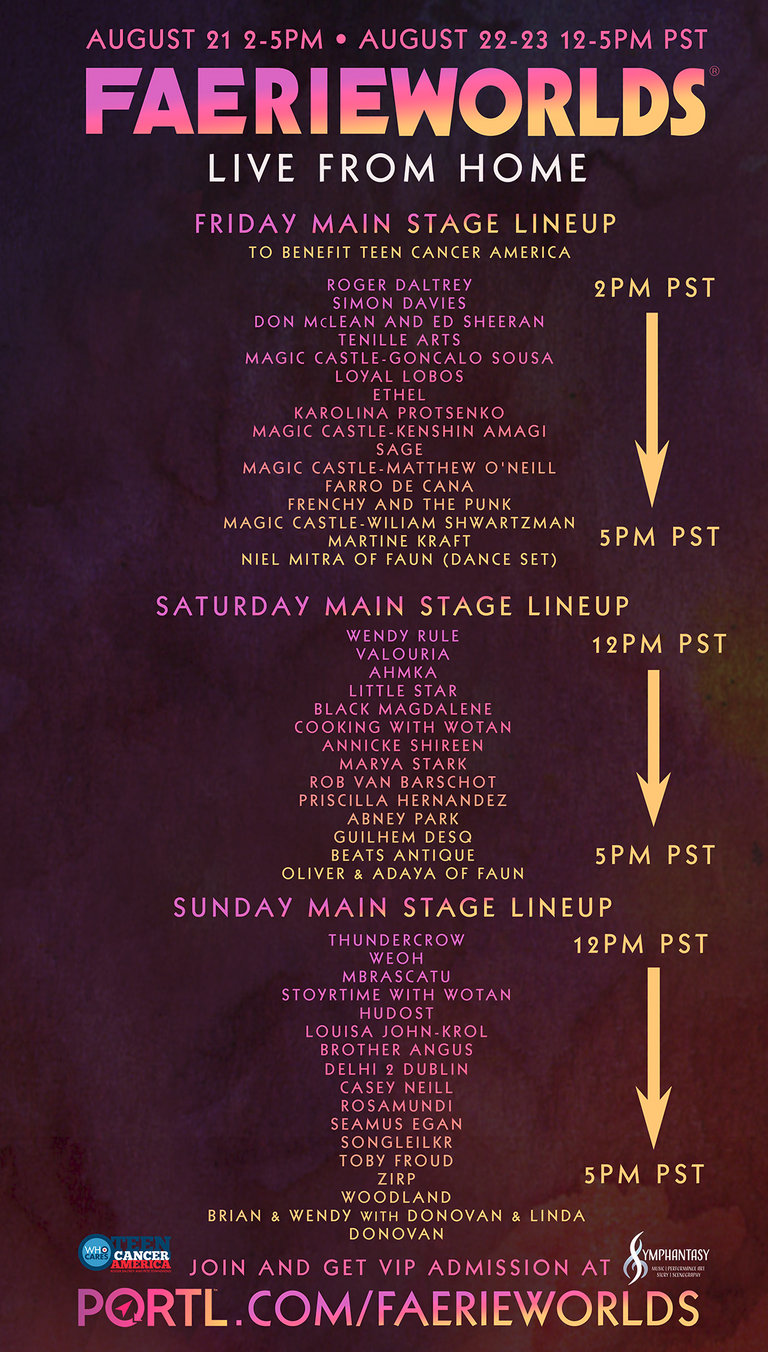 My user name is Portl is Priscilla Hernandez @yidneth" same as here :)
https://portl.com/members/yidneth/
how to tune in
Just go to portl.com/faerieworlds click on LIVE and you're in,. You do not need to register though you can do just to join the chat for fun or if you decide to contribute to the cause. Replay is only for those who pay the ticket, so I cannot be sure when my time comes, the live feed is open for anyone to tune in.
The live stream is FREE but there is a VIP ticket that grants extra permissions as profits of the concert goes to Nature Conservancy and Teen Cancer America, there is also an option to donate to artists. All you have to do is to go to:
https://portl.com/faerieworlds
Note: I'm just a performer and don't belong the the organization of the festival but I've been in the "real outdoors festival" back in the day and the spirit of it is amazing: Nature, Respect, Friendship, tribe, and thus we have gathered once more if only virtually to support its cause and continuation. Ready to undust your wings!
Live venues and music have been severely hit during Coronavirus but this magical show had to find a way to gather the fae tribe once more :) so do not miss this! or its spirit!
I performed in Faerieworlds (and several Faeriecons, organized by the same team) several times and I gained a "family". So when I was approached to do a live from home set I was in, all these names, we joined for the cause.
The live stream is FREE but there is a vip ticket as profits of the concert goes to Nature Conservancy and Teen Cancer America, there is also an option to donate to artists. All you have to do is to go to this site. Of if you want to support to FW. Then by all means, but if you can't afford to donate or buy a VIP pass you can also tune in and enjoy the magic, it's our gift in these shocking times. And hope you find it soothing.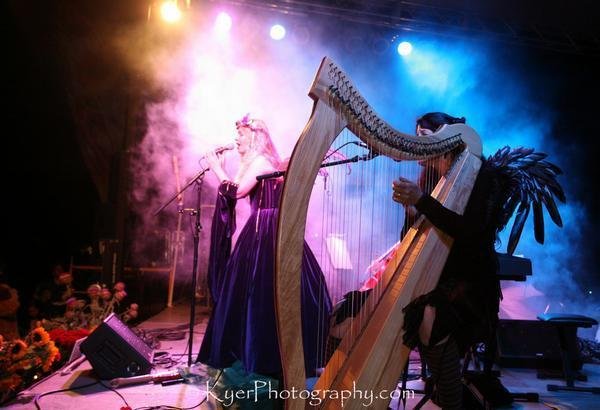 Above: Me and Kelly Miller Lopez (RosaMundi) live on Faeriewords 2008, Eugene, Oregon (USA). Photo by Byron Dazey
Two of my very best friends also on the line up
Me (Priscilla Hernandez), Kelly Miller Lopez aka Rosamundi (USA) and Louisa John Krol (Australia). We three make fairy music and we are best friends, we have dreamt so long to be together in one venue, but being scattered throughout the globe we have managed to meat just two at once, one day, but meanwhile we're excited to be in the same poster together.
Also as guests of honours we have The Frouds Family (Brian, Wendy and Toby Froud) who are in charge of the concept art of movies like The Dark Crystal and Labyrinth and most recently Dark Crystal Age of Resistance on Netflix. Yes, some of you know this is my favourite film it's no coincidence :) Here a tribute I made to the Dark Crystal last year
Note: If you cannot catch the performance I'll put at least an excerpt on youtube afterwards, but I'm approaching to 10k on youtube so I'll celebrate with a live performance as well. So I should keep the fairy lights on I'm at 9.9k at the moment. If you want to help me to reach faster by subscribing, here's my youtube channel
How do I access it?
https://youtube.com/yidneth
SO
Ready to undust your wings!?