You all know I'm both a ghost and a fairy... this shrouded black shadow me will be in a forthcoming video too but here is a little ghost story and a longing to belong, longing to belong. Maybe she's gone to another plane where she can exists fully.
✅ Be my Patron (free download): https://www.patreon.com/yidneth
(Thank you to all my patrons (current and former) every pledge helps me to keep on creating music)
This is a tribute to Roland Orzábal solo work (previous upload was a tribute to Curt Smith solo work (previous post), member of Tears for Fears a band that was a MAJOR influence in my own music. I decided to pick one that I think it is not very known but deserved to be so, though probably TFF fans will recognize it right away. This is a cover of "Los Reyes Católicos" the closing credits of Tears for Fears album "Raoul and the Kings of Spain") but rewritten as a ghost story or a story of "A longing for a Home" As lyrics were slightly changed saying Queen instead of King here is the adaptation, though still in the mood of the original, but turned to a "yearning for a home" kind of vibe and longing that for a quite a while has personally "haunted" me. The cover has little to do in genre (even lyrics are slightly changed) but it's still a thank you note to the band as a fan. But also a way to convey the mood and turmoil of the recent difficult struggling times.
I have had the most terrible weeks and still gathering shards and pieces, it's private so I won't get into details, but it's been a TOUGH while and I wanted to convey part of that sadness and sorrow into something beautiful and spectral. Also something too spooky to share happened and my heart shattered a few pieces. In those times "ghost" me emerges, and this shrouded figure both in white and black appears recurrently in some of my videos. This was filmed a week and a half ago and edited just this week.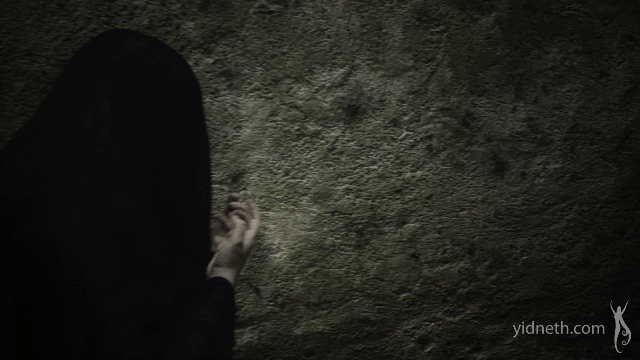 You know I also have a weak spot for abandoned places, and two weeks ago I hiked with Hector to his strange location, the Health Resort of Aribe, not used for over a century now. I think there is something so sad and melancholic about abandoned places, same as I said when I shared my song "Haunted", they're just "lonely" but for me they're very peaceful.
What is the most eerie or more melancholic place you've been in? Abandoned or not...
Lyrics

Ghosts are gone to another plane, maybe where and when they truly belong and can fully exist and BE
A home is like a castle
A place where a Queen can reign
Ghosts are Gone (Ghosts are Gone)
Ghosts are gone to another plane
When time is like a needle
and night is the longest day
A Home is a Cathedral
A place where a Queen can pray
Ghosts are gone (Ghosts are gone)
Ghosts are gone to another plane
A home is like a castle
A place where a Queen can reign
You may not gather the dots by my style but there are a lot of Tears for Fears references in my music and in fact you will find other TFF tributes in the channel to Curt and Roland both as a band and solo artists. My version dwells a different genre than the original but it's still a heartfelt fan tribute and "thank you note"And these small tributes are "thank you notes" to my influences. Even on my first album they had a thank you note written on the booklet and though I'm usually compared to musicians closer to my genre, they were a great influence and encouragement and I own all the albums. The original lyrics of this song would refer to a "King" and was part of the album of "Raoul and Kings of Spain" as "Los Reyes Católicos" but I've changed a bit the lyrics into Queen and into a "longing for a home" Ghost story. I think it was a little gem hidden in the album and didn't get much attention or love. But I always loved its haunting tone and I highly recommend you check the original one though my arrangements in this version difer greatly from the original.
Find the ratties! As always hidden ratties in the video
🐀🐀 FIND THE 2 RATTIES IN THE VIDEO: As in EVERY video I hide my "fufunchis". In this one you will find Tuula and Onnekas. Please let me know in the comments if you find them, do not spoil the game with time stamps. I can only say one is really easy, the other will require full screen HD thorough scout.
By the way if you liked this one, there are otherthree tributes to TEARS FOR FEARS in the channel
https://youtube.com/yidneth
My version only here and on patreon
🎵 https://patreon.com/yidneth
This particular song here
https://www.patreon.com/posts/39036179
✹SUPPORT ME ON MY NETWORKS. PRISCILLA HERNANDEZ AKA. YIDNETH
Official site: https://yidneth.com
Patreon: https://patreon.com/yidneth
Spotify: https://open.spotify.com/artist/4VYQX...
Facebook: https://facebook.com/yidneth
Instagram.com: https://instagram.com/yidnethBlog: https://blog.priscillahernandez.com
Shop: https://priscillahernandez.com/shop (for PHYSICAL CDs and art prints)
✅ Digital Discography at: https://priscillahernandez.bandcamp.com
✅ Donation to the artist https://paypal.me/yidneth
How to support my work
Of course above all you can vote and provide feedback to encourage. You can also follow me on my network at:
Follow me at:
Donations: http://paypal.me/yidneth
Patreon: http://patreon.com/yidneth
Shop (including physical products): https://priscillahernandez.com/shop
Official site: http://yidneth.com
Instagram: http://instagram.com/yidneth
Twitter: http://twitter.com/yidneth
Facebook: http://facebook.com/yidneth
❤ SUPPORT:
Donations: http://paypal.me/yidneth
Patreon: http://patreon.com/yidneth
© All arrangements in this version by Priscilla Hernandez. (yidneth.com) Original song composed by Roland Orzabal
Video filmed in Navarra, 2020. Edited by Priscilla Hernandez (YIDNETH) and Héctor Corcín @hedac.