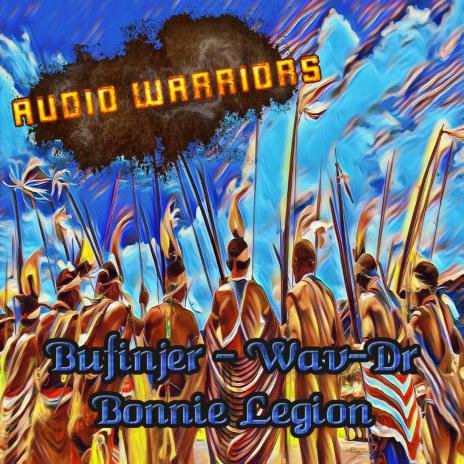 I know a lot of 'Audio Warriors'. People who can't stop Producing music because their love of music runs deep to their core. It's always on. We're always listening. It's our daily soundtrack. Music may have become devalued but that doesn't stop the "Audio Warriors from Producing sounds". This is the Underground anthem uniting us. Music and our love of the game even though some aspects feel impossible. We soldier on.
This is a three way collab with Bufinjer @bufinjer & Bonnie Legion @soundlegion & myself wav-Dr. @wav-dr
Lyrics by Bonnie Legion & wav-Dr.
Well you can call me crooked bonnie
drag my leg to the side
I got a bounce in my hip
and a patch on my eye
we're gonna gather in the street,
make it half past ten,
everybody, every nation
every sound jump in
there's a movement on the planet
and we're passing it around
point your ear straight down
you can hear it on the ground
we got colors on the left
and we got colors on the right
we got colors in the middle
flashin so damn bright
cause we're out here on a mission
dont nobody need permission
if they come it's there decision
as we gather with percision
every gang in town
every beat made sound
every heart profound
and we call it underground
everybodys getting crazy
got the fog getting hazy
as the streets pack out with the gents and the ladies
no ones out here on the side lines
its decked out center stage
drummed out, hop town, mo town, dirty flavs,
got the Dr. on guitar if the sound getting broke down
bufinjer is hopin as the sound going all around
yeah im bonnie and im chill
yeah im bonnie im in heaven
yeah im bonnie twisted crooked singing anthems by 11
everybodys in teh fluid
everybodys in the doin
as the streets light up
with the hands all movin
no ones out here getting left out
its everybody chillin
blowing on a horn pipe, riding on a feelin,
everybody is a rock star
everyones a warrior
we dont even care if your a local or a foreigner
yeah im bonnie and im chill
hes the dr hes in heaven
yeah im bonnie here with bufinjer
singin to the brethren
https://www.choon.co/tracks/0otm5uc0uet/audio-warriors--bufinjer-bonnie-legion-wav-dr/