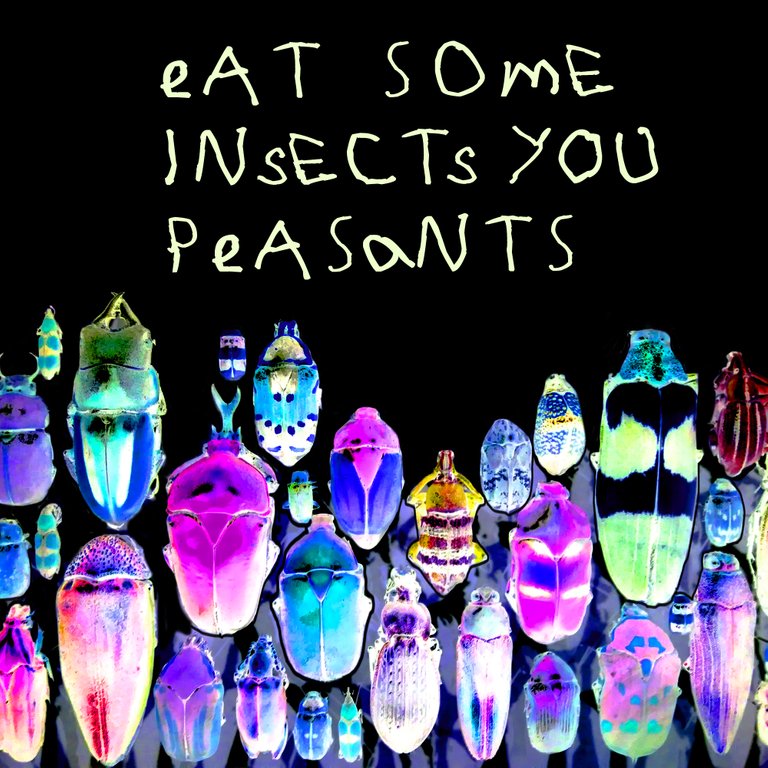 One more week of insanity and it's getting hard to just get by to be honest. For a starter I saw many retarded parents having their young Children wear a muzzle, because tv told them so? Kids don't need to breathe oxygen anymore? What's the end goal here, achieve a new mutation, a new breed?
Also I read that they are excited to feed us meat grown from human cells from a lab culture. Scientifically sanctioned cannibalism of sort. That's a pretty good follow-up to humans should eat insects, that they pushed on us since a while back.
My answer is fuck off.
It's quite an intro, I give you that, but now you know where that song, I recorded this week, comes from.
EAT SOME INSECTS YOU PEASANTS
The direction of your genetics
Under the control of our kinetics
We told you so
I don't feel sorry for it one bit
Your genetics
Better lay low
We'll deal with you as we see fit
Our kinetics
Eat some insects you peasants
From the heights of our jade towers
Governing and unpleasant
From your pain come our powers
Patented meta meat grown in a lab
Don't ask to be part of the slab
Your genetics, Our kinetics