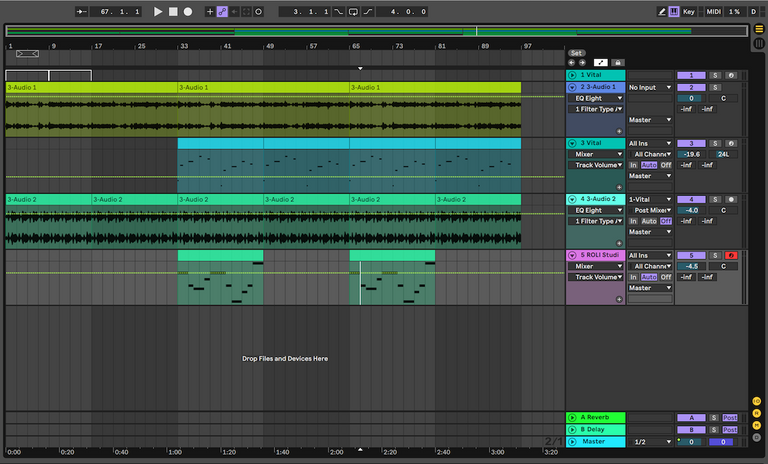 A month or two ago, I downloaded

Track 3, Vital Synth, 'FM Mode'
a whole bunch of free plug-ins and synths, one of which was
Vital
, a wavetable synth with a number of presets, and a whole bunch of awesome features. You can DEFINITELY spend quite a bit of time designing your own sounds, but here I just used some presets. This wasn't a timed exercise, but I definitely spent all of 3 or 4 minutes, as the presets had some great sounds that morphed over time. I'm not sure if this is a song idea I'd pursue, but I really do love this Vital synth, and figured this would be a good share. Both Tracks 2 and 4 use the same preset, the 'Cursed Steps', though they're a few octaves apart. Track 4 was where I started, which just holds a D for 8 bars, and a Bb for 8, then repeats. However, this instrument has, when a low note is held, a sort of arpeggiation feature, which outlines some minor scale notes, so we're moving back and forth between Dmin and Bbmin.
Track 2 is the same instrument,
however when I held down notes in a higher register, that arpeggiation was gone, and it was more just the timbre of the note that would shift and change. Tracks 3 was next, which uses one of the Vital presets called 'FM Mode'. This adds the twangy, metallic little accents, which I think sound cool, though they need to be used in specific situations, as the pitch gets a bit lost in the effect. Finally, we have Track 5, the only instrument not using Vital. This was a ROLI synth, which plays a little 'lead' line, though I don't particularly love it, and think that maybe the other instruments droning along without it might work better.
Hope you like hearing some of the sounds from this free synth!
---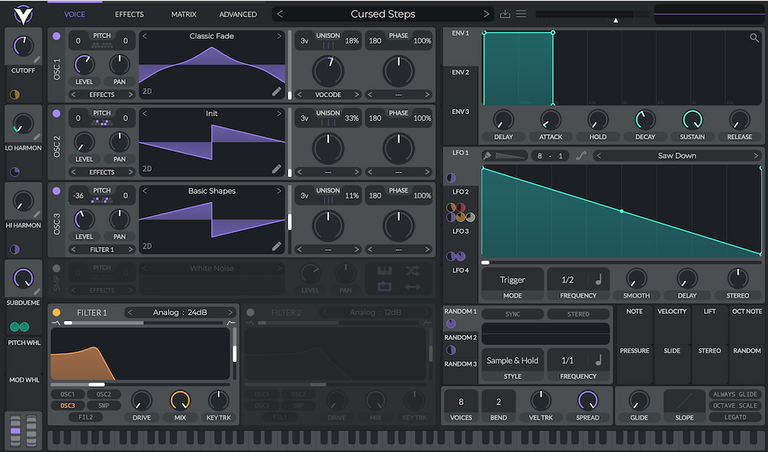 Free Vital Synth, 'Cursed Steps' Preset
---
---
---
---


⚔️ JOIN THE OFFICIAL SPLINTERLANDS TELEGRAM ⚔️