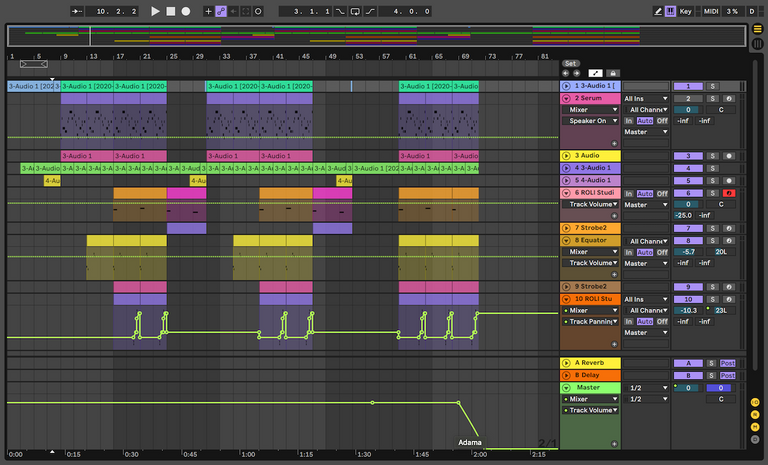 This song idea started two nights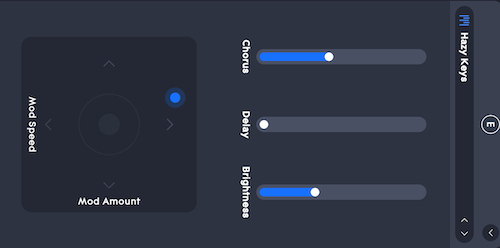 Track 6, ROLI Synth
ago, though this version was done last night, as I didn't like a lot of the first version. I started with Track 1, which was actually a trumpet sound from LABS, which just droned along, never changing pitch. I recorded this into an audio clip (which is Track 1 now), warped things a bit, changed the octave, and ended up with what there is now. I actually intended to build a bunch of droney stuff on top, but when the bass and drums happened, I realized this could be much weirder, so I went that direction. Track 2 is the bass, created in Serum again, and recorded in Track 3 so I wouldn't lose the sound (Serum demo gives 15 minutes of use before needing to be reset. Track 4 is the drums, which turned out far more interesting than I initially intended. I took a drum rack and filled it with some samples from a new pack I downloaded, added the Ableton Random plug-in, increased to 100% chance, but also put in 'round' order, so it would play each hit in order of appearance in the rack. I then took that beat, recorded it into Track 4 here, and chopped it up, turning off the warp feature and pushing parts up an octave or two, and other down a few. Then, I corrected for the pitch changes, so it really just affected tempo, and wound up with the beat here.
---

Track 2, Serum Bass Synth, Recorded Into Track 3
---
---
Track 1 was WAY too droney at this point, so I added a

Tracks 6 and 8, Very Basic Parts
noisegate, and sidechained it to the drum track, so it cuts in and out in a (mostly) rhythmic way. Track 5 is a little clip, just used for transitions between parts. Track 6 was the main instrument in the first version, and provided a heavy-vibrato laden sort of theremin sound. I reduced it down to two notes here, and I think it works much better as a strange little accent. Track 7 is ONLY used at the beginning of the little break parts, and fades out quickly, providing a single note on an arpeggiated synth. Track 8 adds some bell sounds, which aren't particularly tonal in the mix, which again turned out to be a cool, unintended effect. Track 9 adds a single little chord hit, with a plucky synth in a super high register halfway through each 4 bar go-around. Finally, we have Track 10, which is only used on the 4th bar of each section, and adds some little minor 2nds with a horn sort of sound. However, it has a pulse effect on it (ROLI built in effect) and also has pitch bends automated in Ableton, so it just adds some weirdness at the end of each part.
Hope you enjoy this crazy little song! Thanks for listening!
---
---
---


⚔️ JOIN THE OFFICIAL SPLINTERLANDS TELEGRAM ⚔️