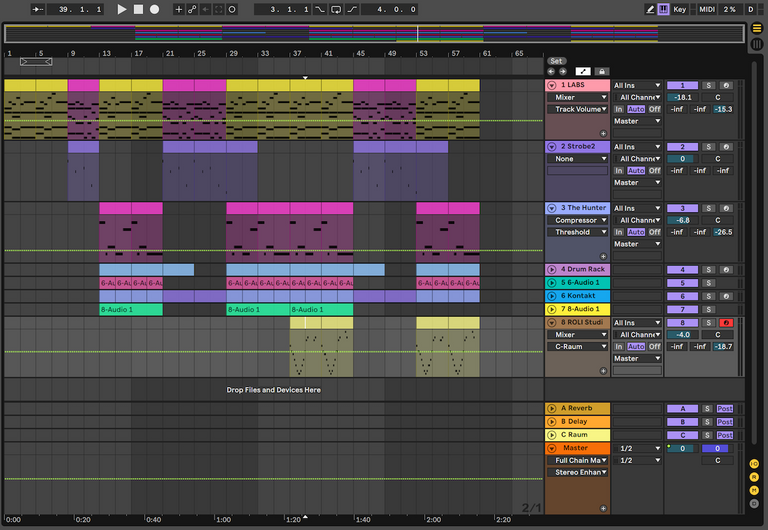 I didn't have a lot of time last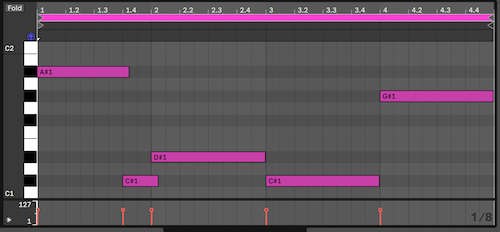 Track 3, Bass Synth
night and figured I'd just see what I could create in 20 minutes. I will admit that I picked out the keys (Track 1 ) and bass (Track 3) sounds before hand, but only cause I was actually writing something else, which I just cleared out cause I hated it, lol. This is kind of a goofy song, and the drums are pretty weak, but I didn't leave a lot of time for those at the end. I think if I maybe focused on the pattern a bit more, and expanded the sounds used for the harmonies, it might be pretty cool. I do really like the progression in the Yellow Section (pictured below) in Track 1, so I may take that, and try and build up from scratch around that. The Pink sections in Track 1 are sort of little breaks, where the drum rhythm originally cut out, though I eventually added some hits with the Kontakt kit towards the end... not sure if I like those additions, but gotta leave whatever is there when the clock runs out.
---

Track 1, Yellow Section, Main Chords
---
---
Track 2 adds a 'Pluck' synth from the Strobe2 library over

Track 7, Chords w/ LFO Tool
the Pink sections, which alters the harmonies of the second chord, making it a major 2 instead of the ii. Track 3 is the bass, which mostly sticks to root notes, and uses a heavy, distorted synth. The combination of this with Track 1 is what I really like here, so those two things will make the cut if I take these ideas to a new song. Tracks 4, 5 and 6 are the drums, with Track 6 adding the Kontakt drums. I don't love these sounds, but again, I didn't spend a lot of time on these. Track 7 adds the chords from Track 1 with a different synth, and Xfer's LFOTool on top, giving them that 1/4 note sidechain compression effect. Finally we have Track 8, a random last minute melody line, which I dislike entirely, haha.
Hope you enjoy the results! If I take some of these ideas and turn them into something better, I'll be sure to update here!
---
---
---


⚔️ JOIN THE OFFICIAL SPLINTERLANDS TELEGRAM ⚔️