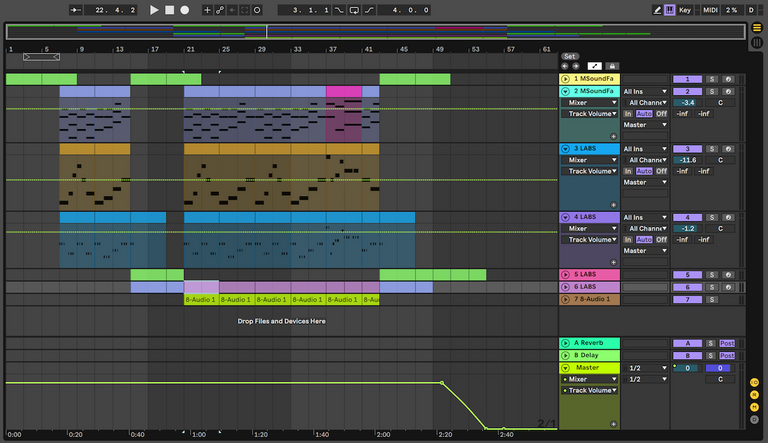 So this isn't really a 'song', but instead

Track 1, Weird Polychords
was just a session for me to try out some ideas, and if they worked, expand the into other things. I think there are some cool things here for sure, but in this context, it all feels a bit disjointed and strange. However, I thought it would be interesting to share something like this, then do another update later on when I take some of these ideas and (hopefully) find a better context to use them. I began here with Track 1, just trying to make some really big, strange polychords. Not sure how much I love these in the context of a song, but I dunno, maybe they could be used for a dissonant break, before resolving to something else. Track 1 alternates between a C7/A and A#11/G 2x, then 'resolving' to an Abminor. This is essentially entirely separate from Track 2, which provides a different progression, but there might be a cool way to connect these, using different instruments, and maybe changing up the rhythmic pattern.
---

Track 2, Main Progression
---
---
Track 2 uses a different progression, changing keys, and

Track 5, Twinkly Fills
experimenting with a different vibe. It uses some dissonances still, but nothing as ridiculous as Track 1. Track 2 begins on our new tonic of F#min, then down to Ebmajor, 2x. Then F#minor, to D, to E, and ending on a single F#. There is a variation at the end in Pink, which I actually put in the wrong key, but it still sort of works, in a strange way. Track 3 provides some harmonizing over Track 2, with single note lines using a LABS instrument. Track 4 also is only used with Track 2, just droning on single root notes with the 'monochord' instrument. Track 5 provides some dissonant, twinkly lines over Track 1. Track 6 is the bass line essentially, which I used over both parts, though I think a more interesting bass part could definitely be used with these weird progressions. Finally, we have Track 7, which added a percussion track using Native Instruments Newscool drum-maker-thingy. This was a random addition, just wanted to hear Track 2's progression over some drums of some kind.
Definitely an odd share today, but if I wind up finding a way to incorporate these two disparate ideas into something more complete, I'll share it here!
---
---
---


⚔️ JOIN THE OFFICIAL SPLINTERLANDS TELEGRAM ⚔️