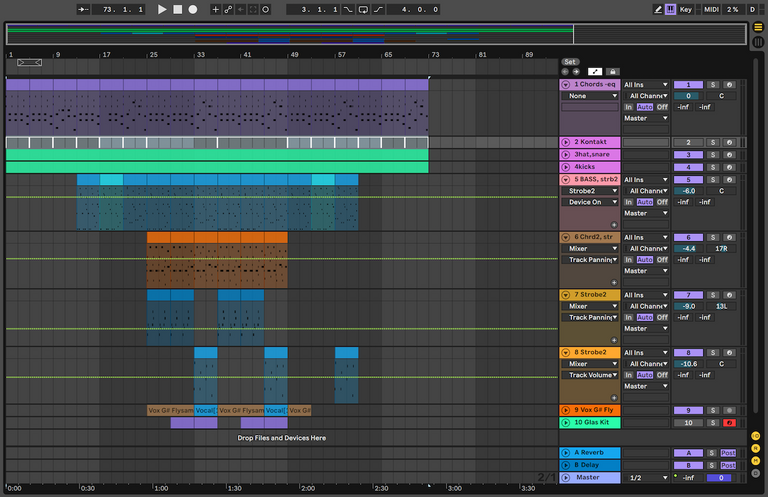 This song is from a couple of

Track 5, Bass Part
nights ago, and was another random creation while I was in that mood of working with vocal samples that I discovered in the Komplete Kontrol application. As I mentioned in the other tune I shared, this is something I have rarely done before, but is a lot of fun, so I'd like to start trying to incorporate them more. It really makes songs feel so much more full, even if there aren't a lot of layers, and I'm sure could've helped improve a lot of the fully instrumental ideas I've done in the past. This song wound up with a dancey, sort of Latin vibe, particularly with the syncopated initial hi-hat/snare part in each measure. I tried to write the chords around that, so in Tracks 1 and 6, we have an A part that plays 2x, playing a Dmin for 3 bars, then a C major, and a B part that plays 1x after (then repeat the 2x A and 1x B again) in which we start on Bb, down to Gmajor, to Fmajor, and finally Amin. Tracks 3 and 4 add the drums, with the hats and snares together, and the kicks seperated.
---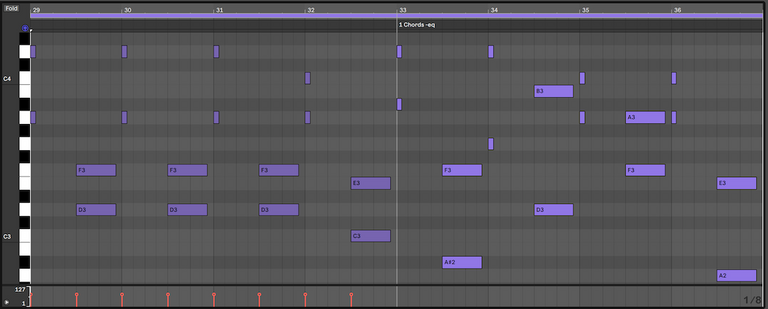 Tracks 1 and 6, Main Chord Outlines
---
---
Track 5 is the bass part, which I sort of just wrote quickly,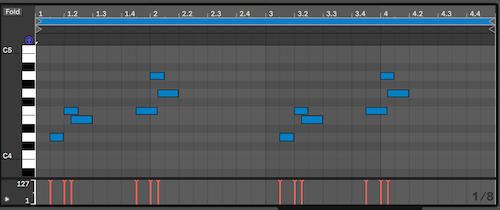 Track 7, Synth Line
without a lot of thought, and it wound up being pretty awesome. The low parts are nice and thumpy, and it has some cool little higher fills; I particularly like the descending line in the 1st measure of each A part. I added Tracks 7 and 8 to make the middle portion of the song feel a bit more full and powerful; Track 7 adds a little melody line, pictured to the left, over the A parts, and Track 8 a percussive, mallet sort of sound over the B part, which again adds to that Latin vibe. Track 9 is the vocal part, which is a combination of little clips I found in Komplete Kontrol, and a Sia sample, which was included in the free Native Instruments Community Drive package. The vocals have a compressor on them, sidechained to a 4 on the floor kick rhythm in Track 10, though Track 10 is muted, and just provides the sidechained rhythm.
Hope you like the idea! Thanks for listening!
---
---
---


⚔️ JOIN THE OFFICIAL SPLINTERLANDS TELEGRAM ⚔️