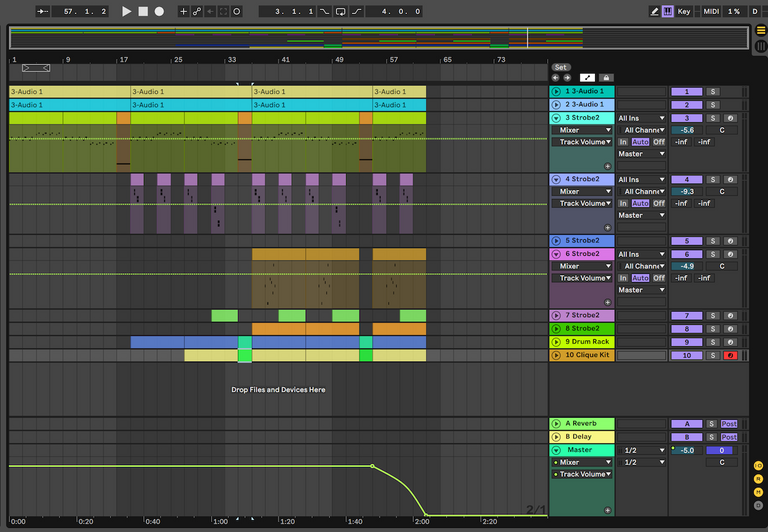 This song happened a little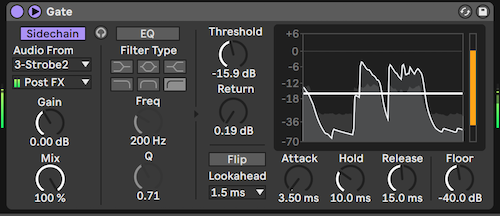 Gate on Track 2's Drums, Sidechained to Track 3
by accident last night; I was just playing around w/ the Prophet V demo, and wound up creating a strange, dissonant sound, and automated the mod-wheel effect to create this rhythmic sort of swell (Track 1) which I liked a lot, so I just started adding on top. Track 2 adds some drums, using the Newscool instrument, included with the Native Instruments Komplete Start package (totally free). After adding Track 3, which provides the main progression, pictured below, I wound up putting a gate on Track 2, and sidechaining it to Track 3, so it only comes in with Track 3, which made for a cool effect. I really liked the dissonance that Track 3 added against Track 1; although the progression is just two note parts, back and forth, the effects built into the Strobe2 instrument add some extra notes and harmonics, which provide the strange dissonance.
---

Track 3, Main Progression
---
---
Tracks 4, 6, 7 ad 8 all add more layers, which don't play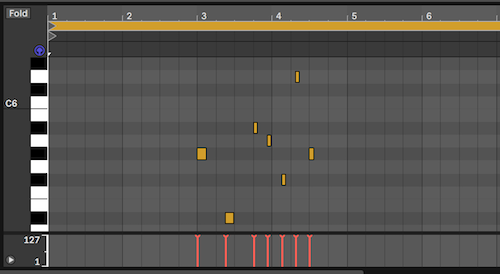 Track 6, Dissonant Line
often, but instead are sort of staggered. track 4 adds some major and minor 2nd stabs, which come in towards the beginning of each section. Track 6 adds a single, strange, dissonant line, pictured to the left, towards the middle of each time around. Track 7 uses an arpeggiated synth, which plays through some big chords, just long enough to go through 2 full octaves, before cutting off. This just adds some cool ascending little lines throughout. Track 8 just accents the 1st beat of each section with a really spacey pluck sound, which bends downward, just adding a texture and less of a harmony part. Finally we have Track 9, which are more kicks that add a 1/16th note part, descending in velocity till it fades out, and Track 10, the hi-hat rhythm. I think the hi-hats need to be doubled or boosted a bit, but I like the pattern.
Hope you like the creation! This is a strange one, but I really like the idea, so I'll keep working on it, and see what happens!
---
---
---


⚔️ JOIN THE OFFICIAL SPLINTERLANDS TELEGRAM ⚔️