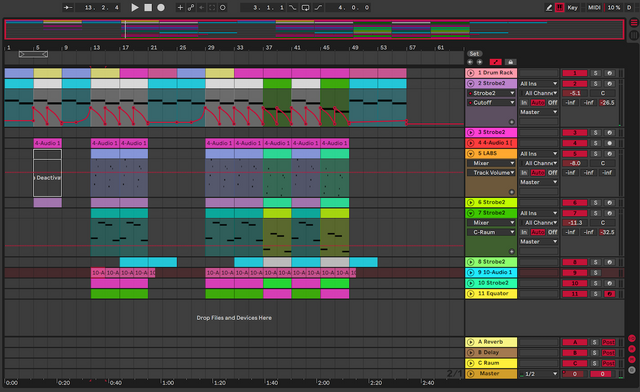 I was setting up a drum rack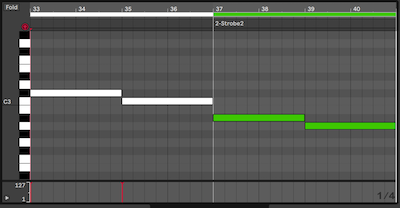 Track 2, Bass synth, White and Green Sections
using some samples that came from a 'Cinematic Hits' pack, generally used for video editing, adding hits, punches, footsteps, and loud accents, but they also work as creepy drums. Track 1 uses these sounds, though I think as I work on this more, the quieter 'kick' drum that plays will need to be replaced with an actual kick of some sort, as this sound is a little weak. The louder, more intense parts work fine, so I'll leave those as is. The song mostly just moves from a C# down to a Cmin, back and forth, except for the Green Sections at the end, where it drops down to Bbminor, and Aminor, before returning to the original progression. With all the layers added on top, this super simple idea became really dark and creepy, which was the intent, though I think harmonically this turned out much cooler than I expected.
---

Track 5, Creepy Granular Piano
---
---
Track 2 provides the bass part, but is doubled by Track 6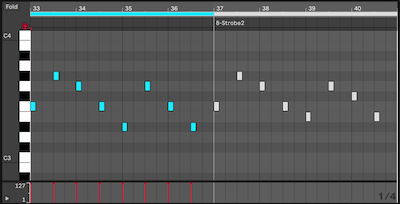 Track 8, Ambient Melody Lines
which adds a little more 'oompf'. The most interesting additions were Tracks 5, 7, 8 an 10. Track 5 provides the creepy granular piano, which begins on our root notes, but then adds some dissonant weirdness on top of the arpeggios. Track 7 adds a strange synth pad, which has some built in harmonies, which add another layer of dissonance. Track 8 is pictured to the left, and adds a little 4 note melody line over each chord change. Finally, we have Track 10, which provides the distorted, buzzy synth that hits on the upbeats, accenting our root notes. There are some other ideas I want to add here, so I'll keep working and update tomorrow with whatever happens!
Hope you like the idea thus far! Stay tuned, I'll update as I work on it more, and hopefully get it sounding a lot cooler!
---
---
---