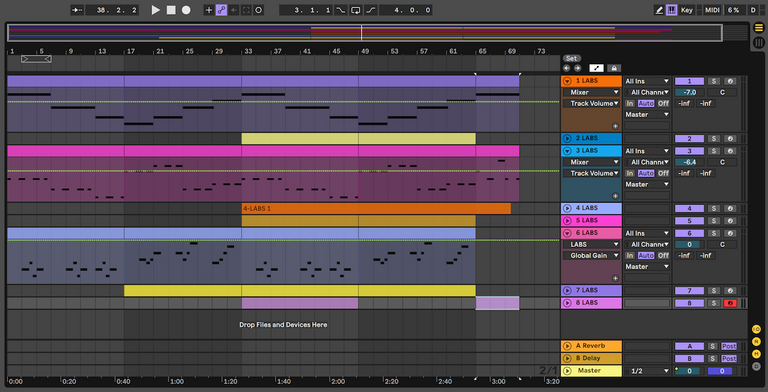 This came about randomly last night,

Track 1, Root Notes
just playing around with LABS instruments from various packs. I started with Track 1, which lays down some root notes, repeated 2x over the course of the song, and then everything is built on top of these. There are basically 2 halves to this Track 1, the first moving from D to Bb to G (the first 2 notes move in 6 bar sections, the last chord 4 bars), and the second section F to G to Bb and finally C (with each note happening over 4 bars). There are two other tracks which play for the whole song, Tracks 3 and 6. Track 3 sort of provides a bass part, and Track 6 a 'string' sort of sound. The rest of the tracks are used over the second half of the song, so it feels much more full.
---

Track 4, Melody Of Sorts
---
---
Track 2 adds some more layering, mostly just building up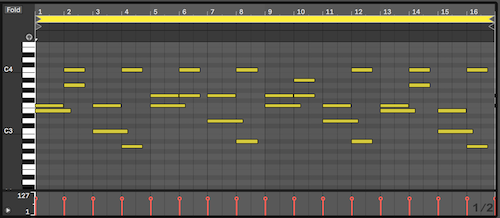 Track 7, Additional Harmonies
chords over the root notes. Track 4 is pictured above, and plays a sort of melody line over the second half of the song. Track 5 is used only at the beginning of each 16 bar section, adding a little arpeggio. Track 7 comes in over the 2nd half of the 1st half of the song (lol a bit convoluted, sorry), which adds a sort of chordal melody, which helps break up the first half of the song, and add some little dissonances at certain points. Finally, we have Track 8 plays some basic chord shapes, just divided up into 2 note segments, a bit more in the background, just to fill things in a bit more and add another texture.
Hope you like the creation! Thanks for listening!
---
---
---


⚔️ JOIN THE OFFICIAL SPLINTERLANDS TELEGRAM ⚔️