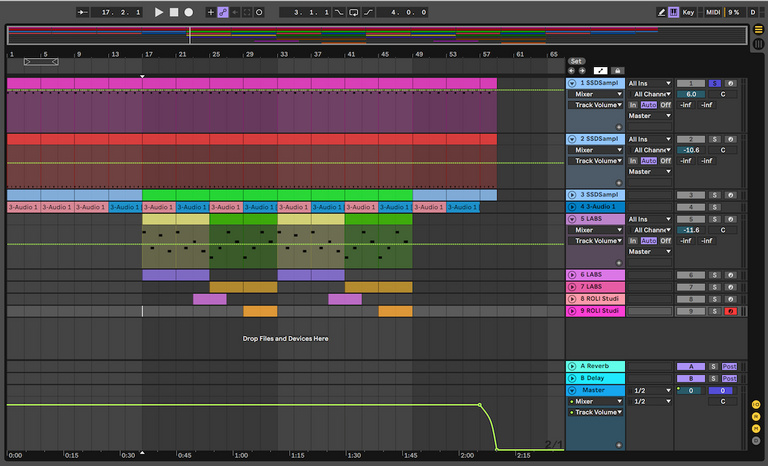 This started just as an experiment

Track 5, LABS. Textural Pads
with the Steven Slate Drums demo, and some effects, just to see what kind of sounds I could get, but when I found a cool Portal delay that worked with the ride cymbal, I figured I'd try and use it, with this being the result. It's definitely rough, levels are all over the place, but I think there is potential, though I'm definitely going to need to tweak stuff, and change other parts up. Tracks 1, 2 and 3 are the drums, divided up into the ride in Track 1 w/ the reverse delay from Portal, the kick in Track 2, and a rimshot pattern in Track 3. Track 3 also has the hi-hats, which come in during the green section. The rimshot is way too quiet, and probably too 'acoustic' sounding, so I may effect it, or find something more digital to use. I also am not sure about the super simple kick pattern; as I edit this, I'll try some more interesting patterns for these parts assuming they work better with the rest of the tune.
---

Track 7, LABS Piano Pad
---
---
Track 4 was a chordal thing which used one of the LABS

Track 7, LABS Lap Steel: Trems Steel
textural pads; I recorded this to audio, initially intending to warp it, but I wound up just cutting out a 16 bar part, which makes up the basic progression under the whole song. It's in Cmin, but had a lot of extensions, so it's sort of just a blur of sounds, which becomes more defined by the bass notes played by other instruments. Track 5 handles those bass notes, with another LABS pad, though I may try and find something more bass-synth-esque as I work on this. I do like the changes in harmony though, with Track 4 on top. Track 6 adds a piano pad, over the 'A' section (in Yellow in Track 5). I just wanted to differentiate the two parts, so Track 7 is only used on the B part (Green in Track 5). Track 8 is a transitional 4 note walk up, using a new ROLI synth, and finally, we have Track 9, only used for the last 8 bars of the B parts. It provides that warbly, high-pitched melody line. I like the progression, maybe not the synth, so we'll see where it goes. All in all, although rough, there is some stuff here I think could become a lot cooler, so I'll spend some more time with it and see what happens.
Enjoy the idea thus far!
---
---
---


⚔️ JOIN THE OFFICIAL SPLINTERLANDS TELEGRAM ⚔️