Cathal Coughlan debuts music video, announces new album "Songs of Co-Aklan"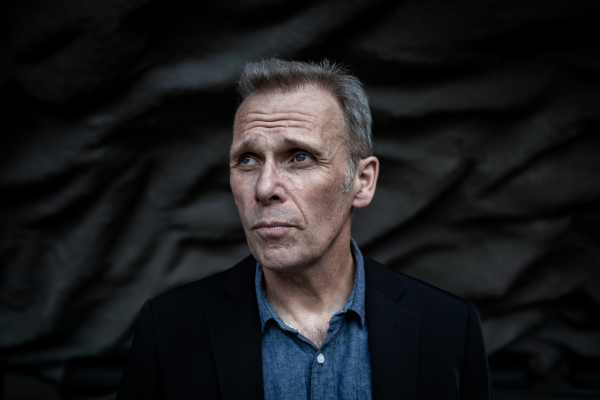 Irish singer-songwriter Cathal Coughlan has announced his sixth album, Songs of Co-Aklan, set to release on March 26 by Dimple Discs. In conjunction, he's shared the music video for his latest single "Owl in the Parlour."
Coughlan speaks about the subject of the blues track;
"Who among us has not secretly longed to keep birds of prey as domestic pets, which can then double as objects of communal fascination on the streets of our towns? Okay, don't answer that, but neither should one sneer at the practice, certainly not whilst exhibiting the generic smugness so justly identified with the 'liberal elite'. This song is, in part, a survey of the options in personal couture, animal husbandry and 'inexpensive' domestic staffing which are now available to the spry middle-aged man in this era of global communication. In this gilded age, we are simultaneously interlinked and mutually repelled as never before, whether we live in remote settlements in war-torn parts of the world, or in the mosaic of postage-stamp-sized semi-detached fortresses and gargantuan fulfilment hubs that is the English Hinterland in 2021."
"Owl in the Parlour" swings with tinged romanticism. Coughlan's cynicism is backed by a line-up featuring some of Ireland's finest musicians; drummer Nick Allum, cellist Audrey Riley, guitarist James Woodrow, and Rhodri Marsden on bass.
As the founder of powerhouse Irish groups Microdisney and Fatima Mansions, Coughlan is beloved for his literate lyricism and erudite songcraft. He's held as one of the most revered singer-songwriters in Ireland.
Songs of Co-Aklan is available on March 26 and can be pre-ordered physically here or digitally here.
Connect with Cathal Coughlan via
Facebook
Twitter
Instagram
Official Website
Spotify
---
Posted from my blog with Exxp : https://fortheloveofbands.com/2021/03/06/cathal-coughlan-debuts-music-video-announces-new-album-songs-of-co-aklan/
---
---
---