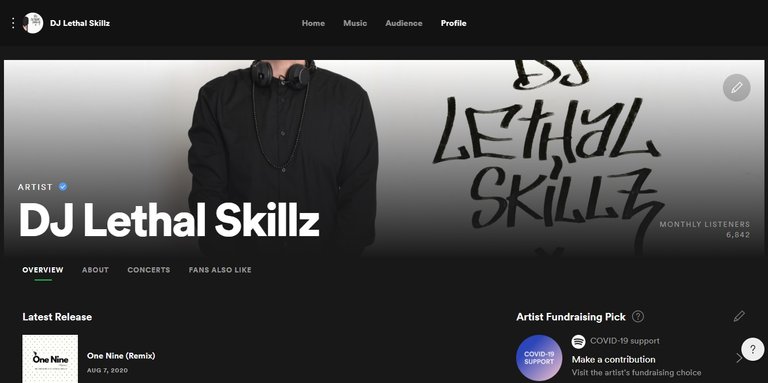 Crypto & Blockchain Rap, Lo-fi to Chill and uplifting Music
(Unsupported https://open.spotify.com/embed/artist/7F3kgeoTzXbi5JLPylw4qW)
My recent releases:
Decentralize a song featuring Unknown Mizery inspired by the need to find freedom from banks has become the most urgent need in modern survival. Our autonomy is our freedom and our art is our spirits dagger and shield. While systemic freedom of speech becomes censorship for some, many believe that their fiat system has been a currency of oppression and inequality. Many have taken the power back through creating an economy outside of the structural banks and decentralizing their platforms. This is the blockchain, where the revolution will be decentralized.
(Unsupported https://open.spotify.com/embed/album/3Wk1h4PKqlJp7NkxlzFkT3)
Harib Arabic Hip Hop in the building!
Harib meaning 'Fight' orchestrated by Saudi Music Hip-Hop Radio Host and Blogger, Hassane Dennaoui (a.k.a. Big Hass) has announced the release of his first single in collaboration with Saudi Rappers (Al9ine & Blvxb).
Song is produced by Big Moe who is an Egyptian producer based in the UAE. The title of the song is "Harib" which means "Fight"in Arabic and it has scratching from Lebanese Dj/Producer/turntablist Dj Lethal Skillz.
Big Hass has previously released cyphers, but this one is a song that falls under a concept he launched in 2019 at Sole DXB called "Spitter" and as the name implies, Hass wants "Straight Up Barz".
When the Covid-19 lockdown disabled all public and live events, Big Hass launched "Spitter Lockdown Challenge"on IG where he would provide a beat and challenge the rappers to spit/rap on it. The challenge #SpitterLockdown got circulated amongst the rappers and it did really well, however, it lived only on socials which sparked Hass to initiate the project above and have songs instead of just "Social Media Content". Hass is currently working on similar projects which will be out in the near future.
(Unsupported https://open.spotify.com/embed/album/44JcLmaQt8RxK5pUUfeOAy)
i.elevate an uplifting, soulful and empowering Hip-Hop/R&B type of song that promotes freedom, Crypto and Blockchain where both rappers King Ra and Vandal has delivered awesome verses loaded with lyrical dopeness and flows and King Ra did an awesome hook for the track, hope you like the works on this one!
(Unsupported https://open.spotify.com/embed/track/4qvzsDNKzCZtcHJcxkZrkb)
'Ok Boomer' is written and performed by Vandal my long time partner in music and especially Blockchain and Crypto related themed music that we have been releasing since 2017, but this one is a bit different as it addresses the ongoing conflict between the Millennials and Boomers that is written and performed by Vandal himself who is Born into Generation X and attempts to bridge the gap with this song, also the song features an excerpt from Keiser Report with his approval which is an amazing blessing and addition making a fitting introduction for "OK Boomer".
(Unsupported https://open.spotify.com/embed/album/5rV2d7oOEnGb5uBfiTcVlu)