Stumbling into something new is often the best way to experience things and in this case that is for damn sure!
This weekend I was invited to go along with some friends to a gig at a well known venue in town and although I was very familiar with the venue I had no idea who the band was. To be honest I wasn't really that keen on going but my girlfriend insisted and so I went along for the ride.
The band we were there to see are from the USA and go by the name of Greta Van Fleet. Apart from the name the only other thing I knew about this group was that they played "Rock Music". Now I'm not your biggest fan of this genre so knowing this didn't exactly get my juices flowing. That isn't to say I don't like rock, it just isn't my first choice from the jukebox. However, once the night was over my opinion about the band and the music they play would be doing a complete 360 degree turn!
Introducing Greta Van Fleet!! 🤟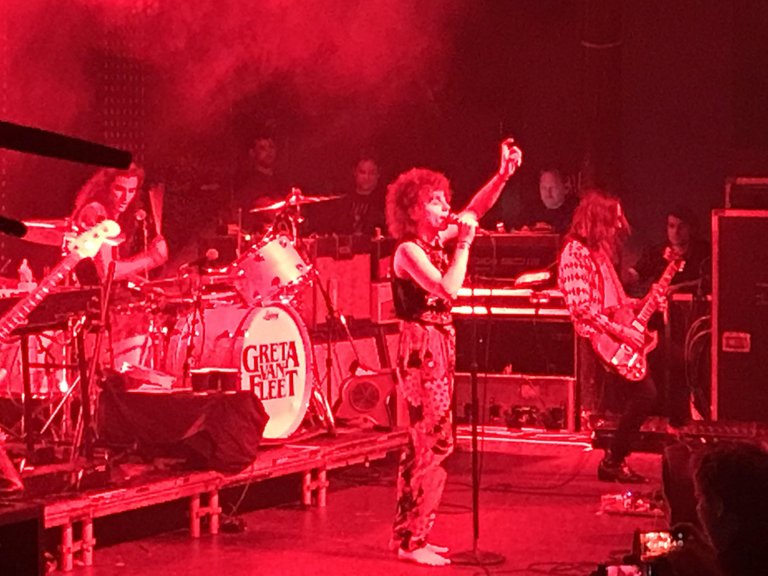 This four piece band is made up of 3 brothers and a drummer. The lead singer and the guitarist are twins, then they have their younger brother playing the Bass and keyboard. The chemistry between them all is fantastic but what stands out the most is the blinding talent shining from the two twins.
As soon as the lead singer walked out on stage you immediately sensed his energy. Even before he opened up his lungs his outfit screamed for your first impression to be scorched into memory. Standing at about 5'9 and dressed like Aladdin, sporting an enormous white-guy Afro, you just couldn't take your eyes off the frontman. The rest of the band were dressed in their own unique way but they knew their place and also knew their time would come to shine. The beginning of the show was all about getting your attention and there is nobody in the world who can do it better than the screaming banshee stood in front holding the microphone...and my god this kid got our attention!!
Like a deranged yodelling demon, he reached notes that I've never heard before and if he'd have been born an only child I think he could have still carried it off alone. Nevertheless, his parents blessed the world with two more brothers and one who played the guitar like the ghost of Hendrix!
Although the lead singer absolutely killed it for the majority of the show, every person in the band had their own shining moments.
In the video below you get to witness the guitarist completely shredding a guitar solo and I beg you to listen to it in it's entirety. I was instantly hooked from the first vocal but after this ridiculously amazing solo I was completely in awe of, not only, what I was hearing but what I was seeing too... The guitarist' hands were twiddling and twanging faster, and with more fury, than the first teenager ever to discover masturbation.
It was an utterly amazing display and the sounds that guitar made were soul tingling. You could feel some notes reverberating inside your chest and then spread through every organ, disintegrating any part of you that wasn't into Rock music already.
The entire night was amazing and, as you can probably tell, I am now a complete fan of Greta Van Fleet. The show had everything, the hypnotic frontman, a guitarist that made you shit your pants and a drum solo that made you want to grab a spear and put a bone through your nose. Greta Van Fleet, you fucking Rock!!
So, are you ready to be ROCKED?!!...Well, are you?!!!
Good. Now let's get rocking...