Hello everyone I hive friends.
Last night I went to bed later than usual I had an upset in my stomach that made my dream come late, well at that time my girl was asleep, I started to see a comic genre movie and starred with one of the famous actors in Mexico Eugenio Derbez, returns are not accepted.
---
Synopsis
This is the story of a man with no responsibilities and a womanizer named Valentín.One day a gringo woman who once had an affair with him knocks on his apartment door, to which he tries to explain that he had a daughter and has to leave her to what he holds the girl asks him for $ 5 to pay for the taxi, Valentin enters with the girl to wait for the woman, but hours and hours passed that woman did not return.
From that moment, Valentín's life changes, he begins the search for the girl's mother, he must go to the United States, during his trip he meets several people who gave him the tail until he was transferred illegally to take him to Los Angeles. Then he went from hotel to hotel asking for Maggie's mother, but Valentin does not speak English, he cannot understand what the person says, in one of the hotels he enters without being noticed, the girl hides near a bathroom that is a pool, to keep looking. Then he enters one of the rooms, he tries to talk to a man but when he looks out the window he sees Maggie near the pool, and he tries to call her, seeing that the girl is on the edge of the pool, he thinks in throwing himself but his fears paralyze him (seeing some wolves that are under his imagination that simulates fear), but suddenly Valentin throws himself, in that the hotel room guests see him, he goes down to the pool and asks him how he is. To which he then offers him a job as a double Valentine he accepts.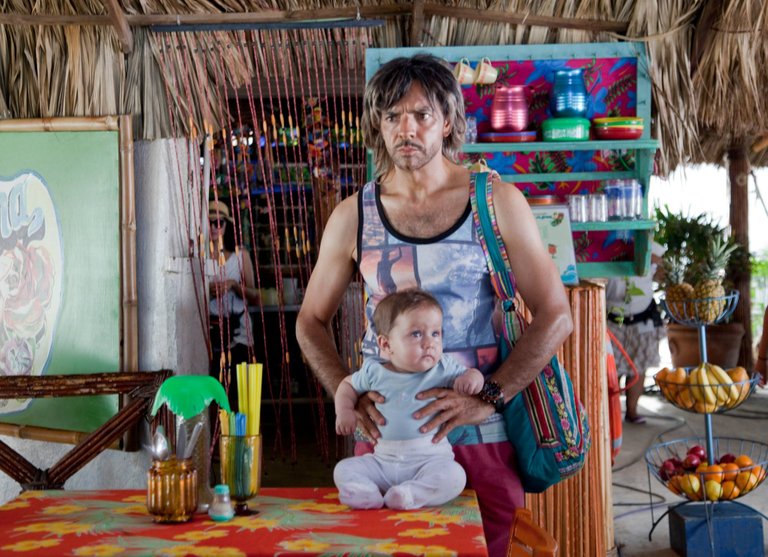 Source
6 years have passed and Valentin has taken over Maggie, he continues in the same job, he has given her to buy a car, an apartment and many things for Maggie, in one scene Valentin appears on a prescription and is given a vaccine, he says that the treatment has had no effect , which is still the same result. As Maggie's birthday is close, she says she wants her mother to be there on her birthday, despite not being there, Valentine has managed to make her believe that her mother writes to her from different countries and continents that are She spends her time traveling, Maggie has a wall filled with all the letters and photo montage that Valentine has made.
The next day, Valentine talks to his best producer friend to help him get a double to take over Maggie's mother, he casts until he chooses a woman. That afternoon, Valentine takes Maggie to the park to meet her mother, in which Maggie begins to imagine what her mother would be like, every woman who passes by thinks to say something like she is too skinny to be my mother, or very short. But to Valentine's surprise in that same park Maggie's real mother arrives, from that moment to Valentine his world with little Maggie begins to change, because the version that Valentine had told him that his parents were married for a time, his mother He had to leave her with him because he was on a mission of peace. Julie told him the truth, making Maggie feel that she lived in a world of lies she no longer loves her father.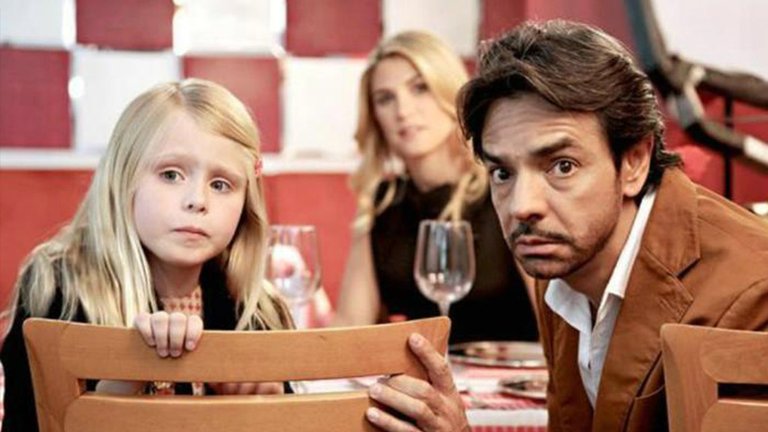 Source
After spending several days Julie becomes fond of her daughter, asks for custody of Maggie, to which they had to go through several hearings, Valentin changing jobs to learn to speak English. At the end of the trial, the judge determines that the custody is recognized by the father of the girl (Valentín) and that her mother can come to visit her. Julie, not being happy with the result, asks for a blood test to be carried out on the girl and Valentin and to check if he is the father.
To which the test is done, Valentin was not the biological father of the girl. To which the judge has to determine custody for Julie. The next day Julie goes to look for the girl, when he asks her to spend a few minutes with her, he tells her that if she doesn't need $ 5 for the taxi. Julie leaves him alone but what he does not expect is that Maggie and Valentín escape and flee to Acapulco. Julie looks for her best friend and begins to question him and tells him that he is not going to speak, that this man has given his life for that girl. Until a moment comes he tells her.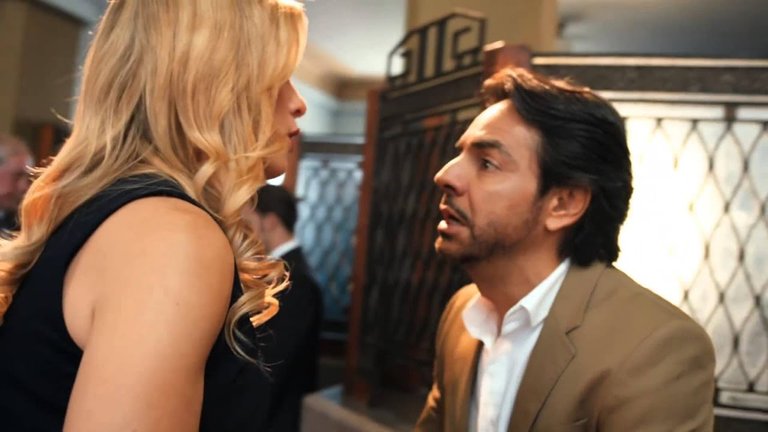 Source
In another scene, Valentin and Maggie arrive in Acapulco, where she finds out that her father Jhonny Bravo died, visits her father's grave, and tells her about all of her father's teaching. A days Maggie is playing on the beach suddenly Julie approaches, but Maggie runs to her father tells her that he does not want to be taken, but Julie explains that she will no longer do that, they spend days three they begin to enjoy together as a family. One afternoon watching a sunset Maggie falls asleep and does not wake up. The end of the film leaves Valentine on the beach saying these words
"There are stronger blows in life than being thrown from the ravine at 6 years old, it always takes I will remember with me the two greatest loves of my life, the first, taught me how to be prepared to face life, and the second, taught me how to face life without being prepared ... and ... from there they both continue to teach me how to face life, without them. "
Maggie comes out of heaven happy with her grandfather in heaven.
---
Analysis
The Mexican Eugenio Derbez was a co-writer, directed and starred in this great film that came out on the big screen in 2013, which gave us a film that combines comedy and drama, part of leaving teaching:
Father is the one who raises:
In this film we see how a man's life changed when he had a girl in his arms, day by day I offer affection and love, where Maggie, despite knowing that he was not her biological father, preferred to go with the Acapulco so that he would not take him away from it.
A baby transforms life:

As a mother I certify this, life changes us when a child comes into our life, it is no longer the same as before, there are different responsibilities and a person to take care of. In the film we see Valentin a man without responsibilities, immature, who only lives from day to day. But after having Maggie and realizing that that girl was totally dependent, her world changes and she has a responsibility, she works and gives her daughter everything, apart from being aware of her health and that of the girl (even though the viewers find out that the girl's illness is at the end, we all think it is Valentine).
We must speak the truth:
There are times when we do not want to hurt our children to invent things that are not, but there comes a time in life when the lie falls. It's how it happened to Valentin, I create a story for Maggie that her mother never abandoned her, only that she traveled to be on missions, until one day Julie arrived and told her the truth, causing Maggie to take a different attitude. that she lived.
I invite you to enjoy this film full of comedy, but in the end with a drama that I know many will tear, as I am even telling you about it, the image at the end makes me feel a bit sad.