---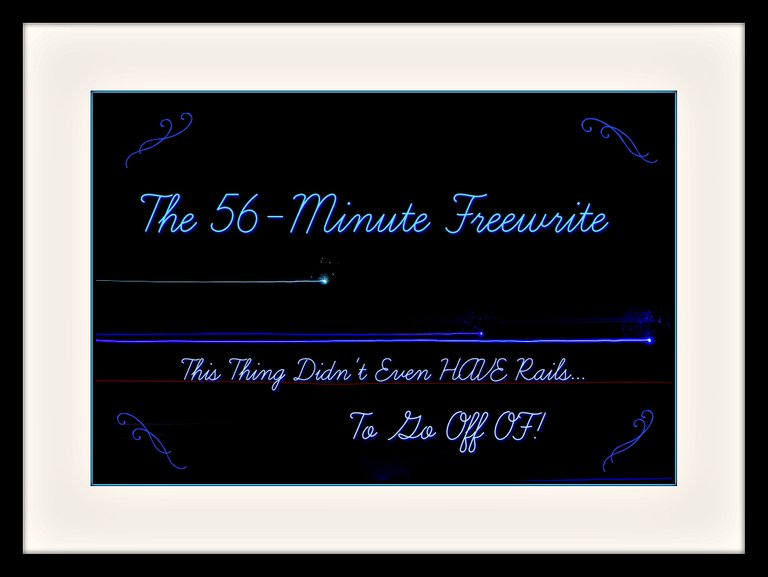 ~ Sometimes, You Just Gotta Finish The Story ~
---
---
Sunday Freewrite Prompt: Mangy Calico Cat
---
---
My brother-in-law picked up the phone on the second ring. He seemed a bit stressed when he answered, as his hello was a lot louder and more pushed than usual, but I waded on with the initial pleasantries of the telephone system anyway. "Hey, Bradford Q. How's it going?"
"Hey D, a little crazy right now. The grill's on fire, about to burn up into the eaves on the back deck. I gotta go deal with it, and your sister's in the kitchen, fixing dinner. Here, why don't you talk to Jeannie." He must have turned to her, "your uncle wants to say hello."
The phone clunked, then my niece's small voice on the other end peeped its classic hello. "Uncle Doob?" Impressive, she's getting pretty good on the phone these days, for only 5 years old. Though she's never been able to say my real name correctly since day one. And now, there's a slight, lilt-y, 't-h' thing going on with her speech, that wasn't there before.
I'm guessing it has something to do with her teeth changing around, however that happens in these little new people. I don't have any direct experience of my own, and comparing her developing dentition to one of my cats wouldn't help much. Though it IS harder to get a cats mouth open, compared to a 5 year old human that accepts bribes. Still, wouldn't help make sense at this end anyway.
---
---
~ § ~
---
---
I forged on, "Hi Jeannie, how are you today?"
She gave a heavy sigh. One much too large for someone who hasn't been around long enough to have things to sigh ABOUT.
"Oh...I'm Okay. How are you?" The sadness in her voice was overwhelming.
I did my best uncle, to try to cheer her up. "I'm great. What did you do today? Having fun?"
It didn't help, she still sounded very down, "Ardith is sick!"
I wracked my brain, but nothing came out. I couldn't remember who this Ardith person was. I had to ask. "Who's Ardith?"
"My cat, Ardith. She's not feeling well." I smiled at the new, teething-based pronunciation. Sort of like 'artist ', but leaning more toward 'Ar-dithttp'.
This cat thing was still puzzling. "I thought your cat's name was Trixie."
"That's Mom and Dad's cat. Ardith is my cat. She's all Calico."
Obviously, I need to go visit more often. I continued on, "what's wrong with Ardith?"
"She hurt her leg."
"Oh. How did she do that?"
"She fell down. From the top of the refrigerator. Onto the floor."
Imagining the poor cat plopping down onto the linoleum from such a height, it took me a moment to recover. "What was she doing on the refrigerator?"
"Staying away from Monzo."
---
---
~ § ~
---
---
I KNOW who Monzo is. That's easy. The humongous, 150 pound, very friendly Mastiff they share the house with. The exceedingly large dog that takes up the entire couch. The one that won't let me in the front door when I go visit. Mainly because I always seem to arrive after midnight. Probably because I never get a good start on the 5 hour drive to their house until it's way too late to be on time. Every visit.
My sister is nice and stays up to wait. Though she seldom leaves the couch and her newest book when I arrive. I guess nice only goes so far in the middle of the night. She just hollers from the living room toward the front door, "come on in."
Right! Ever had a Mastiff bark at you from 3 feet away, through a glass door? The glass actually moves and vibrates. That would be Monzo. It doesn't help at all that her name is supposedly the Italian word for meat.
I always wait and let my sister drag Monzo into the living room, before I step in. Prudence trumps boldness, I always say. Particularly when a dog that weighs almost as much as you do is involved. Though truth be known, she IS a lovely dog. I'm just not convinced she still remembers me each time I visit. Though my sister insists she does. That whole glass-moving thing suggests otherwise. I'm sticking with good old prudence.
---
---
~ § ~
---
---
I continued on with my niece on the other end of the line. I had to ask, "so...Monzo doesn't like Ardith?"
She perked up, "Oh, Monzo LOVES Ardith. And plays with her. Monzo LOVES to stick Ardith in her mouth. But Ardith doesn't like it very much."
I could only imagine. Monzo has ENORMOUS jowls. Their immense size goes very well with the rest of her. When she eats, she immerses her whole head into the monster-sized stainless bowl, and when she's done there's about 4 pounds of Kibbles left rambling around in those pink, rubbery lips. They sort of dribble out for awhile, plinking onto the hardwood floor as she wanders around the living room, checking out what everyone else is up to.
Kind of grosses me out. Cats don't do that. Then again, I'm quite certain her jowls alone weigh more than several of my cats put together. No, I can't imagine a cat enjoying being carried about in those incredibly large, slobbery dog lips. Never mind the shiny white teeth tucked in behind them.
Though a bit alarmed, I maintained my cool, "Isn't that hard on Ardith?"
"No, she's used to it. Last year, Monzo almost chewed off her ear. They were playing."
Good grief. Where is my sister when all of this household mayhem with the pets is going on? "Put your Mother on, I need to talk to her." Jeannie yelled, both into and over the receiver, and down the hall at the same time, "Mo-om. It's uncle Doob. He wants to talk to you."
I could hear my sister from way back in the kitchen. "You talk to him, I'm getting the casserole out of the oven." Ah, familial love only goes so far at dinner time.
Jeannie went on, very nonplussed and mature for her age, "Ardith goes to the doctor a lot. Last year it was her eye."
"What happened to her EYE?"
"She lost it."
"What? HOW!?"
"I don't know. It happened outside. I left her outside one night. I called, but couldn't find her. It was my time to go to bed. I was sad. And the next morning, when she finally came in, it was gone."
"Ardith was gone?"
"No, her eye. It was gone. She lost an eye. I was sad. She went to the doctor that time too. She fixed her right up. "But that's better than her tail. That was REALLY bad."
---
---
~ § ~
---
---
I had to ask, but was afraid to ask. But had to. I started to, but never got the chance to finish. The casserole must have come out. My sister took up the phone, and as she did, mouthed out loud to Jeannie, "go wash up for dinner. And get Ardith OFF the table! She's filthy, your cat doesn't belong on the table. We need to give her a bath!"
My sister was obviously and completely nonplussed by all of this. I lit into her with my best big brother attitude, "what's up with Jeannie. And Ardith? I think you need to take better care of her cat. How is the cat even still...GOING?"
"Oh, it's fine! And good for Jeannie. She's learning about life. And her Grandma always stitches up the cat when things happen. She's always been good with this sort of thing."
I couldn't believe this was the same sister I grew up with, and was a bit beside myself, "Brad's Mom is not a vet. She's a...GRANDMA. Why are you taking the cat to her? She doesn't know how to fix a cat!"
My sister paused a moment. "What's up with you? She's really good at it. Put Ardith's chewed ear back together last year. And she did the best she could with the eye thing. It's not that big of a deal. It's just her cat. When it's time, we'll have a ceremony, bury Ardith, and I'll get her another cat."
I almost hung up. "Don't you care about the cat? What happened to the animal lover I knew in High School? You didn't treat our cat Suzy like this. And she lived to be twenty years old. She might STILL be alive, if not for the stupid diaper truck! You never treated HER this way."
"Well no, dummy. She wasn't a stuffed cat. What's gotten into you all of a sudden?"
I quickly changed the subject. "Bradford put the fire in the grill out yet?"
oo
~ Finto ~
---
---
( :
---
---
Five Minute Freewrite Post by @mariannewest
---
---
Author's Note:
This is not a true, Five Minute Freewrite. Or even a Standard, 28 Minute- Five Minute Freewrite. So I made up a NEW category. (We seem to be expanding here...). Sorry, couldn't help myself. Sometimes these short Freewrites cause a mental stir, and things take off, and before you know it, I've laid waste to the little electronic, five minute timer. (Mentally, I'm not about to break my little time management helper.)
So thank you for reading, and have a most wondrous day, if that seems like something you would like to do. -dds
---
---

---
---
Thanks for stopping in and viewing another Twenty Eight Minute, 5-Minute Freewrite, that morphed into an even LONGER thing, after I got going. If you have any thoughts about mangy stuffed cats and little children, large dogs that chew on these cats, Grandmothers doing veterinary work under the table for free, or anything else this post reminds you of, please feel free to comment away in the spaces below. I'd love to hear from you.
---
---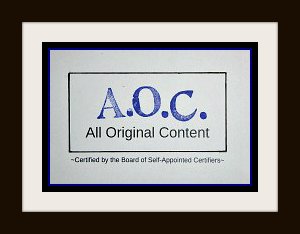 ---
---
Please UPVOTE, COMMENT and FOLLOW if you enjoy my works.
And go to @ddschteinn -- There's a whole lot more...
Posted: 07/08/2019 @ 12:54 ~ Post No. 320
---
---

---
Excerpts From Late-Night Conversations With A Mechanical Cat
Fact Number 155
---