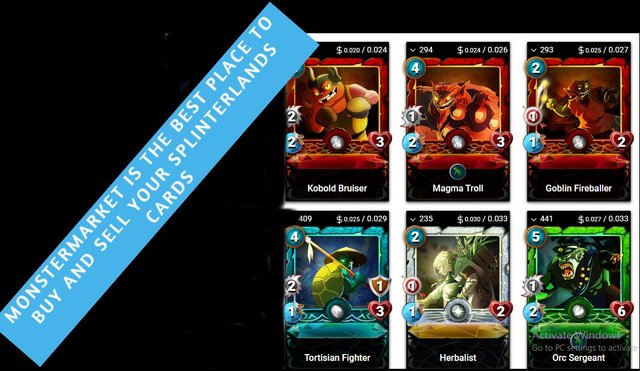 For some of us who haven't catch the fever yet, splinterlands is a game on the steemit blockchain called the fantasy game where thousands of people fights for a common goal which is to reach the top table at the end of each season and to also get some cool reward cards at the end of the season.
As a player on a battle feed whose constant thirst for superiority has taken me far and wide in this game called splinterlands! I have been able to upgrade my monsters card through different mediums which is either from hand to hand, general market or a private auction. All we all do as a splinterlands game player is strive to be on top of our game and to so we need to always upgrade our cards.
Today I bring to you a good news that would favour us all and that is letting you know about the best market out here that is favourable, easy and has one of the coolest market interface on the steemit blockchain. This market is called Monstermarket cool right!
GETTING STARTED
First you need to visit the monstermarket url here where you click on the login section. By doing this make sure you have a steemit keychain installed on your device for easy login and safeguard. If you do not have this chain, the market has provided a link for easy download right from the source which is right here on this github page.

After my login I was open to do a lot of things which includes buying and selling of cards. On the left side of the page are directions you can take to achieve your aim on the web page without wasting too much time as displayed below.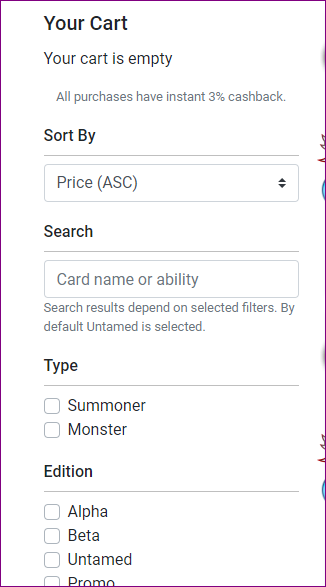 From using the search bar to locate a particular card you want or sorting them by their ability should incase you forgot the card's name.Monstermarket has everything on lock down for our convenience. Why scroll through hundreds of cards when all I needed was just a keyword and my card will pop out.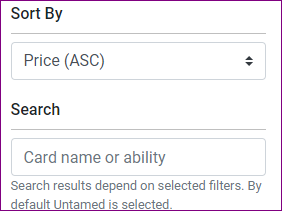 Not only the search bars, they also provided a section where you can select whatever card you want in whatever form or edition as displayed below. They took there time to make sure you are directed to the right place because people like me have an intention of buying a particular card and seeing the way som e market page are been displayed, I get to buy not what I needed but what I was attracted to and by so doing this I gt to forget my main reason of visiting the market place. All this is what the monstermarket is protecting its users against, they want us to spend our money on whatever we wanted at the right time.
You can also sort by the elements available on the splinterlands game as displayed below.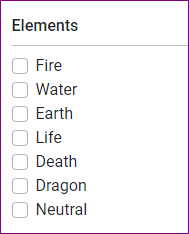 One other thing I noticed is the way the prices are displayed on the cards. Ranging from the lowest to the highest as you can see below. The price here starts from 0.287 to 0.335 which is totally cool.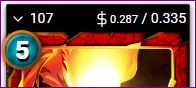 Now to some of the additional cool features we have on the monstermarket.


Buy Packs: Here you can buy as many untamed packs as you want. The sweetest thing about the platform is the incentive you get from using the platform. For every pack you buy, you get a 2% cash back. There is nothing to hide on monstermarket, everything is displayed in the open including the percentage they get from splinterlands for selling the monster cards and they are willing to share it with us. Check the image below for better understanding.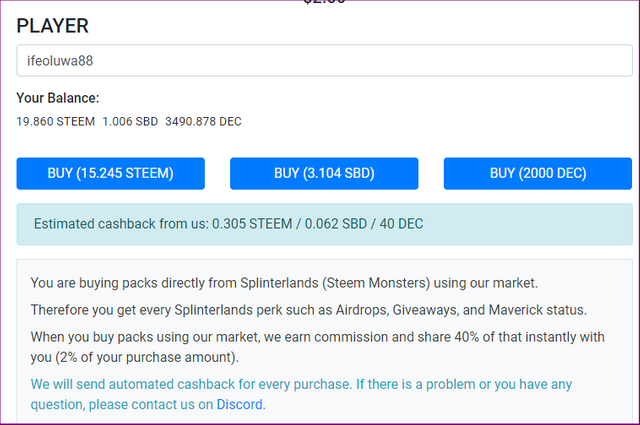 Tools: Under tools we have: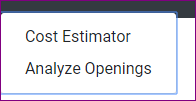 The Cost Estimator is a place where you can get an automated cost on a particular deck you are interested in upgrading. For example, if you would like to upgrade some of your splinter decks but only for a particular deck. Here you can select them accordingly from the edition of card (beta, alpha, untamed, reward, promo and so on) to the splinters (life, death, dragon, neutral among others) plus your targeted deck (either silver, gold, bronze or diamond) and there rarity. Then you hit the calculate cost button to give you the estimated cost of the amount to be spent on this project. Isn't that amazingly amazing !!!!.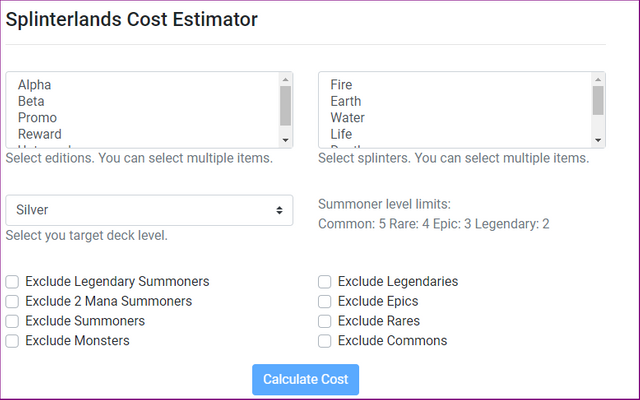 Analyse Opening gives you the in depth analysis of the pack you opened. It will detailed out everything surrounding your pack from amount of potions used, the numbers of rarity found in the pack, the burn value, market price among others.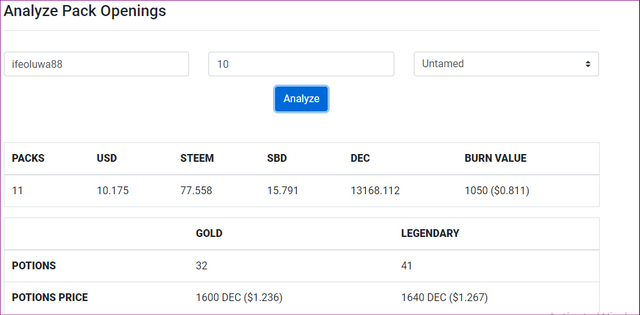 This tool also serve as a gossip tool for me t6o check on other players pack value as displayed below.I checked that f my friend @xawi and below is the result of my findings.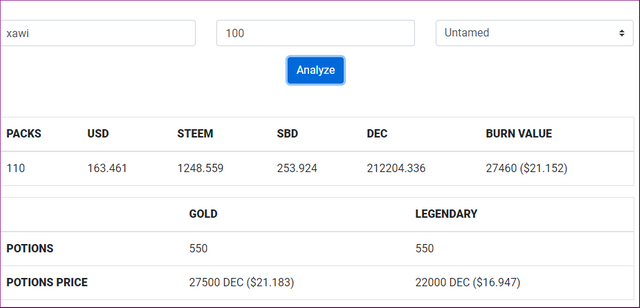 Another special thing on the platform is the price feed, here you can see how much the steem, SBD and Dec prices are being traded for at the coin market.


SUPPORT: This link takes you directly to the support discord channel where you can air your thoughts, questions or answer. By using this link here
BUYING A CARD
First of all, select the cards you want to buy by clicking on the plus sign after selecting the card.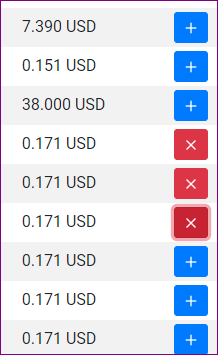 After you are done selecting your preferred card, it also gives you the option to select your mode of payment by either using steem , SBD or December as seen below. This is how your cart appears.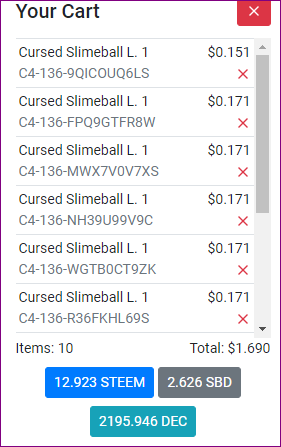 I then got a confirmation page from my keychain to process the buy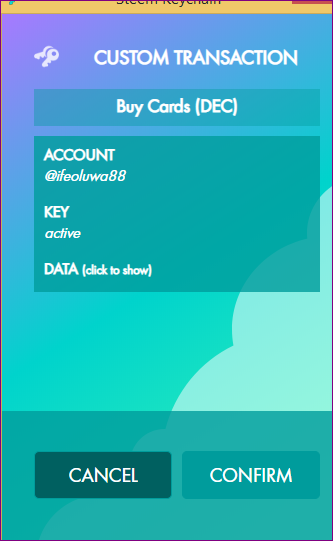 An important detail that catches my eyes is the revelation of my wallet. I do not need to leave the monstermarket page to know what my wallet contains. Everything is in full display here as seen.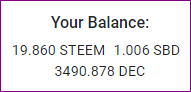 P.S: I ended up buying with my steem because the december payment is linked to splinterlands page and not the steem engine. So make sure you have enough December in your splinterlands wallet if you want to buy with December on the monstermarket.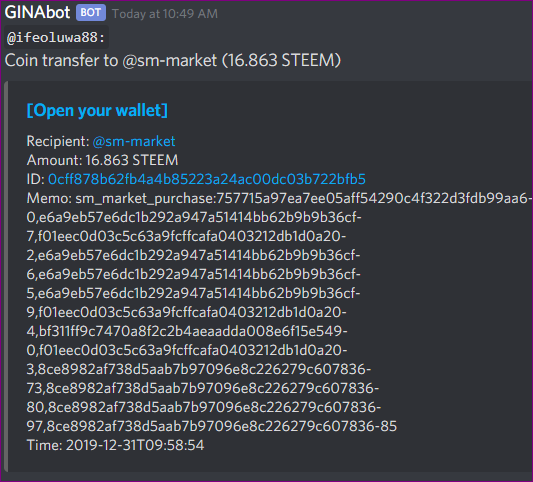 My instant cash back below.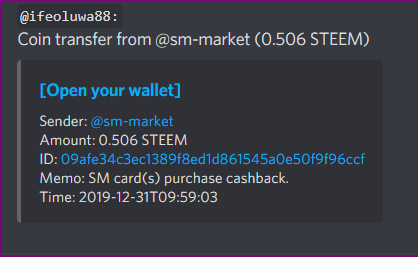 A big thank you to Reaz and his bro Zaku for taking time to create something wonderful as this for the community and also @pink from the neoxian discord community for giving me pixlr for my picture edit.
I hope you have fun using the platform as much as I did. Ciaooooooooooooooooooooooooooooo