This boring company has been in a steady uptrend.
If you look at history some of the greatest long term compounding stories are in boring companies such as materials, chemicals, retail, insurance, etc. In today's era of high flying tech it is hard to believe that any other investment strategy can provide similar returns with less risk. However, a safe, steady business model can lead to big profits.
Cintas (CTAS) is a $30 billion provider of uniforms, logo mats and industrial carpet and tile cleaning. The company has 400 facilities in North America working with more than 1 million businesses. This boring company has been showing solid results growing sales 7% over the last 12 months.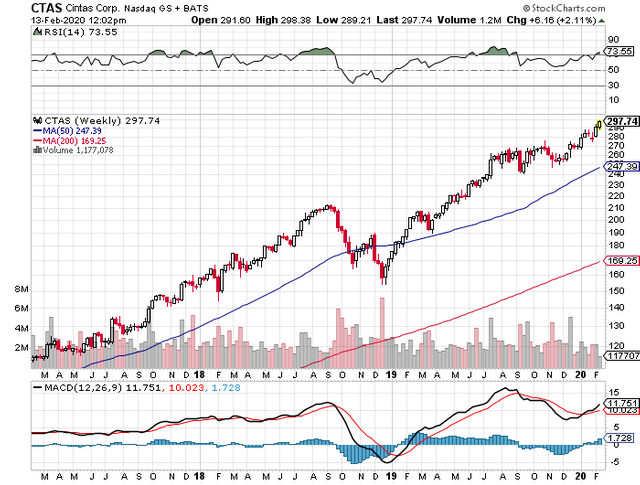 The share price has been anything but boring for long term investors growing almost 200% over the last five years. Cintas stock should continue to do well as other businesses continue to grow and need more uniforms and work supplies.

Disclosure: I wrote this article myself, and it expresses my own opinions. I have no business relationship with any company whose stock is mentioned in this article. The information provided should NOT be considered advice. The topics discussed are risky and have the potential to lose a substantial amount. I am not an investment professional and therefore do not offer individual financial advice. Please do your own research before investing.