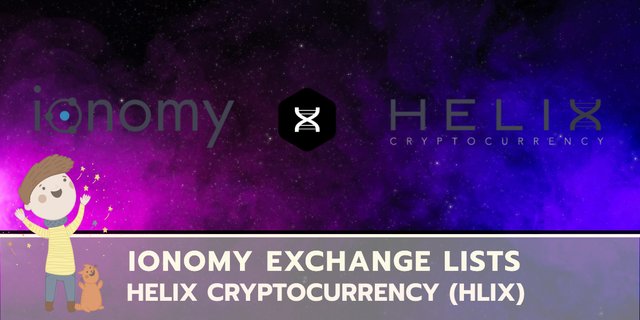 ---
WOW (X 10) Helix now Listed on ionomy!!
Sometimes you're having a long day, things seem like its just one of them days... But then you get home you see that an awesome trading exchange has listed even more badass project!!
Today at 3pm UTC time, Ionomy Listed the privacy focus token HELIX on its servers!
---
This is such great news!!
---
If you are aware I am a big fan of the HELIX project.
Today, having Ionomy list it, opens up many many options for trading.
HIVE to BTC to HLIX. YES.
Also Helix Sharenode markets are scheduled to open Tuesday, July 7 at Midnight UTC, with HLIXsx-HLIX and HLIXsx-BTC pairings.
What is a Sharenode?
Well, To set up a master node you need 10,000 Helix tokens. That is about $120 ish USD. However, with a Sharenode, you can add in any amount of HLIXsx and start to earn a Return of passive investment!
---
This is my affiliate link for Ionomy:
(* At this time I don't get anything if you use my link but it makes me feel good)
I'm not a financial advisor, however, there are great things in store for HELIX and, as an unofficial suggestion, may suggest you pick up HELIX today!
Learn about Helix here: https://helix-crypto.com/
Official announcement here: https://news.ionomy.com/ionomy-exchange-lists-helix-coin-hlix-sharenodes-hlixsx/
What are your thoughts about this?
---
Disclaimer
The information presented is for educational purposes only and is not to be considered investment advice. Please do your own research before making any investment decisions. Cryptocurrency investments are volatile and high risk in nature. Don't invest more than what you can afford to lose. I make no representations, warranties, or assurances as to the accuracy, currency or completeness of the content contained in information or any sites linked to or from this document for future material.