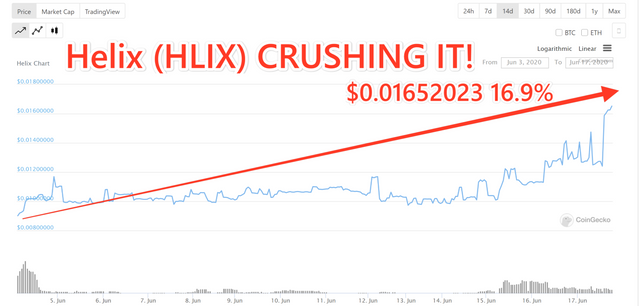 Today I checked in on my new favorite token Helix, and was super pumped to see it crushing it!!!
About 18 days ago I wrote a nifty little tutorial on how to set up a Helix master node. (Its still relevant today and you can read it (HERE).
Then a short two days later I wrote an article about the growth of seeing on the coin then (Read it HERE ).
At that time as excited to see the price moved to a whopping $0.01 a token... to be honest, I thought it would hover around the price for a long time, or lease until a big reveal comes out...
However today I checked and the price moved up to $0.016 a token!!! WOOOOOOOOOooooooooo, almost x2 the initial buy-in. Woot Woot! Again I am pleasantly surprised at the steady growth.
Please be mindful, I'm not a financial advisor... but I see great things for this token and I would still think the at this price, buying into Helix is a steal of a deal. I can totally see them getting to a dollar by this time next year.
06/01/2020 : $0.01
06/17/2020 : $0.016 Difference of $0.006 or + 0.000375 a day
365 days * 0.000375 a day and this is a value of $0.136875 in a year.
Even if not a dollar perhaps at the minimum rise assuming a steady growth...
10,000 tokens today at $0.016 = about $160 USD
10,000 tokens in a year at $0.136875 = about $1,368.75 USD
I'll be the first to admit that my math might be wrong in all those calculations above... but either way, I see steady growth this token.
Also considering the small market cap, a sizable buy-in, and that needles can up quickly.
Anyways, I want to share my excitement. Perhaps you want to jump in on the game as well as this is a golden opportunity at this value! (*or again, at least I feel so)
Okay, be successful today my friends!!
---
Here is their webpage : https://helix-crypto.com/
You can get Helix tokens from :
---
Disclaimer
The information presented is for educational purposes only and is not to be considered investment advice. Please do your own research before making any investment decisions. Cryptocurrency investments are volatile and high risk in nature. Don't invest more than what you can afford to lose. I make no representations, warranties, or assurances as to the accuracy, currency, or completeness of the content contained in the information or any sites linked to or from this document for future material.
---

Any Support is Welcome!
Bitcoin (BTC) : 18zopjg9Y2VA1ouCqCZapN3UzdpK3UnMdm
Ethereum (ETH) : 0x849C33abCb753540fD0D6cDd25df05BC20a1254E
litecoin (LTC) : LdWUz5haDfkn4D1fxmte8nJePEGjJv6Lqh
Bitcoin Cash (BCH): 1DRRtY3j5xzx6Dn9ofQgoosXdqGVsYYNcU
Helix (HLIX) : HPnubkb9FBtSZKPjRvqD166BX4vPK3GtAz


Thanks for reading my post, you inspire me to keep posting!
Thank you for your support!