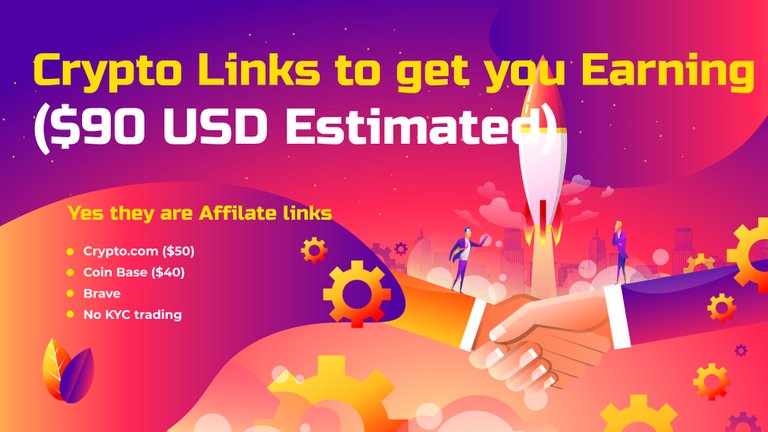 Crypto Links to get you Earning
Hello, Freinds.
Here are links to crypto-related links for you to earn and learn in Crypto. These are the link I send to people who ask me to help get them into the Crypto Space. Then I sit with them and teach.
These links are also all affiliate links (*I may get a commission or a benefit from you using them) However, it costs you nothing and helps me produce content.
---
Buying and Learning:
Here are links to the places I recommend buying or selecting crypto on.
Coinbase:
Buy or trade 100$ get 10$ in BTC
https://www.coinbase.com/join/mack_je
Earn Rewards (Learn by Coin base)
You need a coinbase account to use this
Watch videos, answer questions, and earn tokens. It's easy and fun.
You need to add your name to a waiting list, then they will contact you when they have more coins to give.
XLM: earn $10
https://www.coinbase.com/earn/XLM/invite/shk5z4wc
EOS: earn $10
https://www.coinbase.com/earn/EOS/invite/s013qmy5
OXT: earn $10
https://www.coinbase.com/earn/OXT/invite/t15fbnpy
LocalBitcoins (Buying BTC in person or selling)
https://localbitcoins.com/?ch=1bcw5
Crypto.com : $50 in MCO for staking 50 MCO for 1 month
Also free credit card buying of crypto.
I recommend this for a good on and off-ramp into more traditional currency.
Currently offering 16% p.a on a 3-month stake of CRO Stokes.
https://platinum.crypto.com/r/r6bz3vss9n
Trading:
Ionomy:
Trading with no K.Y.C (Know Your Customer: Requirments (No ID needed to join))
Social DApp.
I hope you know about this one... LOL
HIVE:
Make an account:
https://hiveonboard.com/?ref=jacuzzi
Learn About Hive
https://peakd.com/money/@jacuzzi/get-on-the-hive-chain-today-welcome-post-for-new-hive-referrals
BRAVE BROWSER
Earn Crypto (BAT token) while browsing the web!
https://brave.com/spe912
---
Do you have any links you recommend I add?
---
Disclaimer
The information presented is for educational purposes only and is not to be considered investment advice. Please do your own research before making any investment decisions. Cryptocurrency investments are volatile and high risk in nature. Don't invest more than what you can afford to lose. I make no representations, warranties, or assurances as to the accuracy, currency or completeness of the content contained in the information or any sites linked to or from this document for future material.