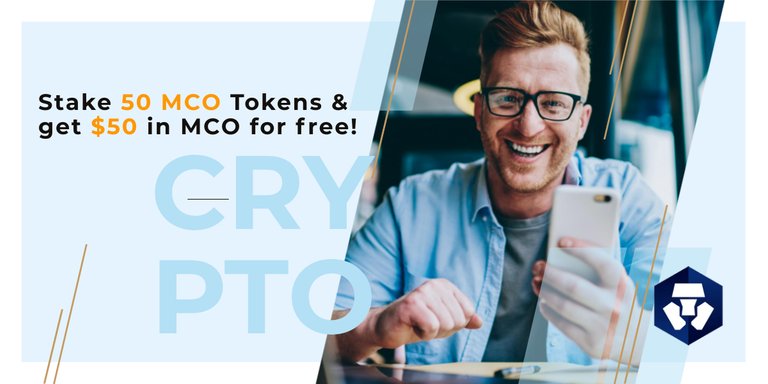 Crypto app : Stake 50 MCO and get $50 in MCO for free! (Read on and lean how and why and WOOT!)
---
For some reason, the idea of free money always gets me excited. But also what gets me more excited is on ramps and off ramps for cryptocurrency.
Today I like to spend a minute and talk about the crypto.com app.
Please don't think this is some shill, and I am trying to rickroll you into doing something. No, This is an excellent service you need to be using.
FIRST: The free money info.
Crypto.com : $50 in MCO for staking 50 MCO for 1 month
My affiliate link: https://platinum.crypto.com/r/r6bz3vss9n
You don't need to use my affiliate link, but if you don't, you don't get $50... so IDK why you would not want to use it... But the option is yours.
Free Money information past now lets dive into why this is exciting!
First and foremost, and at least for now, you can buy BTC and more with no fees!! WOOT x 100! Nothing kisses me off more than paying exorbitant prices to buy another form of currency.
| Fees | |
| --- | --- |
| Deposit Crypto in Crypto.com App | 0.00% |
| Exchange Crypto to Crypto | 0.00% |
| Transfer Crypto to Crypto.com Wallet | 0.00% |
| Transfer Crypto to External Address | Varies per Crypto (more details in App) |
---
7 fiat and 55 cryptocurrencies
To quote their webpage:
QuoteBuy and sell 7 fiat and 55 cryptocurrencies. Access, manage and spend your funds with the MCO Visa Card anytime.
The way this works is simple, when you want to use your crypto credit card anywhere Visa is accepted, sell the crypto into a FIAT wallet on your Crypto.com account, and then you are good to go! Takes less then the time it tasks you to find your Favorite soda pop in the shop.
---
Staking and Returns
| Time | Supported Coins | Supported Stablecoins | CRO |
| --- | --- | --- | --- |
| 3-month | up tp 6% p.a | 10% p.a | 16% p.a |
| 1-month | up tp 4% p.a | 8% p.a | 14% p.a |
| Flexible | up tp 2% p.a | 6% p.a | 12% p.a |
This means you could state your ETH or ENJ or BTC and start to earn an interest rate return on it. BAM, that is like free money! Or, stake a bunch of CRO and start to see a nice return while maintaining your holdings.
Here are the coins you can stake at this time:

I have more reasons that I like this particular service but I'll stop here.
To Get Started
Go sign up for the app using my affiliate link for the free $50 in MCO
You can buy or Transfer 50 MCO tokens to your wallet (Costs about $250 ish to buy with the current token price)
Go to the "Earn" Tab and say you want to Stake 50 MCO for 1, 2, or 3 months. (*I recommend the 3).
Accept the terms and then you are locked in.
You can then send other tokens to stake and earn the passive interest on.
---
Crypto.com : $50 in MCO for staking 50 MCO for 1 month
My affiliate link:
---
Questions?
If you have any questions or thoughts about this please post below.
---
---
Disclaimer
The information presented is for educational purposes only and is not to be considered investment advice. Please do your own research before making any investment decisions. Cryptocurrency investments are volatile and high risk in nature. Don't invest more than what you can afford to lose. I make no representations, warranties, or assurances as to the accuracy, currency or completeness of the content contained in information or any sites linked to or from this document for future material.
Digital Currencies are NOT bank deposits, are NOT legal tender, are NOT backed by the government, and accounts and value balances are NOT subject to Federal Deposit Insurance Corporation or Securities Investor Protection Corporation or any other governmental or government-backed protections. Legislative and regulatory changes or actions at the State, Federal, or international level may adversely affect the use, transfer, exchange, and value of Digital Currencies.