Hey Jessieggshells
The world of fiat money is a strange and complicated beast if you think cryptocurrency has layers of complexity; it's because you don't know the depths at which fiat money operates! Think I am lying?
Please do me a favour, ask any normie family member where do they think money comes from and jot down their answers and then follow up with what gives money value!
You'll soon notice most of them don't have an answer they've never questioned it before and they won't question it as it would unravel their entire life of working for these pieces of paper with dead presidents on it.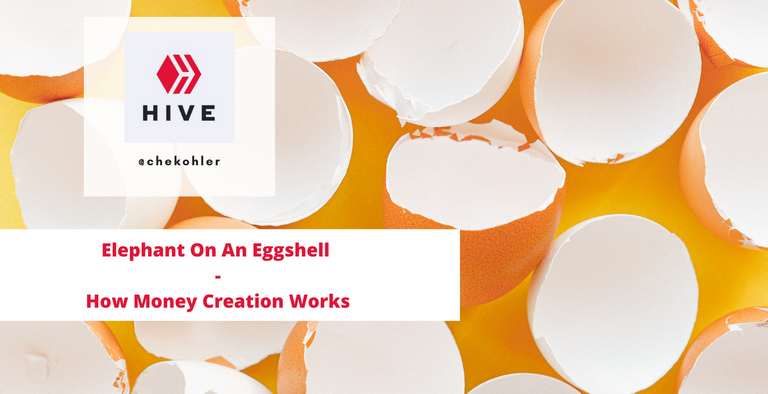 Bank reserves
Ever since we moved off the gold standard central banks have had their balance sheet tied to nothing; they can create limitless amounts of bank reserves on their balance sheet and lend it out to private banks at low, zero or negative rate of interest, it doesn't matter to the central bank. All they are doing is creating reserves that backstop private banks and encourage them to go out and issue loans to consumers to create more money.
Bank reserves are the first issue, these may be backed by treasuries and in some parts gold or precious metals but for the most part, especially since 2008 and now, it's very much the majority of its digits on a screen created from thin air, this is where the initial money printer goes brrr.
These bank reserves can also be used to buy bad debt and loans of banks and hedge funds to try and give them additional liquidity to operate. While bank reserves do have its limitations, it's the first step into where things tend to fall apart when you don't have sound money.
If you can create money out of thin air, you can always bail out banks, which allows them to go out and do more risky things, get bigger and become too big to fail.
Banks may have failed in the past, but they're not destroyed their effects are only consolidated under one brand as we see with accounting firms and other financial institutions, it's all about consolidation fo power and resources.
Private money creation
Once the banks have their fractional reserves, in order oft hem to make money off those reserves, they need to use it to lend it out and create new money. This step is on that many don't realise, people still think their deposits are what secure loans for others and then earn interest for the bank and the deposited.
Instead, it's all about these bank reserves, banks then go out and issue home loans, student loans, car loans and credit cards to try and drive more money creation.
So essentially the money out of thin air allows them to multiply and create more money out of thin air, which then has value as it's paid back through people working to earn wages to pay back the new money that was created in an instant.
Debt instruments
Then these loans are taken and packaged up, into new products such as the CDO's that brought down the banking sector in 2008. What banks do is instead of sitting on the loans they've issued and collecting interest, they group them all into a diversified investment of let's say home loans or car loans.
This packaged debt is then sold to other companies such as hedge funds or pension funds looking for yield which they will et from the loan repayment and interest and the banks walk away with the spread.
Then only to repeat the process and create new loans.
This means you've taken money created from thin air, created new money out of thin air, and then packaged all that new money into a new product that is worth more than the original amount creating even more money out of thin air.
Financial engineering
Then on top of all this money creation, there are things like futures/ETF's, stocks, index funds, insurance contracts, shorts, call options and a host of other products that are based on this fake money and traded in the trillions each day.
Creating new money based on the underlying perceived value of the fake money we create out of thin air.
Oh what a tangled web we weave
This is just a high-level view of how we create money without the need for productivity and why money is more meaningless than it's ever been, measuring anything in fiat is only a measure of belief and indoctrination.
BTC might not be perfect, but at least it's UTX's are unique, I am the only one who owns this combination of BTC, no one else, it took resources to create this, and there are very few of it around, even if it's digital, we see how the new generation value digital over physical.
Digitisation of everything is coming whether you like it or not and you can try to hold on to old money principles and try to play this rigged game or you can move into something new that has the potential to change the way the world works and how we all see money and value storage.
Have your say
What do you good people of HIVE think?
So have at it my Jessies! If you don't have something to comment, comment "I am a Jessie."
Let's connect
If you liked this post, sprinkle it with an upvote or esteem and if you don't already, consider following me @chekohler and subscribe to my fanbase
| Browse & Earn Crypto | Stack Sats For Free | Earn Interest On Crypto |
| --- | --- | --- |
| | | |
---