And so we come to the end of another ADDAX trading game!

The key data:
ADDAX fund value = 1590 STEEM (+24 STEEM)
Tokens in play = 15,474
ABV estimate = 10.275 STEEM cents (0.10275 STEEM) Up from yesterday
Final closing price is 0.10275 STEEM.
Over the 28 days, that's an average price rise from 0.0662 to 0.10275, equivalent to 55.3%. Those of you who bought at 1 or 2 cents did slightly better!
The price increase today is due to our usual final bonus where I look at forward earnings coming in from posts. These are not guaranteed, so have added a conservative yet generous amount!
As you can see from the graph below, much of the income was made in the middle 10 days, then we flattened out as our income merely kept pace with some loss of capital value. I was also going to post the graph of the ADDAX token price but there was a problem with the Steem Engine DEX and it appears to be replaying all transactions. This means a graph is not currently available until all transactions are up to date. I will post it when it becomes available. It's actually interesting to see the difference between the ABV and market prices.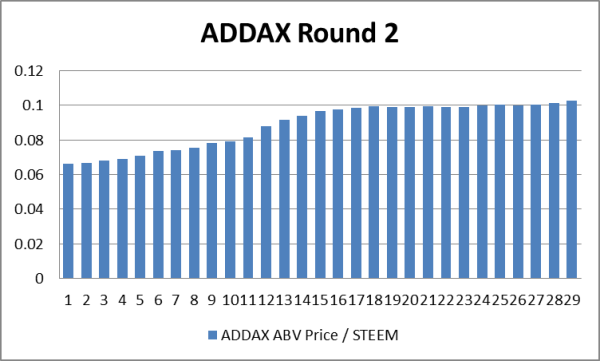 So, you will see ADDAX tokens posted for sale at our closing price. Please sell your holdings as soon as possible for an orderly and prompt exit.
Thanks for playing!
See you again soon! Oh, and bring a friend next time too.
Any feedback is appreciated.
---
---
Building Steem's Fintech

[BUY MAXUV] - [READ MAXUV]

[BUY MAPR] - [READ MAP REWARDER]

[BUY MAPXV] - [READ MAPXV]

Plus Some Serious Funtech

ONECENT: The First Strategic Token Investment Game (STIG)