Everybody will agree: The best preparation for wintertime is to get as much food as you can! But is this really true? Let's have a closer look!
When you live on the northern side of the globe you probably recognized that the days are getting shorter again and thus winter (or some kind of this) will emerge soon.
At this time of year people usually increase their food intake, especially the intake of carbohydrates [1]. As a consequence, you receive the typical winter fat. Most people argue: "That's important because of the lower temperature you need some isolation to counter-act the cold."
And this perfectly makes sense, at least when you belong to animals like them.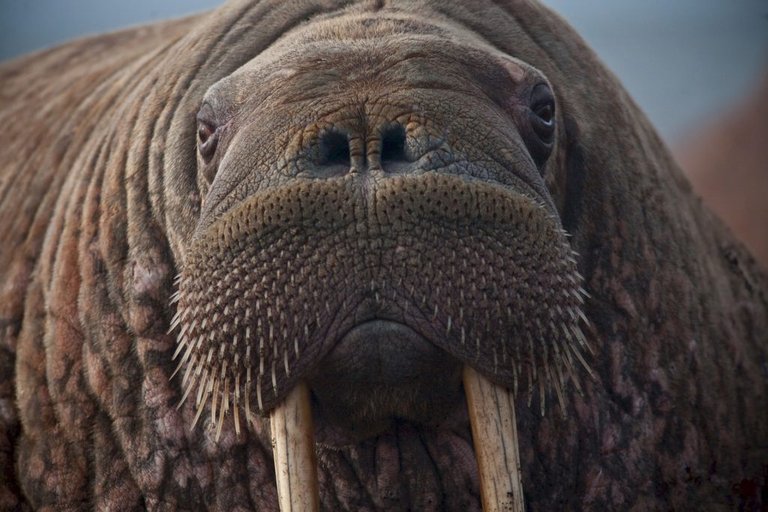 Source: Pixabay
Animals such as the walrus need a lot of fat for isolation to survive in a cold environment.
But does this also hold true for you? According to novel research the opposite might be the case [2].
---
The reasons are the brown and beige fat tissues, also known as adipocytes.
When you are a baby you don't have enough muscle to stay warm [3]. Nonetheless, they don't freeze due to the work of their
mitochondria
. Mitochondria have the excellent talent to create both: chemical energy in the form of
ATP and heat
. [4]. The key is the so-called
uncoupling protein (UCP1)
.
UCP1
is feasible to
uncouple the proton gradient
of the mitochondrial respiratory chain. The result is heat instead of ATP (details please see the Gif).
GIF: The mitochondria within your cells producing a lot of energy in form of ATP for you (1-3). This is possible because of the respiratory chain located on the inner double membrane within the mitochondria (4). The protein complexes I to IV are transferring electrons from food to oxygen which generates water (5-7). That's why you need air to survive! As a consequence, a proton gradient (H+) is established (8). The purpose of the proton gradient to drive the ATP synthase for ATP production (9). The Uncoupling protein (UCP1), however, (10) works in the opposite direction of the proton gradient (11). The power for driving the ATP synthase is not sufficient anymore and thus ATP synthesis fails. Nevertheless, due to increased metabolic activity heat is produced by the respiratory chain (12). That keeps babies and maybe also you warm. Made by Chapper – Unrestricted use allowed.
The entire mechanism is carried out in specialized fat cells, called
brown fat cells
. Usually, fat cells are white but
increased amounts of mitochondria and UCP1
color them brown in babies [5]. Unfortunately, most adults don't have that much brown fat cells anymore. That means they also have no or only little expression of UCP1. Therefore, the majority of your fat cells are white and not brown [2–5]. Nevertheless, in the
paper by Salvatore Fabbiano and colleagues
they found that mice are still able to
increase the amount of UCP1 in their white fat cells
. In contrast to brown fat cells, however, these
fat cells are solely beige
.
---
What is the benefit of beige fat cells and how can you trigger the transformation?
In the paper of Fabbiano
et al.
[2] they just
decreased the amount of food by 40% for 30 days
. After this, they found higher amounts of beige fat tissue between the white fat tissue. Beige fat tissue has a higher metabolic rate and thus leading to
elevated calorie turnover
[5]. This
eliminates your white fat cells
efficiently and has a lot of other advantages for your entire body. For instance,
glucose uptake and insulin sensitivity is improved
which is positive to fight metabolic complications such as diabetes. But also many other diseases are under debate, including cancer [3,5]. The mechanisms behind the transformation are not fully understood but it seems like multiple events inducing this [4–6].
Here are some examples:
Calorie restriction (CR) or even intermittent fasting seems to tidy up your gut microbiome. This decreases the amount of "bad bacteria". Eventually, "good bacteria", such as lactic acid bacteria take control [5,7]. As a consequence immune cells such as macrophages shifting from the pro- to an anti-inflammatory state which promotes beige tissue transformation [2,5].
Cold seems to have similar effects on the gut microbiome as CR [5]. Moreover, after decreasing the temperature your body have to find additional ways for staying warm and this can perfectly be carried out by beige fat tissue.
Exercise also can increase the amount of UCP1 in white fat cells [6]. Many authors argued that this is caused by signaling molecules released from the muscle cells called myokines [5,6]. In the first 21 days of constant exercise, the level of UCP1 in white fat cells is increased 25 to 30-fold in mice [6]. The best effect was observed by swimming (in principle a mix of cold and exercise).
Drugs like Viagra (Sildenafil) were also shown to increase the transformation of white to beige fat tissue [8]. But also grapes, olive oil, fish, green tea or chili can help (at least on days when Viagra intake could interfere with your ordinary life 😉) [9].
Finally, also happiness might be a good strategy to increase your beige fat tissue (Chappers own opinion!). The highest amount of beige fat tissue was found in people who suffered from severe burn injuries [5,10]. The heavy pain these people are exposed to trigger the increased secretion of so-called catecholamines. Catecholamines are neurotransmitters and among them is dopamine, better known as the "happiness hormone" [11]. This is a strategy of your body to cope with such a horrible situation. The interesting fact is that the nerves where dopamine is released have a connection to the white fat tissue and are able for inducing the program for beige fat cell transformation [5,6]. Viagra probably has a similar mechanism [5]. The happier you are the more dopamine you got. So cheer up and smile.
But the most important thing for wintertime is the observation by Salvatore
et al.
[2] that mice with higher amount of beige fat tissue have a better chance to stay warm. This, however, is primarily the case in calorie-restricted animals.
Even though, most observations were primarily made in mice all these interventions are potentially beneficial for a good lifestyle. By "obeying" to at least a few of them you can improve your well-being. Also, without beige or brown fat tissue!
---
Summary
Decreasing food intake is a better strategy to stay warm in wintertime because of beige fat tissue you produce under calorie restriction. Beige fat tissue has high amounts of mitochondria and the uncoupling protein (UCP1) and therefore produces a lot of heat. This mechanism elevates your metabolism and keeps you healthy. Besides lower food intake also cold, happiness, swimming in cold water and Viagra (Sildenafil) helps.
You have the choice
Enjoy
Chapper
P.S.: Viagra intake while swimming in cold water might prevent some other bad side effects of cold 😉.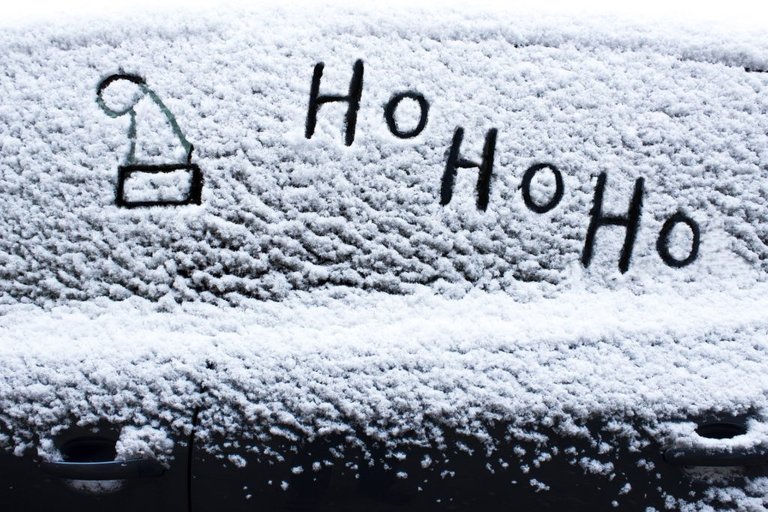 Source: Pixabay
---
References
[1] Y. Ma, B.C. Olendzki, W. Li, A.R. Hafner, D. Chiriboga, J.R. Hebert, M. Campbell, M. Sarnie, I.S. Ockene, Seasonal variation in food intake, physical activity, and body weight in a predominantly overweight population, Eur. J. Clin. Nutr. 60 (2006) 519–528.
https://doi.org/10.1038/sj.ejcn.1602346
.
[2] S. Fabbiano, N. Suárez-Zamorano, D. Rigo, C. Veyrat-Durebex, A. Stevanovic Dokic, D.J. Colin, M. Trajkovski, Caloric Restriction Leads to Browning of White Adipose Tissue through Type 2 Immune Signaling, Cell Metab. 24 (2016) 434–446. https://doi.org/10.1016/j.cmet.2016.07.023.
[3] J. Honek, Spektrum der Wissenschaft (3/17).
[4] W. Wang, P. Seale, Control of brown and beige fat development, Nat. Rev. Mol. Cell Biol. 17 (2016) 691–702. https://doi.org/10.1038/nrm.2016.96.
[5] C.T. Herz, F.W. Kiefer, Adipose tissue browning in mice and humans, J. Endocrinol. 241 (2019) R97-R109. https://doi.org/10.1530/JOE-18-0598.
[6] R.S. Dewal, K.I. Stanford, Effects of exercise on brown and beige adipocytes, Biochim. Biophys. Acta Mol. Cell Biol. Lipids 1864 (2019) 71–78. https://doi.org/10.1016/j.bbalip.2018.04.013.
[7] A. Gavaldà-Navarro, J.M. Moreno-Navarrete, T. Quesada-López, M. Cairó, M. Giralt, J.M. Fernández-Real, F. Villarroya, Lipopolysaccharide-binding protein is a negative regulator of adipose tissue browning in mice and humans, Diabetologia 59 (2016) 2208–2218. https://doi.org/10.1007/s00125-016-4028-y.
[8] S. Li, Y. Li, L. Xiang, J. Dong, M. Liu, G. Xiang, Sildenafil induces browning of subcutaneous white adipose tissue in overweight adults, Metab. Clin. Exp. 78 (2018) 106–117. https://doi.org/10.1016/j.metabol.2017.09.008.
[9] S. Srivastava, R.L. Veech, Brown and Brite: The Fat Soldiers in the Anti-obesity Fight, Front. Physiol. 10 (2019) 38. https://doi.org/10.3389/fphys.2019.00038.
[10] D. Patsouris, P. Qi, A. Abdullahi, M. Stanojcic, P. Chen, A. Parousis, S. Amini-Nik, M.G. Jeschke, Burn Induces Browning of the Subcutaneous White Adipose Tissue in Mice and Humans, Cell Rep. 13 (2015) 1538–1544. https://doi.org/10.1016/j.celrep.2015.10.028.
[11] Z. Amtul, Atta-Ur-Rahman, Neural plasticity and memory: molecular mechanism, Rev. Neurosci. 26 (2015) 253–268. https://doi.org/10.1515/revneuro-2014-0075.

---
Posted from my blog with SteemPress : http://worldofchapper.de/rp295320-ovh/index.php/2019/10/24/winter-is-coming-lower-your-food-intake-to-stay-warm/
---