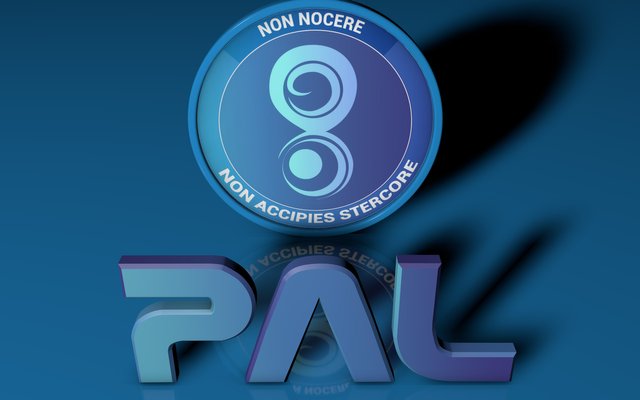 Credit @elgecko
There have been some exciting changes in the last few days, we now have PAL coin our brand-new token and also PALNet.io which is a Nitrous instance of Condenser. For more information please read the PALnet White Paper or a simplified version here.
You may have noticed that we closed our Community Upvote channel a few days ago as we are moving to a new system of rewards. Previously, registered members could type a command and recieve an upvote from the minnowsupport account. The new system is ready to go so here are the details!

Credit @elgecko
How it works
As you will recall from our White Paper Palcoin Launch: A revised whitepaper and token launch by the Minnow Support Project this token offers multiple features:
Token Redemption (sinks)
Tokens can initially be redeemed for 1 of three things: upvotes, advertisements, and customizations.
Upvotes - The main account, @minnowsupport, currently allows anyone in the Discord community to use a command $upvote, and receive a low percentage vote on a post. After a year of trying to manage this we're still concerned that it leads to low quality posting. We'd like to continue to encourage posting, but we're attempting through this process to increase the quality.
Going forward users can exchange palcoin they receive for upvotes from @minnowsupport. The ability to store and use PALcoin later decreases the need to burn votes on a timer, which puts pressure to put out content on a schedule rather than when quality content is written. The goal remains the same of getting new users and active discord community members to post, but this approach we think will incentivize higher quality content.
A portion of the tokens received by the voting bot will be used to offset new inflation. A portion of the tokens will be distributed to delegators. To clarify, any SP owned by minnowsupport is stored to be issued as inflation instead of issuing new tokens. Any SP delegated to the bot will receive a portion of the daily PALcoin earnings relative to the percent on the bot.
Things to Know about the New Service
Community Standards
Please keep in mind The Minnow Support Project and PALnet community Standards to use this service, you can read Minnow Support Project Community Standards- "The Spirit of MSP" to know what posts are ok to use the service on. Failure to comply with community standards will result in an non-refundable vote removal.
Here Is A Helpful Guide on How To Get Unmuted By The Minnow Support Project
I've been muted by Minnowsupport, what should I do? Simple Edition
How to redeem tokens for Upvotes
You have 3 options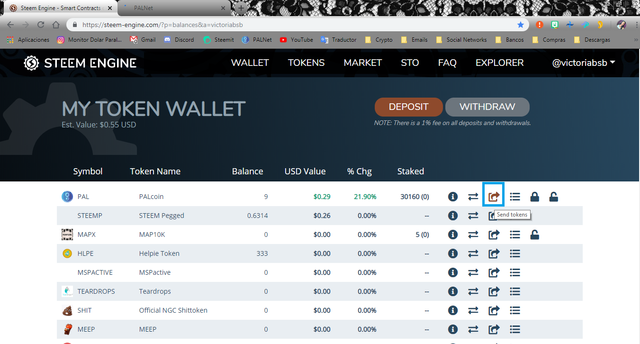 In your Steem-Engine wallet you will see the icon to send your tokens as seen in the picture above, click this.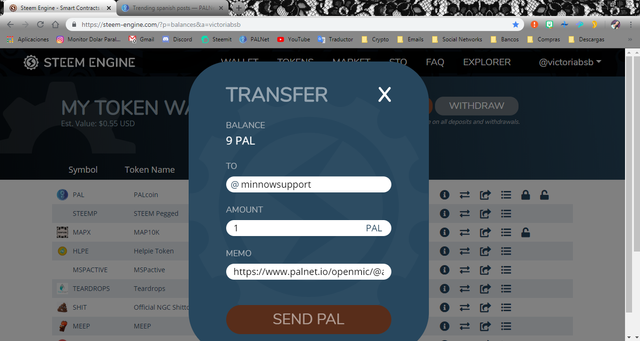 In the TO field type minnowsupport, the amount can not be less than 1PAL. In the memo add The URL of the post you want upvoted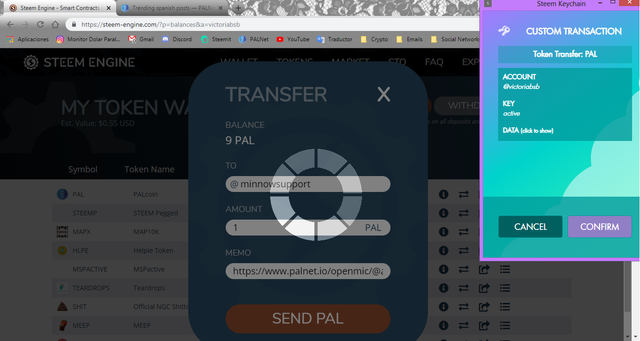 After you have filled all the fields and click send, Key Chain will ask to confirm the transaction.

As you can see in the picture above you will receive a confirmation message of the operation and you are done!
---
2. From Your palnet.io wallet
Go to your wallet in PALNet.io (palnet.io/@YourUserHere/transfers) and in PAL balance there is a down arrow. Clicking this will open a dropdown menu. One of the options is "Transfer", click this.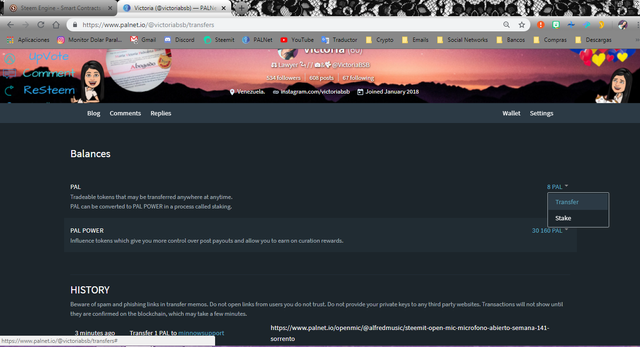 It will show you a window, fill in the required fields as follows:
To: minnowsupport, Amount: any amount but no less than 1 PAL, Memo: URL of link you want upvoted, see the example below.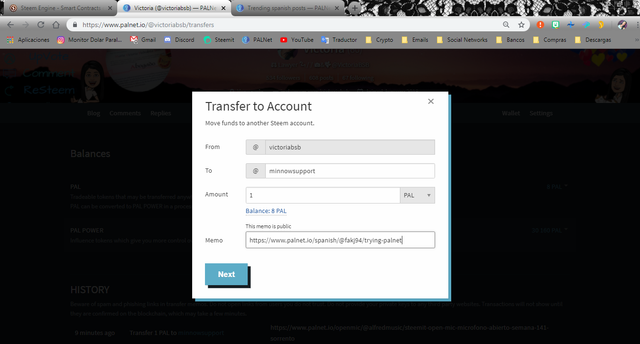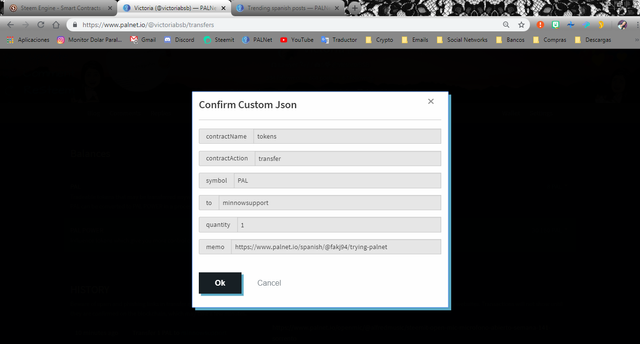 You will need to confirm the transaction on PALNet.io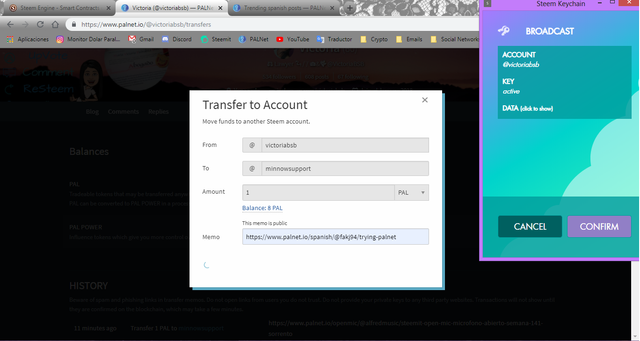 And then confirm it also with Keychain (if you are using Keychain to login to Palnet.io) and you are done!
---
This option is very handy as you can do this from the extension and it doesn't matter what web page you are browsing at the moment.
You just click the extension, then Token on the bottom left corner.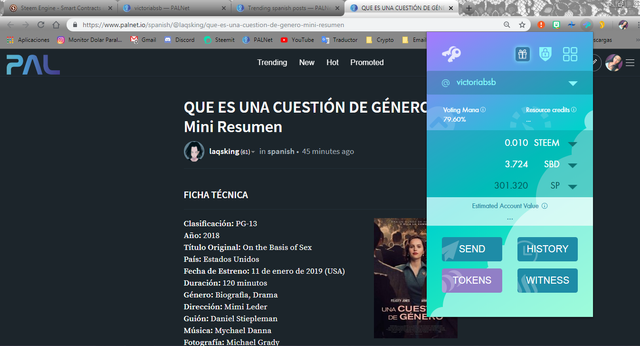 You will see the list of all the tokens you own, find the PAL token. Click the send icon (small arrow), next fill in the fields To: minnowsupport, Amount: any amount but no less than 1 PAL, Memo: the URL of the Post you want upvoted. Click send and you are done! You will be able to see the confirmation message at the bottom of the extension (see image below).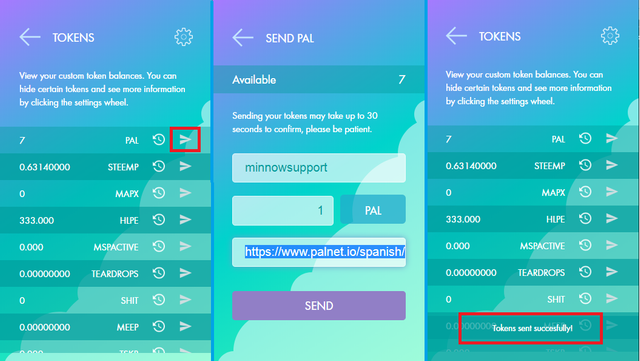 ---
It doesn't matter what method you use to transfer your PAL Coins, you can always can check your history in your palnet wallet.
Final tips
Please note that the @minnowsupport account has no staked PAL which means the upvote delivered will only earn you steem/sbd rewards.
You will not receive any PAL coins and this won't help you trend on palnet.io! Use the palnet promote feature if that is what you want!
If the bid window is full, your request will move into the next window. If that is also full you will be refunded.
Do not send posts over 3.5 days old!
Please remember that 1 PAL is the minimum and don't forget to include your URL in the memo
The minnowsupport moderation team reserves the right to mute any accounts repeatedly using this service on low quality/effort posts
Muted accounts will have future vote purchases refunded
Have any questions about PALNet, PALCoin or the Claim Drop?
here a few recommended post to help you out:
---
Thank you very much for reading,
-Minnow Support Moderation Team!
We will be answering whatever questions you have about the whole process so please ask away in the comments or reach us out in the channel #MinnowSupport-Help of our Discord Server*

---
If you are not yet in the community what are you waiting for?? CLICK below!!!

banner created by @justcallmemyth
first image and gif lovingly donated by @elgeko
---