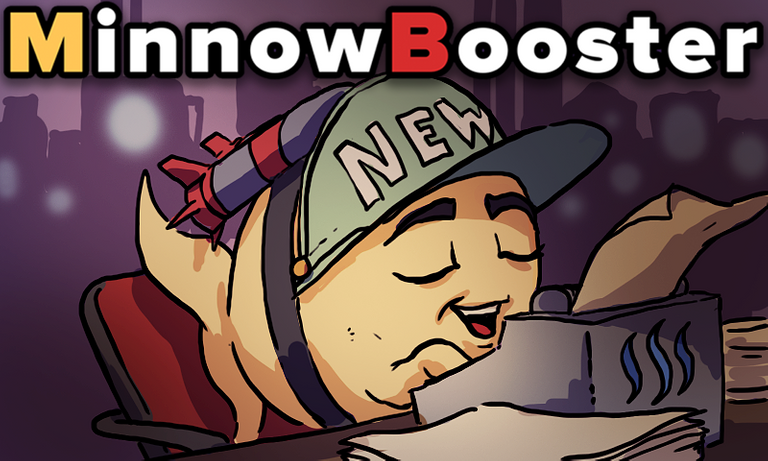 With the changes the new hard fork(s) bring, MinnowBooster is making some changes too. Some to how our payouts to vote sellers work, some to our ToS.
It's important to remember that with the new downvote pool, people will likely flag a lot more. We cannot refund losses due to downvotes, as these are a tool for the community to regulate itself.
Here's the summary!
Payout changes
Our P2P vote selling allows the sellers to keep the curation rewards. This is not possible for those who delegate to the bot, which is why we decided to relinquish our 15% fee on the @minnowbooster bot.
In summary:
P2P vote sellers receive Full curation rewards + 85% of SBD paid for the vote, note that after HF21 curation rewards are now 50% of the post value, pre-hard fork it was 25%.
Delegators to the bot receive 100% of earned SBD paid to the bot
Upvote calculator
If you've bought a vote via MinnowBooster before, you've probably encountered our upvote calculator.

At the moment, the calculator assumes linear rewards, but those only apply after a certain overall payout value. The calculated rewards can thus fluctuate between -50% and +20%. Please keep that in mind when buying smaller votes!
We will be adding a disclaimer to the site soon.
Terms of Service
The changes to our ToS aim to ensure the ethical use of MinnowBooster (MB). We will enforce the new ToS even stricter than before, so act responsibly! Abusers that upvote content in violation of our ToS will have the upvote removed without a refund of payment.
What constitutes as abuse of @minnowbooster?
Using multiple accounts to post duplicate content and purchasing MB votes for them
Using multiple accounts to post low-quality content and purchasing MB votes
Upvoting posts that are written in copy/paste style
Using a MB vote for very short or repetitive content. Length is subjective, but 150 words is a good safe guideline.
Using MB with automation scripts and bots
Scraping information from the MB website
Rules for Photography
Posts containing only a single photo are not allowed
Posts must contain supporting text and show significant effort in terms of production value (location, setup, lighting, and subject)
Rules for Art, Videos, and Animation
Content must be originally produced by the author and contain supporting text
Memes are not considered art
Rules for Public Domain Content
Sources and Authors must be correctly cited and linked to original content
Topics barred from upvotes
Violence, self-harm, gore
Politics & political opinion
Religion
Drugs and other illegal substances
Scams and pyramid schemes
NSFW
If you want to upvote a post, consider the individual circumstances. A small upvote for a short post may be okay on occasion, but keep our rules in mind.
Abuse Policy
Users who violate our Terms of Service regarding upvotes will face the following consequences:
Your post may be unvoted by MinnowBooster
You will not receive a refund for the original upvote
Your account can be blacklisted
Other
User errors while using our upvote or delegation services are non-refundable
Violation of the ToS can result in temporary or permanent blacklisting. In case a user is blacklisted, the first 10 transactions to Minnowbooster will be returned with a warning in the transaction memo. No further refunds will occur after the 10th
Users that frequently abuse other Steem users may also be added to the blacklist, regardless of their vote-buying behavior.
MinnowBooster and BuildTeam shall not be liable for any losses whatsoever suffered from blockchain downtime and hard forks, losses may include no payouts for the duration of the downtime, low/no voting demand in the days preceding or following the event, failed votes etc.


If you have any questions or encounter violations of our ToS, please feel free to reach out on our Discord server!
---
| Visit our website for more! | Subsribe to our YouTube Channel |
| --- | --- |
| | |
Set it up today and contribute to building a better tomorrow!


( Want an easier way? Use our SteemConnect proxy link! )
Get support and connect with us and other BuildTeam fans!



---
This is a @steemvoter subscription payment post. Thank you to Steemvoter customers for allowing us to use your Steem accounts to upvote this post by virtue of your free subscription to the Steemvoter.com bot service. @steemvoter is proudly a @buildteam subsidiary and sister project to @dlease, @tokenbb, @ginabot, @steemsports and @minnowbooster.