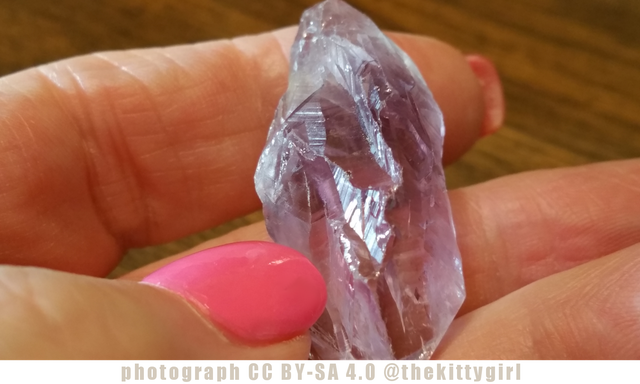 Yesterday, I shared a post about a
pretty geode
that was gifted to me by
enginewitty
and today I share another item that was in the package he sent to me: a lovely crystal of amethyst!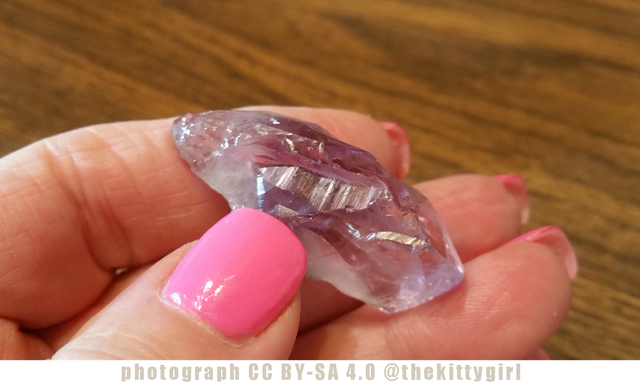 Most of you dear readers, I trust, will know what I mean when I say that any photos I take of this crystal can't do it justice. I am only an amateur photographer, but I seriously doubt that even a professional photographer could capture all of the complexities and beauty that this crystal possesses. There are so very many twists and turns in the surface of this beauty that it is astounding. It is definitely one of the most deliciously twisted and contorted items in my collection!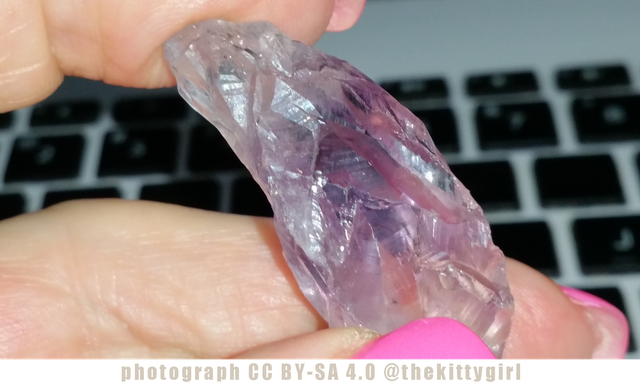 So, what is amethyst? It is quartz, a SiO4 blend of silicon and oxygen atoms, and is one of the most abundant minerals in the earth. When one says "quartz," however, one is usually referring to the clear or milky versions of it. When impurities creep in, the color of the stone can change. When iron is present, it can cause the purple-colored quartz variety that we call "amethyst." In the same way, the presence of other trace elements can cause other color varieties, such as yellow or golden citrine, pink rose quartz, green prasiolite, and others.
Therefore, the same basic silicon–oxygen composition forms the basis for this crystal as well as the Phoenix Crystal and the druzy crystals inside the Kitty Geode. The only difference is the presence of minute amounts of iron particles throughout this one!

The irregularities in the exterior structure of this crystal could be caused by a variety of things. There might have been an absence of silicon and oxygen near the edges of where the crystal formed, it may have formed in a small space inside a larger rock, it may have been damaged by pressure changes within its environment, or it could have been damaged when it was extracted from the earth.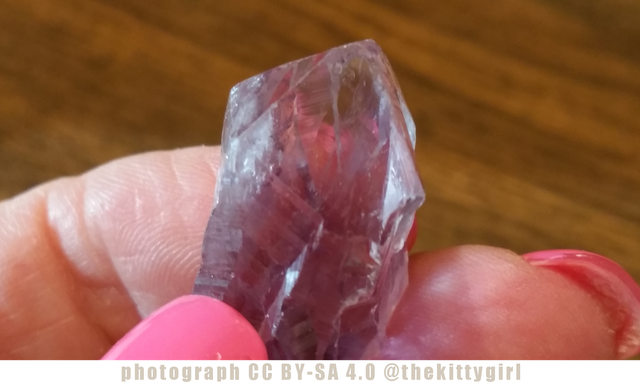 Different lighting conditions can also affect the appearance of crystals. All of the above photos were made in the incandescent lighting inside my house. The following photos were made with sunlight streaming through a nearby window and falling on the crystal. Note the patches of brighter -versus- darker material within the rock.

One end of the crystal is slightly milky with more free silicon inside (as was easily seen in the Phoenix Crystal) with most of the color-changing iron particles concentrated towards the middle and the opposite end. These is less free silicon ("free" as in not-bound to oxygen) particles in that other end, causing it to be more transparent and perfectly-formed in the expected "crystalline" shape (with a termination point).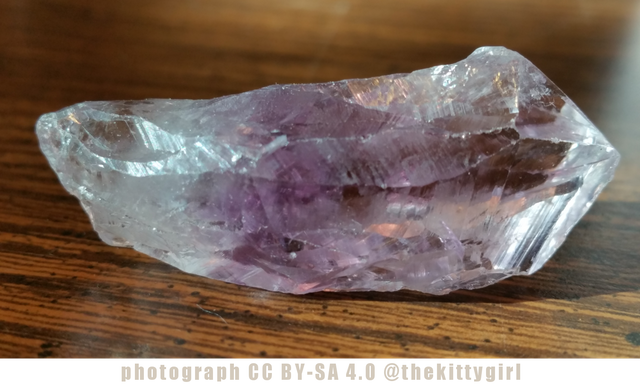 This crystal has been polished to a very smooth surface and is delightful to hold in the hand and run one's fingers over it. Crystals like this make good "worry stones" to fiddle with when one is nervous or needs comforting. Several years ago, I usually slept with a quartz crystal in my hand at night, and often have a crystal or stone of some sort in my purse.

If one is attentive to detail, much time can be spent with a crystal like this, as it is a whole world unto itself. I have already spent maybe an hour looking at this crystal and playing with it, yet I have only begun to scratch the surface of what is there!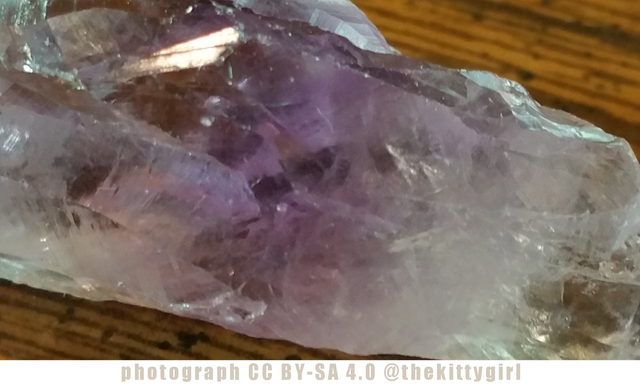 A big Thank You! to @enginewitty for this lovely gift! 🤗

 😊
SOURCES
   1 AmethystGalleries: Amethyst
   2 Geology.com: Amethyst
   3 Minerals.net: Amethyst
   4 Wikipedia: Amethyst

Kitty Geode • Phoenix Crystal
Barbeque & Amethysts • Salt Lamps • Trilobite • Arrowhead
Garden Quartz, freeform • Granite Quarry № 2 • Apophyllite
Rocks from Space! • Quartz Rock: Raw versus Polished
Chrysocolla • Tourmaline • Bornite • Goethite • Small Quartz Crystal
Smoky Quartz • Tibetan Quartz • Amazonite Beads • Zoisite
Rutilated Quartz • Garnet • Amazonite Sphere • Lapis Lazuli Mala
Amethyst Point • How Rocks Get Their Color • Red Jasper
Ring, Ring! Amethyst Calling! • Lapis Lazuli • Turitella Agate





13-Nov-2019