I tweeted about this yesterday. Unfortunately, Share2steem didn't seem to work. So I am using Partiko now to manually share my thoughts. And since there is no character limit over here, I am going to expand it further :)
---
Here is my original tweet:
Having #metamask on mobile essentially unlocks a vast market of users who only uses a smartphone. This group is typically the unbanked from developing countries. They now have access to #Dapps and #DeFi. Which is huge!
---
I was reacting to this tweet from Metamask: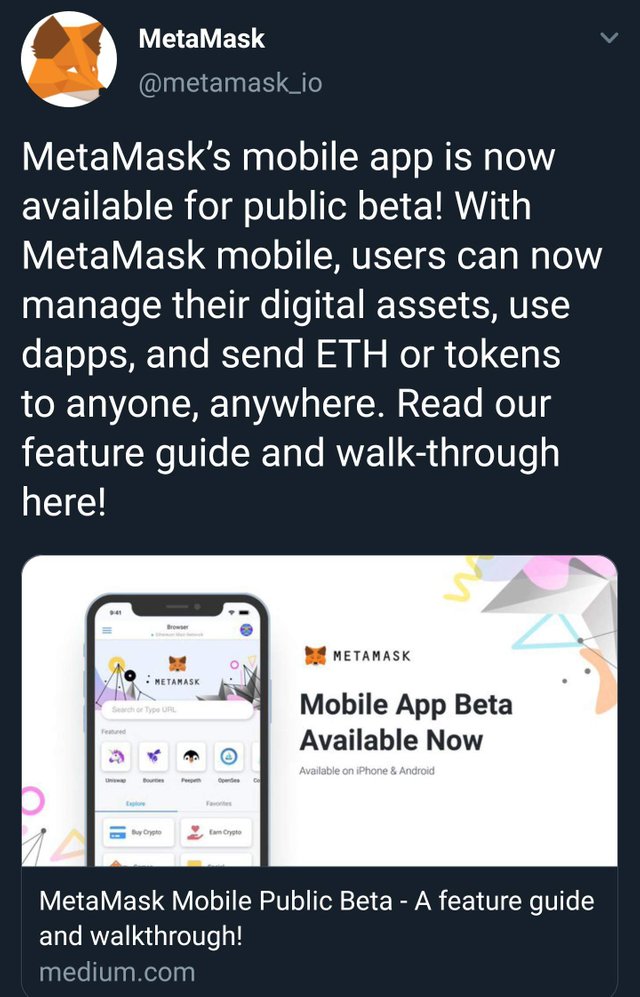 ---
I fell in love with Metamask the moment I started using it. It's a simple interface to interact with dApps on Ethereum. Now with the booming DeFi movement, it's also the default way to interact with the various DeFi platforms.
However, Metamask has all this while been a browser add-on available on PC. Since the proliferation of smartphones and tablets, browsing the web via a PC is gradually losing market share. In fact, according to StatCounter, more than 50% of web browsing is now done on mobile phones.
Furthermore, there are many people in developing countries who don't own a PC but they usually will have a basic smartphone. The DeFi movement is ultimately targeting the unbanked and with Metamask launching a mobile app, I think it is a huge step forward.
Posted using Partiko Android